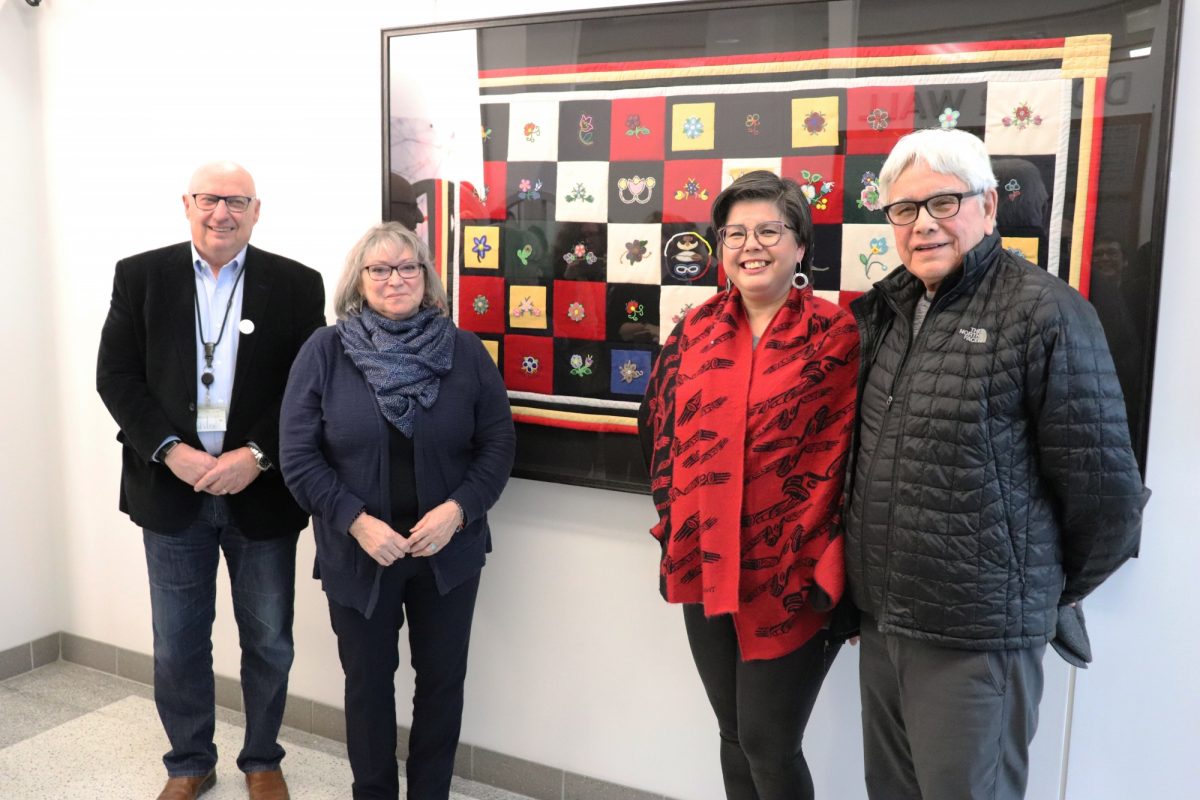 'Untold stories'
Quilt honours missing and murdered Indigenous women and girls
February 3, 2020 —
At an emotional ceremony on Jan. 31, a commemorative beaded quilt made to honour missing and murdered Indigenous women and girls was unveiled at the entrance of the Neil John Maclean Health Sciences Library at Bannatyne campus.
The quilt, comprising 50 individual pieces, was donated to the university by Deborah Young, former U of M executive lead for Indigenous achievement. Young's mother created the quilt from squares made at an eight-hour bead-in led by Young in March 2014 in support of Walking with Our Sisters, a travelling art installation created by Métis artist Christi Belcourt.
The bead-in, and subsequent community beading get-togethers, were held at Neechi Commons, a former Indigenous grocery store, restaurant and gallery in Winnipeg's North End. The quilt remained on display there until the closure of the community space in 2018.
"Deborah wanted to keep the quilt in the province and city where it was inspired," said Dr. Catherine Cook, vice-president, Indigenous, University of Manitoba. "More importantly, she wants it to be a reminder of the unfinished stories from the Indigenous women and girls who are no longer with us."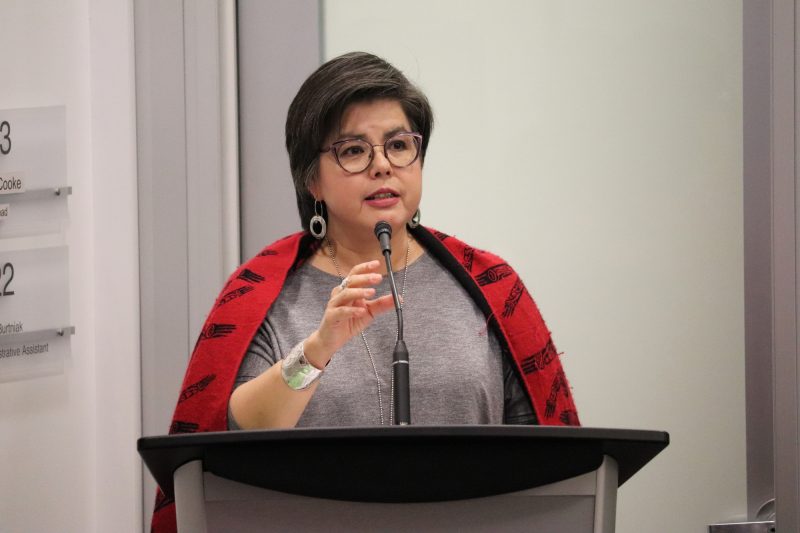 Young, a U of M bachelor's and master's of social work alumna now pursuing a PhD in social work at Carleton University in Ottawa, said the quilt is a small contribution to a much larger societal conversation that needs to happen around racism and violence.
"The quilt has helped me to understand the importance of friendship, love, life and death," she said. "A single bead on its own remains unfinished, but when many beads are brought together, it tells a powerful story of resistance and resilience only made possible by community voice and action."
Young also publicly acknowledged the work of her mother, Bette Morriseau, for the first time.
"When the quilt found its first home at Neechi Commons, mom felt the quilt should stand on its own and in memory of the countless lives' lost. The person who created it, she felt, did not matter," Young said. "I respected my mom's decision and did not acknowledge her contribution. But as I stand before you today, she will no longer remain anonymous."
Morriseau, a residential school survivor who passed away three years ago, was a U of M social work alumna who dedicated her life to front-line service in the North End. Young said her mother had several offers over the years to move into managerial positions, but always turned them down because her passion was to provide direct assistance to children and families in the community.
It took several months for Morriseau to complete the quilt, and Young said "mom became quite emotional as she quilted the patches into place, reflecting on the lives they represented."
"Mom said to me once, 'Each loss of life is an untold story, a hole in our families that can never be mended," she said. "And there are so many untold stories in Canada."
Dr. Brian Postl, dean, Rady Faculty of Health Sciences and vice-provost (Health Sciences), said the quilt will help the faculty move forward with Indigenous communities in a spirit of reconciliation and collaboration.
"Displaying this on our campus will reinforce with our students, faculty, staff and community the importance of continuing to acknowledge the harms and the shame of Canada's past," he said.