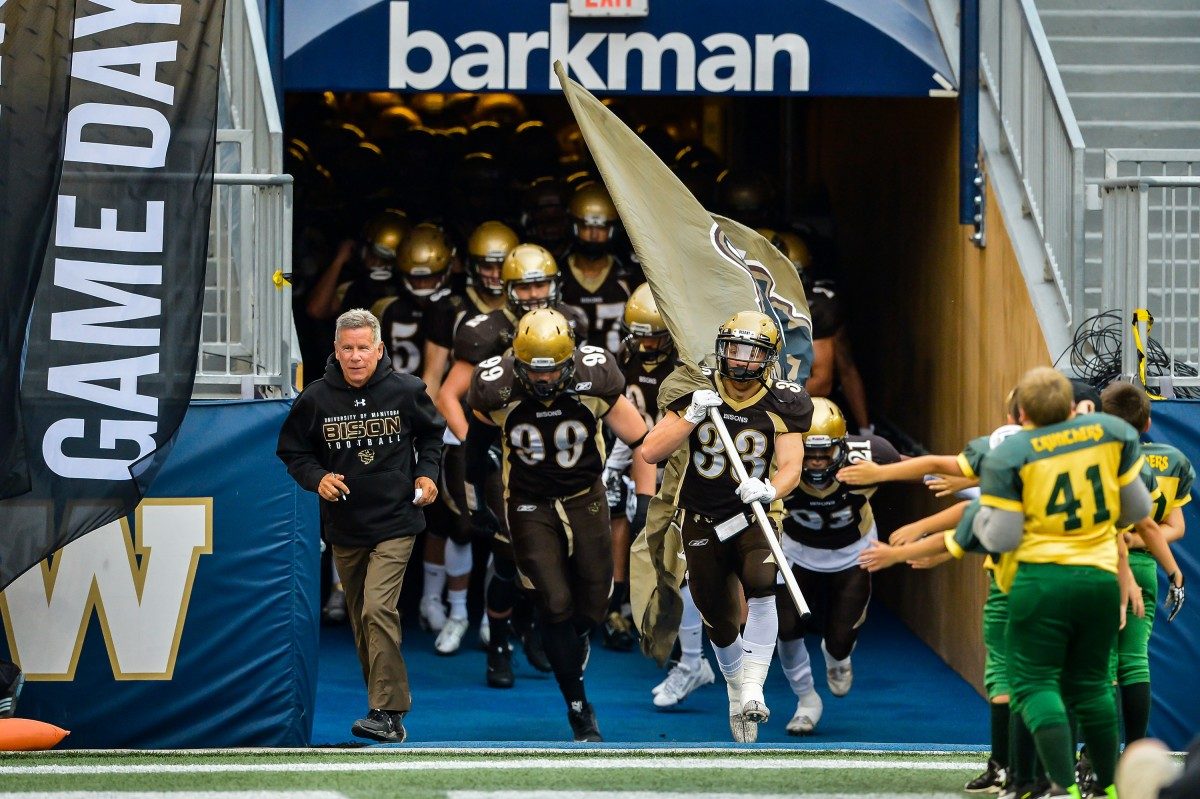 University of Manitoba's upcoming community events
September 28, 2017 —
The University of Manitoba invites you to a variety of public events on campus and in the community from September to November, 2017.
---
Bison Football
The University of Manitoba Bison Football team will host the Alberta Golden Bears in the first ever afternoon football home game for U of M. Bring the family for a fun-packed game and cheer on your Bisons as they make a push for playoffs!
September 29 vs. Alberta 4:30 p.m.
Investors Group Field
Tickets $15; free for U of M students and fans 17 and under
Tickets available at Ticketmaster.ca
gobisons.ca
---
Sol Kanee Lecture: Peace Through Prosperity
Sponsored by the Richardson Foundation, the Arthur V. Mauro Centre for Peace and Justice presents the 2017 Sol Kanee Lecture, featuring Steve Killelea, Founder and Executive Chairman, Institute for Economics and Peace, the world's leading think tank dedicated to developing metrics to analyze peace and quantify its economic value.
October 4, 1:30 – 3:30 p.m.
Canadian Museum for Human Rights
Learn more at https://goo.gl/h2ewUv
---
Uncovering Artists' Books
Artists' books read at once as sensual, spatial and tactile; they open our reading experience to the multi-sensory perception of books as art objects. Curated by Geraldine Davis, Uncovering Artists' Books explores this rich artistic practice, highlighting its significant contribution to the history of visual art in Canada.
October 10 – November 24
School of Art Gallery, 255 ARTlab, 180 Dafoe Road
http://umanitoba.ca/schools/art/Books.html
---
Vientos y Tangos
The University of Manitoba Wind Ensemble and Concert Band present their first concert of the season, featuring concerto competition winner Cam Denby on marimba.
October 13, 7:30 p.m.
Jubilee Place Auditorium, 173 Talbot Avenue
Tickets $15; students $5
Tickets can be purchased at the door, or in advance at the Desautels Faculty of Music office (Room 319 – 136 Dafoe Road)
---
The President & The Poet
Join University of Manitoba President and Vice-Chancellor Dr. David T. Barnard for an evening of poetry reading, dialogue, and book signing with internationally renowned Irish poet Micheal O'Siadhail. His latest work, One Crimson Thread, will be available for purchase and signing.
October 16, 7 p.m.
Marshall McLuhan Hall – 204 UMSU University Centre
RSVP to rsvp [at] umanitoba [dot] ca or by calling 204-474-9071
---
Evening of Excellence
A special evening for high achieving grade 12 students and their parents. Explore the U of M and everything it has to offer, including our academic programs and services, scholarships and application process, and large and welcoming Indigenous community.
October 24, 6 – 8:30 p.m.
UMSU University Centre
Learn more at umanitoba.ca/eveningofexcellence
---
Café Scientifique
In The Pink: 50 Years of Breast Cancer Research
Join our expert panel as they discuss past biological research and current efforts at the U of M to develop new ways of detecting breast cancer and new treatments for improving patient quality of life.
October 25, 7 p.m.
McNally Robinson Booksellers, 1120 Grant Avenue, Winnipeg
RSVP to Research_Communications [at] umanitoba [dot] ca or by calling 204-474-6689
---
Pumpkin Party
Come in costume and carve jack-o-lanterns as a family. Bring your own pumpkin and leave the mess to us! Carving stencils and snacks provided.
October 28, drop in between 10 a.m. – 2 p.m.
Bruce D. Campbell Farm and Food Discovery Centre, 15 minutes south of Winnipeg on Hwy 75
Admission $5; children 4 and under free
ffdc.ca
---
Café Scientifique
The Fallout: Research & Practical Tips for Preventing Falls
In this panel, experts from the Centre on Aging's Falls Prevention Research Group will discuss what causes people to fall and strategies you can use in your daily life to prevent falls.
November 6, 7 p.m.
McNally Robinson Booksellers, 1120 Grant Avenue, Winnipeg
RSVP to Research_Communications [at] umanitoba [dot] ca or by calling 204-474-6689
---
Nothing Sacred by George F. Walker
A dark comedy of conflict between fathers and sons, landowners and serfs, and traditionalists and nihilists set in 19th century Russia masterfully presented for the modern audience by the Black Hole Theatre Company. Complete with dueling pistols at dawn! Directed by Chris Johnson.
November 8 – 18
John J. Conklin Theatre at the Gail Asper Performing Arts hall in the historic Taché Hall, 150 Dafoe Road
Tickets $18; students and seniors $12
Tickets can be purchased at the door or in advance at 204-474-6880
bhtc.ca
---
Climate Change: From challenges to opportunities
Join us for this free symposium, where academics from across Canada will discuss this global issue and its impact on geography, business, natural resources, the Arctic and national security. Presented in partnership with the Royal Society of Canada Celebration of Excellence. All are welcome.
Nov. 23, 9 a.m. – 4 p.m.
Room 210, UMSU University Centre
RSVP by Nov. 9, 2017 to UMsymposium [at] umanitoba [dot] ca
---
For additional University of Manitoba events, visit umanitoba.ca/communityevents