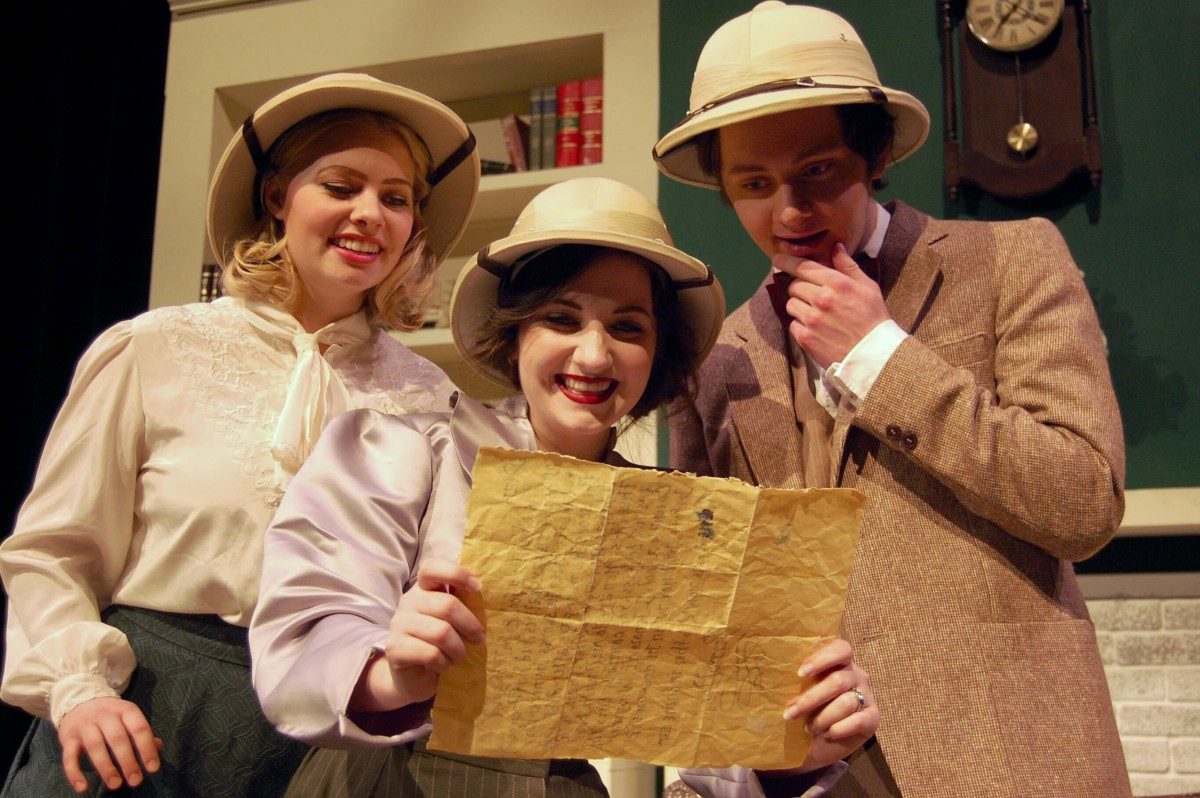 University of Manitoba's upcoming community events
January 18, 2018 —
The University of Manitoba invites you to a variety of public events on campus and in the community from January to February, 2018.
---

THE BLACK HOLE THEATRE COMPANY PRESENTS: PITH!
It is the summer of 1931 in Providence, Rhode Island. Jack, a quick-witted sailor, dives into the dreary world of reclusive Virginia and her housekeeper Nancy. Hoping Virginia will accept the death of her missing husband, they embark on an adventure in the jungle…all without leaving the house. Come along for the adventure and unleash your imagination.
January 17 – 27
John J. Conklin Theatre at the Gail Asper Performing Arts Hall in Taché Hall
150 Dafoe Road
Tickets $18 Students and seniors $12
bhtc.ca/mainstagetwo.html
---

CAFÉ SCIENTIFIQUE — NOT A ONE HIT WONDER: STATINS BENEFIT BEYOND CHOLESTEROL
As patent protection on statins draw to a close, researchers at the University of Manitoba are studying new applications for this popular cholesterol-lowering drug. Join us as we learn about the potential benefits of statins in cancer, heart disease, and chronic lung diseases.
January 23, 7 PM
McNally Robinson Booksellers, 1120 Grant Avenue
umanitoba.ca/cafescientifique/
---

MINDSETS MATTER: THE PSYCHOLOGY OF AGING WELL
Psychological factors are central to understanding how individuals adapt to the challenges of aging. During this midday research seminar, Dr. Judith Chipperfield will present a selection of findings and highlight her plan for development of a cognitive treatment that encourages older adults to shift their mindsets to more adaptive ways of thinking.
January 24, 12 – 1 PM
Millennium Library (Anhang Room), 251 Donald Street
Seating is limited
umanitoba.ca/aging
---

BEYOND CRISIS LECTURE SERIES
Join us as Dr. Daniel Neep from Georgetown University shares his insights of how Syria got to where it is today. In his talk The Nation Belongs to All: The Making of Modern Syria, Neep brings us a first-hand account of economic, political and social influences on the Syrian situation.
January 25, 7 PM
McNally Robinson Booksellers, 1120 Grant Avenue
---
RECONCILIATION THROUGH RECOGNITION LECTURE POSTPONED
Due to unavoidable circumstances, the lecture with Phil Fontaine and Kathleen Mahoney has been postponed and new date will be announced. Sorry for any inconvenience.
---

STUDENT SPOTLIGHT CONCERT
The University of Manitoba Symphony Orchestra presents an exciting program of works featuring the premier of a new work by student composer Tristan Zaba and performances by Concerto Competition co-winners Mollin Balisi (flute) and Sydney Clarke (soprano).
February 7, 7:30 PM
Westminster United Church, 745 Westminster Avenue
Tickets $15 Students $5
Tickets available at the door or at the main music office 319-136 Dafoe Road

---

VISIONARY CONVERSATIONS
Are Black Canadians equitably represented in positions of power and influence?
To mark Black History Month, Visionary Conversations will explore issues affecting the Black community and celebrate its stories. Presented in partnership with the Canadian Museum for Human Rights and the Black History Month Celebration Committee.
February 13, Doors Open 6:30 PM Panel Discussion 7 – 8:30 PM Reception to follow
Canadian Museum for Human Rights, 85 Israel Asper Way
Seating is limited. RSVP to rsvp [at] umanitoba [dot] ca or call 204-474-9071
umanitoba.ca/visionaryconversations
---

LOUIS RIEL DAY CELEBRATION
Join David Chartrand and other members of the Manitoba Metis Federation Cabinet for the official founding of a new Metis Local that will be located at the University of Manitoba campus. Musical entertainment and a Metis Chivaree (feast) will follow.
February 16, 11 AM – 1 PM
Migizii Agamik – Bald Eagle Lodge, Fort Garry Campus
Free to attend
umanitoba.ca/indigenous

---

MED TALKS — ENGAGE YOUR MIND: PHARMACOLOGY UPDATE
Join us for two interactive lectures from renowned experts on pharmacology as they address timely health and wellness issues. Dr. Shandis Price will discuss current options in her presentation Navigating Through Natural Health Products, followed by Dr. Glen Drobot's presentation Unblock My Heart: Latest Blood Thinners for Treating Clots and Atrial Fibrillation.
February 20, 7 – 8:30 PM
Reh-Fit Centre, 1390 Taylor Avenue
Free to attend
For more information, or to register, call 204-789-3547 or email nancy [dot] fischer [at] umanitoba [dot] ca
umanitoba.ca/medicine/medtalks

---

STUDENT OPEN HOUSE
Explore the University of Manitoba and experience a day in the life of a university student at our annual open house for high school students and their families.
February 22, University of Manitoba Fort Garry Campus
Day program for high school students: 9 AM – 2 PM
Evening program for students and families: 6 – 8 PM
Register to attend at umanitoba.ca/openhouse

---

CANADA WEST TRACK AND FIELD CHAMPIONSHIPS
The University of Manitoba Bisons will host the best in track and field from universities across Western Canada. Make it a class or family event and come out to cheer on the Bisons.
February 23 and 24
James Daly Fieldhouse at the Max Bell Centre, Fort Garry Campus
Tickets $10 Free for fans 17 and under
gobisons.ca