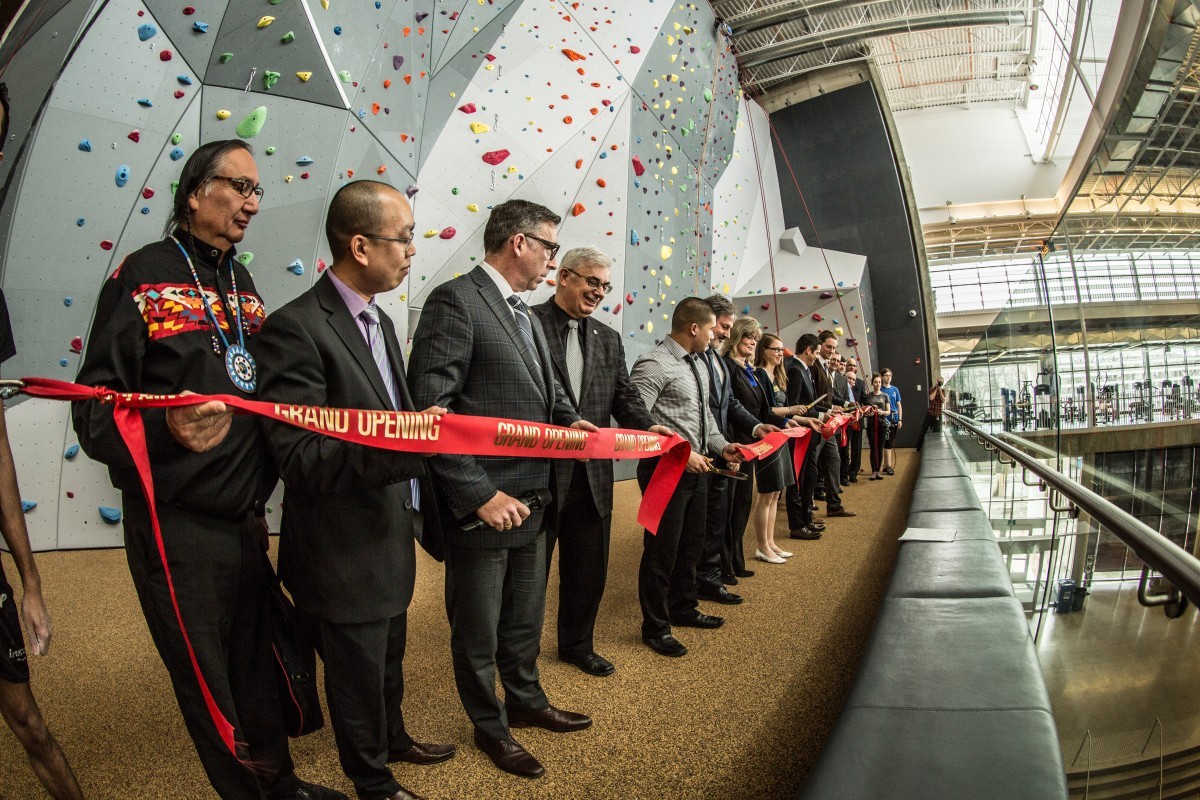 University of Manitoba's Active Living Centre officially opens
State-of-the-art facility made possible thanks to a federal-provincial partnership
April 7, 2015 —
Today, the University of Manitoba's Active Living Centre opened its doors to give students and members of the community full access to the facility for the first time. Officials from all levels of government joined the President of the University of Manitoba and other representatives for a special official opening celebration.
"Our Government is pleased to invest in infrastructure that contributes to building strong, sustainable and healthy communities. This inspiring new facility will benefit the university community as well as our community as a whole for years to come, promoting healthy living and offering countless opportunities to get active," says The Honourable Shelly Glover, Minister of Canadian Heritage and Official Languages.
"The new Active Living Centre combines the benefits of an ultra-modern fitness facility with research that will help Manitobans enjoy healthier lifestyles, build healthier communities and explore solutions to manage and prevent chronic diseases," notes Dr. David Barnard, President and Vice-Chancellor, University of Manitoba.
The Active Living Centre is a 10,684-square-metre eco-friendly building that includes a high-performance training facility, an indoor running track and a 12-metre climbing wall. A research centre, strength and conditioning facilities, a gathering area for students and three group workout studios complete this state-of-the art facility.
With its luminous glass exterior, the new four-storey, open-concept Centre can accommodate more than 2,000 patrons per day and serves as the largest active living facility in Manitoba. It is a massive improvement over its predecessor, a dimly lit underground gymnasium known as the "Gritty Grotto."
"This new state-of-the-art fitness facility is a game-changer not only for U of M students and Bisons athletes, but for the community. The City of Winnipeg is proud to partner with the University of Manitoba in making the Active Living Centre a reality by providing a $2.5 million contribution to this visionary project. It will serve students, staff, and all Winnipeggers for a long time to come," explains His Worship Brian Bowman, Mayor, City of Winnipeg.
The governments of Canada and Manitoba jointly committed $20 million towards total eligible costs for this initiative, under the Provincial-Territorial Base Fund, whereas the City of Winnipeg provided $2.5 million towards the centre, generated through the sale of the Polo Park Stadium site. In addition, the University of Manitoba provided $36.8 million for the balance of the funding. The total cost of the project was $59.3 million.
The Provincial-Territorial Base Fund is part of the 2007 Building Canada Plan and is designed to address core infrastructure priorities in each jurisdiction. To learn more about the Provincial-Territorial Fund, please visit: www.infrastructure.gc.ca/prog/ptbase-finbasept-eng.html.
More information:
View photographs from the opening below.
[rev_slider alc_opening]