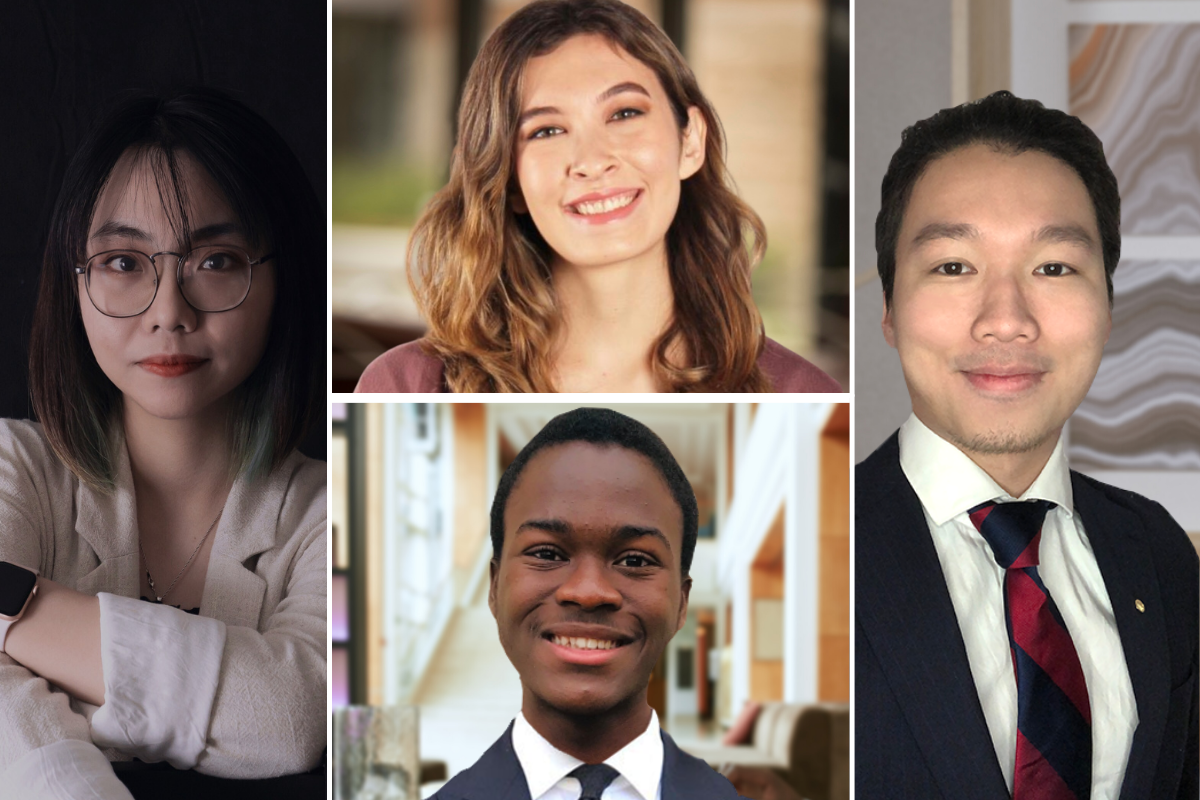 University of Manitoba Undergraduate Team Wins North American Case Competition
Asper School of Business and Price Faculty of Engineering students align to place first at the Digital Workplace Innovation Case Competition
March 16, 2021 —
Our students continue to demonstrate case competition prowess with another winning weekend.
On Saturday, March 13, a duo of Asper undergraduate students paired up with two students from the Price Faculty of Engineering to win their division and placed first in the Digital Workplace Innovation Case Competition hosted by the Haskayne School of Business.
The University of Manitoba team, InnoTech Consulting, represented by Asper students James Pham and Laura Mickey along with Price Engineering students, Victor Aderinto and Emma Tran competed against teams from University of Calgary, University of Alberta, Mount Royal University, McGill University and Universidad Panamericana (Mexico) to name a few.
"I was ecstatic and proud of our team when we won, our performance was a result of an excellent team effort over the 32-hour resolution time," said fourth year Asper student and finance major, Laura Mickey. "We were super grateful for the support of coaches Judy Jayasuriya and Jim Sykes, as we combined each of our disciplines to create an innovative solution."
Each case team was required to build a strategy that addresses the issues affecting the agriculture industry. Their strategy had to consider innovation, technology and digitization in the future of agriculture and its role in keeping the world fed. The team chose to examine how Canada can minimize the environmental impacts of cattle farming while increasing production. They proposed changing the diet of cattle and introducing a roper system in the short term while implementing smart farming techniques in the long term.
Faculty Advisors Judy Jayasuriya and Howard Harmatz from the Asper School of Business along with Jim Sykes, Engineer-in-Residence from the Price Faculty of Engineering supported the three teams that entered the competition from the University of Manitoba. Participating students were from the faculties of Science, Engineering and Management.
"The team's success is a testament to their work ethic. They worked hard in preparation for the competition. The judges were impressed by the focused nature of their presentation and the depth of information that was presented," said Judy Jayasuriya [MBA/14], Lead of Experiential Learning and team coach. "Jim, Howard and I are so proud of our students. The win is an incredible achievement for our school! We could not ask for better representation from the University of Manitoba."
Over the past month, the Asper School of Business has been busy competing in a range of external undergraduate, graduate and mixed competitions. The summary of results are listed below. If you are interested in participating in business case competitions please reach out to judy [dot] jayasuriya [at] umanitoba [dot] ca
Undergraduate Results
January 15-17, 2021, ICBC, Finalists HR and Ethics Divisions, 2nd Place (HR)
Laura Malyon
An Truong
Laura Mickey
Tasbeer Rahman
February 22-27- EngComm, International Case Competition, Division Winner; 4th Place
James Pham
Mohammed Erfan Hossain
Emma Tran
Victor Aderinto
February 10, 2021 – IMPACT Case Competition, National, 3rd place
Nardos Ghebremeskel
Melika Zamai
Omar Mohamed
February 15 – 25, 2021 – Global Case Competition, International, Top 2.5% (top 12)
Lauren Slegers
Tara Flatt
Kieran Hall
Mackenzie DeiCont
Graduate Student Results
March 6, 2021, Reimaging Women in Leadership, Continental, Division Winner, 1st place
Rhiannon Leier Blacher
Erin Gair
Nadine Pinette
Diana Dela Cruz
Mixed Teams
February 26, 2021, CFA Global Research Challenge, 1st in the Prairie Division
Brandan Veert
Stefan Swanvel
Sarthak Shah
Gurkamaljeet Dhaliwal