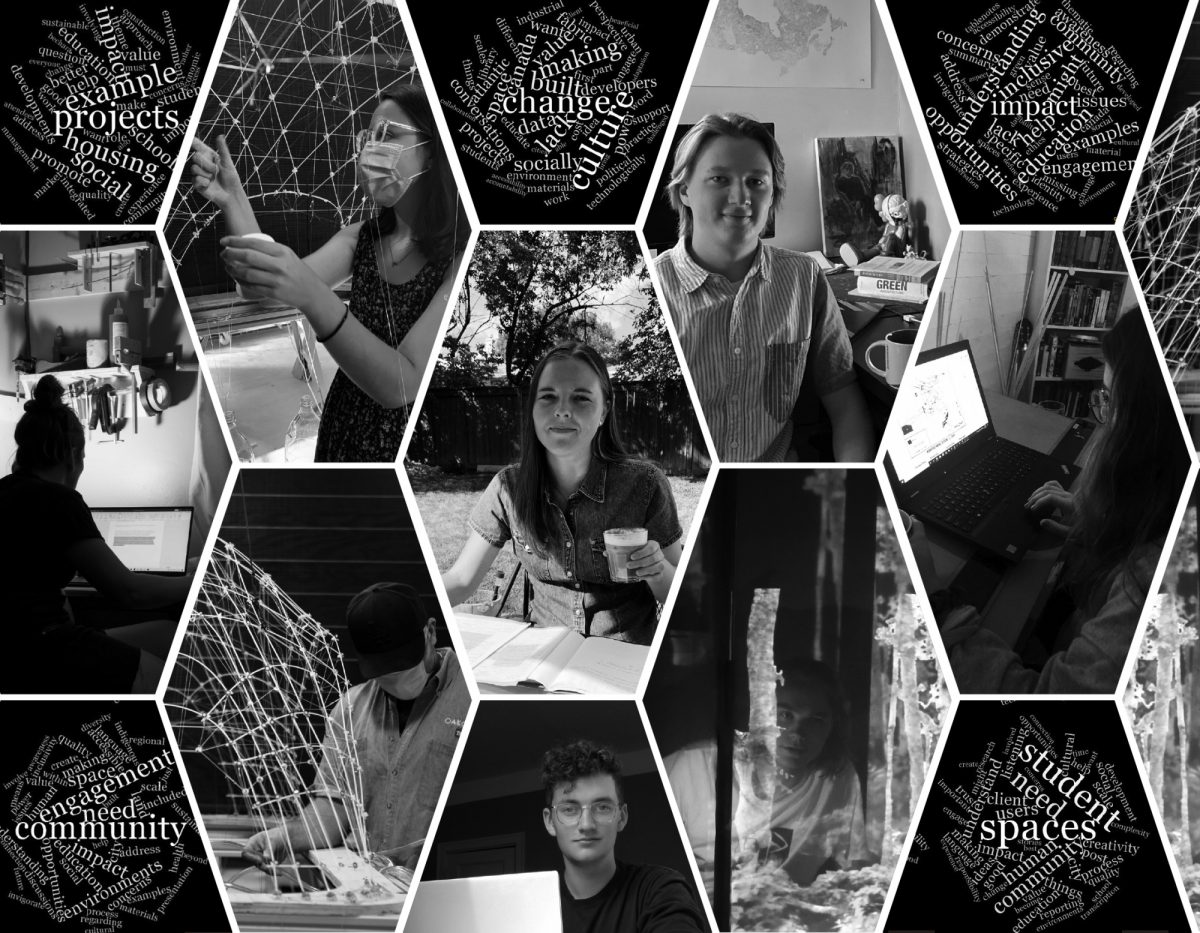 Undergraduate Researchers: Busy this Summer
August 26, 2020 —
Eight Faculty of Architecture students earned Undergraduate Research Awards this summer. Valued at $7,000 each, these competitive awards enable students to work with researchers on projects that develop skills, drive discovery and inspire ideas for their future studies and careers.
In spite of all the challenges associated with COVID 19 – including working from home, remote mentoring and restricted access to research materials and labs – these student-professor teams succeeded in advancing insights and generating a "hive mind" of collective research.
Environmental Design students in Architecture and Landscape + Urbanism earned URA positions this summer. Short interviews with each student reflecting on the research project and their experience are featured below.
The URA program is supported by the University of Manitoba Office of the Vice-President Research and International. More information on the program is available here.
Benita Kliewer and Rhys Wiebe, ED4-Architecture
Canadian Architecture Forums on Education (CAFÉ)
With Dr. Lisa Landrum
Tell us what you've been doing this summer.
Benita: When vaguely disinterested relatives ask what I'm doing this summer, my shortest synopsis is "I'm researching the future of architecture in Canada." If it turns out they are actually interested, I tell them that over the last year a series of forums were held across Canada to gather students and academics together to dream and discuss the future of architecture in Canada with the goal of creating a National Architecture Policy. My job has been to work at distilling the great quantity and wide array of information that came out of these events into a form that is more easily understood and shared. This has involved projects like transcribing and summarizing the notes from the table discussions at the forums, analyzing an online survey, and creating infographics to make the responses easier to digest.
Rhys: My work this summer has involved summarizing and analyzing the proceedings from the five CAFÉ forums that took place during the 2019-2020 academic year. I've been working with Benita to organize the notes of each round-table discussion on the CAFÉ themes of Place, People, Prosperity and Potential, as well as organizing summaries of the student manifesto submissions. All this is being composed into a final document.
What have you found most interesting?
Benita: It's been really exciting to feel the pulse of what other students and academics are thinking about across the country. After the hectic and hyper-focused year in school, this project has been a reality check – an opportunity to reconsider bigger picture goals, see that the country is full of people dreaming big dreams (and working to realize them!), and remember why I wanted to come to architecture school.
Rhys: The opportunity to hear the perspectives of other people within the architectural community has been wonderful! – and very helpful in adjusting and broadening my own thoughts and opinions.
How is this experience sparking ideas for future studies or career goals?
Benita: Coming from a background in sociology, this project allowed me to see the opportunity for doing social research in architecture – something I had not really considered before.
Rhys: This research experience has increased my interest in community organization and its benefits. I more fully understand the importance of genuine engagement and small-scale activism.
How can we find out more?
Check out https://architecturecanada.ca/ ; follow on Instagram @archcanadacafe ; and here's a 1-minute animation created by M.Arch student Andria Langi, with survey data organized by Benita, entitled "Architecture Is_____"
Teresa Lyons and Owen Toth, ED4-Architecture
Bending active frames with post-tensioned cable supports
With Prof. Lancelot Coar
Tell us what you've been doing this summer.
We have been exploring experimental and efficient shell structures, through explorations of bending active formwork. Our research has also been a study of the parallels in workflow between both digital and physical tools, as both strategies play roles in contemporary building practices. This has included digital modelling in Rhino and Grasshopper, as well as physical modelling and load testing of 1:5 fibreglass rebar models.
What have you found most interesting?
Teresa: I have really enjoyed the challenge of learning new physical modelling skills. Each material has its own language, and working with fibreglass has been opened my eyes to elastic (although splintery) materials. I have also really enjoyed developing a cable network for our diagrid model – as far as we know, this may be the first time this has been done.
Owen: The simulative nature of modeling materials and testing structures, paired with digital scanning and capturing material properties and test results, which was compared to and informed by the built reality. This directed a constant conversation around this feedback loop, of how modeled mechanisms and nuances surface in real world applications. The value of understanding that what exists at scale must eventually be translated to a full scale, constructible structure grasps at a logical proofing, an effort to project the reality through simulation.
How is this experience sparking ideas for future studies or career goals?
Teresa: This research has opened my eyes to the more structural side of architecture–the reality of connections, materials, structural language. I have not learned specific facts but instead logic–I have a better understanding of structures and material efficiency. Further, this experience has sparked a deeper interest in the "green" potential of such alternative/experimental research.
Owen: I like the idea of collaborating with a variety of people in an effort to design something that is not just a projection of a form or vision, but rather a new system of building. This blurs my grasp of the influence that architecture has on society. This research has led me to believe that architecture has deeper roots into persuading how human civilization shapes the earth. This has assisted in reshaping my intentions regarding what I am designing for: a new passion has grown for designs informed through the correct application of a building system. The discussions around an ecological building method that, though complex ideologically, could be simplified for the general construction industry to reduce our resource waste, provides for me an alternative growing passion for the philosophy of architectural sociology.
How can we find out more?
Our work will be incorporated in two forthcoming publications, co-authored by Lancelot Coar:
Coar, L., Piper, J., De Laet, L. (2020) "Design and construction of 3D post-tensioned cable system for bending active gridshells," Proceedings of the International Conference of Spatial Structures. Surrey, UK., University of Surrey.
Coar, L., Hare, J., De Laet, L., Cha, Y. (2020) "A study of workflows used for the creation of fabric formed ice shells using bending active frames." International Journal of Space Structures.
Lindsay Mamchur, ED4-Landscape + Urbanism
Photography and the Built Environment: the summer research project
With Dr. Susan Close
Tell us what you've been doing this summer.
I am working with Dr. Susan Close as she writes her book on the intersections of photography and the built environment. My main activities are to collect and review research literature, investigate copyright permission, and manage the project's website, which I helped design last summer. Other opportunities have come about to film and edit a video, start an Instagram account, and begin preparing a paper that Dr. Close and I hope to present at a design conference this school year.
What have you found most interesting?
I have most enjoyed learning about the book-writing process and studying photographers like Robert Adams and Thomas Struth.
How is this experience sparking ideas for future studies or career goals?
In this research experience, I have found people, projects, and ideas to carry forward. For example, Kenneth O'Halloran's series The Handball Alley and Robert Adams' The New West move me to engage their representations of landscape in my studio coursework. Also, exploring these photographers has encouraged me to commit to my own practice of photography. This experience could mean opening doors to study and career paths I had not previously considered.
How can we find out more?
Website: https://www.photographyandthebuiltenvironment.com/
Instagram: @photoandbenvresearchproject
Anything else?
My experience with the URA program has been very positive. To read more about this research project and my reflections on the URA as a good mentorship opportunity to discover interests that can become the subjects of long-term study and a fulfilling career, see my blog: https://www.photographyandthebuiltenvironment.com/this-past-year.
Max Sandred, ED3-Architecture
Theatres of Architectural Imagination
With Dr. Lisa Landrum
Tell us what you've been doing this summer.
The Theatres of Architectural Imagination project has been focused on the design of a miniature theatre, intended to be constructed at the Theatres of Architectural Imagination Symposium at UQAM Montreal. The miniature theatre is centred around the use of projections, allowing for the creation of flexible, interactive and previously unimaginable settings for plays. The project began with an exploration of relevant installation artists, musicians and scenographers such as Ryoiji Ikeda, Stephen Ellison (known as Flying Lotus), and Joseph Svoboda. The design of this theatre gradually evolved from a typical proscenium theatre form into a more flexible cubic form, taking inspiration from Joseph Svoboda's descriptions of his "ideal" modular theatre.
The exhibition was supposed to take place in May 2021 as part of the symposium, due to COVID-19 the event is being re-formatted. Fortunately, this summer research has been able to move forward successfully in spite of the postponement and all the related restrictions.
What have you found most interesting?
It has been very inspiring to learn more about scenographers and artists who have innovated the use of projections in their work (in particular Joseph Svoboda). It has also been exciting to begin learning the program Max 8, which has allowed me to control and create interactive videos.
How is this experience sparking ideas for future studies or career goals?
This research project has given me the opportunity to work on designing an installation. I hope to continue working on installations throughout my career, and my research of artists, and my experience working on an installation (especially with the use of the program Max 8) will be great assets in future creative projects.
How can we find out more?
Watch this website for future announcements on the Theatres of Imagination event and related call for papers: https://www.marcofrascaridreamhouse.com/future-events
Owen Swendrowski-Yerex, ED3-Landscape + Urbanism
Modeling and Environmental Performance of an Environmental Case Study
With Dr. Mercedes Garcia-Holguera
Tell us what you've been doing this summer.
Starting the summer term, I reviewed documents on the practice of biomimicry as well as the temperate deciduous forest around Longueuil, Québec – which is the ecosystem of the case study: the Raymond-Levesque Library, designed by Manon Asselin + Jodoin Lamarre Pratte. I also learned the modelling software Revit in order to perform iterative energy efficiency simulations on a model of the library. I am currently designing a responsive shading panel to apply to the library, inspired by the variation of leaves, their material properties and photosynthetic capabilities across a tree's canopy, as well as the way leaves emerge from buds.
What have you found most interesting?
Beginning the research with only a general familiarity of biomimicry, I was amazed by the depth of potential in the field. It is beautiful and efficient, a solution to perhaps every conceivable design problem pre-existing in nature.
How is this experience sparking ideas for future studies or career goals?
The world of biomimicry is a well of inspiration which I will certainly revisit through the remainder of my undergraduate degree and beyond.
Kendra Wile, ED4-Architecture
Privatizing a Park: Protecting Public Amenities
With Dr. Sarah Cooper
Tell us what you've been doing this summer.
This summer, myself and Professor Sarah Cooper have been taking a look at William Marshall Park, a small but well-loved park situated at the end of Dominion Street along the riverbank in the neighbourhood of Wolseley. Created in the 1970s, this park has remained a staple in the lives of the local residents. For decades it has provided a place for numerous community events, softball games, and in the winter months even a toboggan slide. However, in November 2018 residents were shocked to find that a chain link fence was suddenly running down the center of the lot, essentially cutting the park directly in half and leaving only a sliver of what was once public greenspace, or space that was assumed to be public. Due to the smaller size of the original lot, the city had been leasing a portion of the parkland from the neighbouring property from its conception, the fence that now stands, went up after the property had gone under new ownership.
My tasks this summer have included doing a literature review and compiling data on information and potential policies regarding parkland and public space in Winnipeg. I have also been looking at precedent studies from other cities, with the goal of determining whether there are specific protocols or policies in place that could help explain why this happened, or if any policies/ processes exist to help protect parkland and public space in Winnipeg and how could future plans or goals be amended so that a situation such as this does not affect other greenspaces.
What have you found most interesting?
I chose to work with Sarah Cooper this summer as I was interested in learning more about city-planning and public space. I have found myself enjoying looking at spaces from a different perspective than I am used to, though there is an aesthetic aspect to parts of city planning, I have found with this project we have focused more on the sociological impact that public spaces have on people and how to better preserve, design and protect those spaces.
How is this experience sparking ideas for future studies or career goals?
I believe that I have become more conscious of the land that has been developed around me, after looking through archives and articles from Winnipeg's early days I have seen how our city has grown and the people with it. I would like to put more focus on public space in my future studies. More specifically, I have taken an interest in small-scale sites because of this project. I want to explore the opportunities that a small plot can bring forward, and do more research into the neighbourhoods and the people that will interact with these spaces so that I can ensure that anything I plan or create will have a large impact on the community even if it is small in size.
Is there anything else you would like to add?
I am very grateful to have had the opportunity to work under the guidance of Professor Cooper this summer, I believe I have grown in my skills as a researcher as well as a designer because of this project.
* * *
Are you interested in applying for an Undergraduate Research Award for Summer 2021?
The next application deadline is January 25, 2021. Eligibility criteria and the application process are described here: http://umanitoba.ca/research/opportunities-support/undergraduate-research-awards.
The Faculty of Architecture will again hold an information session for Environmental Design students in early January. Stay tuned for further announcements.