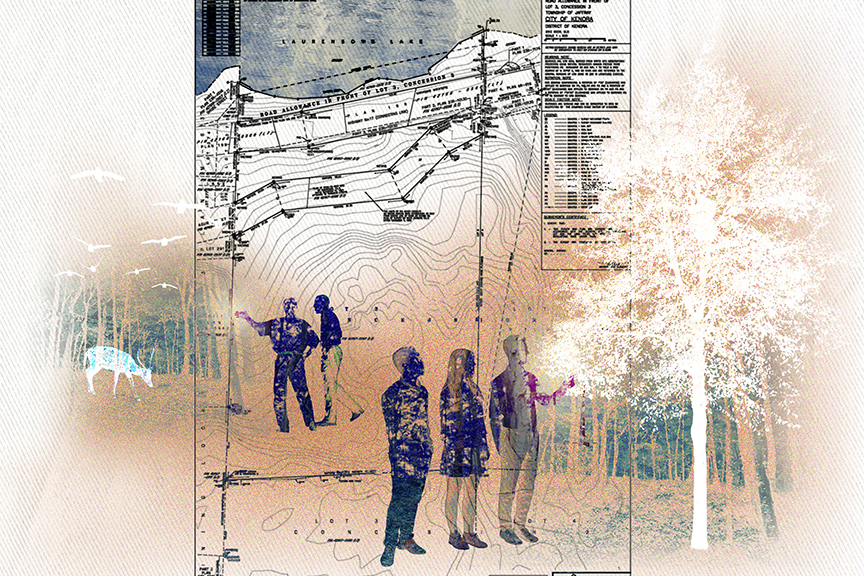 Undergraduate Research: Environmental Designers Driving Discovery
September 3, 2021 —
Ten Faculty of Architecture students earned Undergraduate Research Awards this summer. Valued at $7,000 each, these awards enable students to work with researchers on projects that develop skills, drive discovery and inspire future studies and career trajectories.
Involving students from all disciplinary streams across the Faculty's Bachelor of Environmental Design Program, these projects encompass diverse research topics: from studies of homelessness, relationship-building and policy-making; to children's toys and how they shape spatial thinking; to biomimicry and urban wildlife; to techno subcultures in Berlin and theatres of architectural imagination.
These student-professor teams are advancing research and design strategies toward creating more inclusive, sustainably and thriving societies.
Short interviews with each student reflecting on their summer research experience are featured below.
The URA program is supported by the University of Manitoba Office of the Vice-President Research and International. Applications for summer 2022 will be due in January. More information on the program is available here.
_____________________________
Tengun Bold and Derelyne Raval, ED-Architecture
Kahnowiiyaa
With Prof. Shawn Bailey
Tell us about the research you have been doing this summer:
The focus initially involved the dissection of Jesse Thistle's definition of Indigenous Homelessness in regards to designing housing for a homeless community in North-Western Ontario. By learning more about Indigenous ways of knowing, the direction quickly evolved into a sincere inquiry into what it means to be connected to nature, each other, and the intangible yet fantastical aspects of existence.
The various projects tackled include the North-Western Ontario Housing project, the Forest School project, and the Microhome 2021 Housing Competition (which is still in progress). The work primarily consisted of a mix of drawing, photography, model making, and writing.
What have you found most exciting?
Tengun: For me the most exciting aspect of this research was the philosophical discourse that happened around the idea of a home. The dichotomy between housing that focuses on the individual versus a living that is concerned with the broader community. Thus, through the values laid in Jesse Thistle's definition of homelessness, the issue of Indigenous homelessness becomes not strictly an indigenous issue, and even if someone has a house or an apartment, we could consider them homeless. Therefore, as designers, we should focus on creating spaces that build relationships, both between humans and between humans and the land.
Derelyne: The unanticipated evolution of the work was extremely exciting. The project began quite structured and slowly morphed into something extremely rich and philosophical as we began to examine and understand topics such as healing, reciprocity, and homelessness. As the work progressed, we began to discuss topics such as what home is and means, and how Indigenous ways of knowing combined with modern day approaches can help rebuild our relationships with nature, each other, and oneself. Additionally, having the opportunity to be involved in traditional Indigenous ceremony was an extraordinary and life-changing experience.
How is the experience sparking ideas for future studies or career goals?
Tengun: The research project has definitely inspired me to think about design in a more holistic and responsible way. Specifically, how it is impossible to solve the social, political and environmental issues, such as homelessness and climate change, unless we address our fundamental values as architects. How design/architecture should be grounded, divorced from the ego of the architect, to focus on the values we set, which in our case (I believe throughout my future work) is building spaces that promote relationships, among all peoples and beyond.
Derelyne: The experience has furthered my interest into the social and political aspects of architecture. Specifically, how architecture can inform and inspire policy making and what that means in regards to the role of the architect. Architecture of course cannot solve the world's issues, although it must be acknowledged that its impact reaches far beyond the bounds of style and aesthetics. In order to enact change, architecture must confidently acknowledge issues such as homelessness and the climate crisis with immense compassion and rigour, whilst being aware of design's inevitable limits. This concept is something I hope to delve into further in my studies.
How can we find out more?
Read Jesse Thistle's definition of homelessness here: https://www.homelesshub.ca/IndigenousHomelessness
Is there anything else you would like to add?
A big thank you to Dr. Jonny Grek and Becky Shorrock from Compassionate Kenora, TJ Richard from Grey & Ivy inc., Liane Veness, Terri Fuglem, Calvin Skead and of course Shawn Bailey for opening our minds and guiding our hearts towards profound ways of viewing the world and the built environment. Also thank you to the University of Manitoba for giving us the opportunity to be involved in such an amazing experience.
_____________________________
Nadine Lowden, ED-Interior Environments
Eclectic: The Bridgman Architectural and Building Toys Collection
With Dr. Rae St. Clair Bridgman
Tell us about the research you have been doing this summer:
Professor Rae St. Clair Bridgman's research focuses on child-friendly cities. As an extension of that, she studies construction and building toys, which are often a child's first introduction to developing their own spatial and building capabilities. Over the summer, I catalogued Rae's collection of over 200 construction and building toys and formatted them on a website. I also researched and wrote articles that are featured alongside mini-exhibitions of the collection. These cover topics such as the history of toy design, integrity and inclusion in collecting, and today's hyper-gendered toy market.
What have you found most exciting?
I feel incredibly lucky to have spent my summer on this project, and I am grateful for Professor Bridgman's guidance and trust, which allowed me to explore the research and bring my own perspective and ideas to the collection.
How is the experience sparking ideas for future studies or career goals?
Designing for play at any age is something I'm very interested in and hope to explore further in future work and studies!
How can we find out more?
The Bridgman Architectural and Building Toys Collection, and all accompanying articles, exhibitions, and resources can be found at https://www.architoytonic.com/
_____________________________
Alexandra Margulets, ED-Architecture
Architecture through Techno: Post-Reunification Identity in Berlin
With Prof. Ralph Stern
Tell us about the research you have been doing this summer:
I have been studying Berlin as a centre of architectural and artistic production. I have specifically looked at the subculture of techno music by studying post-reunification as a landscape of ruined, abandoned and underused architecture. Furthermore, I have studied the architectural opportunities that led to the development of club topography and the formation of techno subculture in Berlin. I have further explored the techno scene through the avid poster culture of Berlin, identifying the importance of graphic design as a communication tool that has helped secure Berlin's image as the center of techno music in Europe.
What have you found most exciting?
I enjoyed the experience of conducting research firsthand, from poster analysis to film screenings to article readings and interviews. There are countless ways to go about research, and I found it exciting to play the part of a detective who gathers clues to form a new perspective on a topic.
How is the experience sparking ideas for future studies or career goals?
This research project has provided me with an opportunity to research Berlin's architectural scene through cultural and social trajectories. This topic has sparked an interest that I hope to explore further in my undergraduate and postgraduate studies.
_____________________________
Dominico Obmerga IV and Mary Angeline Reyes, ED-Architecture
BIOM_Lab
With Dr. Mercedes Garcia-Holguera
Tell us about the research you have been doing this summer:
The BIOM_Lab is a biomaterial-oriented study that revolves around the principles of biomimicry and sustainability. Our research has been focused on growing and cultivating bacterial cellulose and mycelium-based materials, and integrating their material properties in the field of architecture and design. Throughout the summer we were responsible for mycelium and bacterial cellulose growth checks, mold design, physical modelling, experiment preparation, sample documentation and publication submissions.
What have you found most exciting?
Angeline: It's been really exciting to closely work with bacterial cellulose and mycelium-based materials, as there was always something new to discover about their material properties and potential roles in design. Due to potential sources of contamination and a challenging growing environment, we've learnt that having patience and a close attention to detail goes a long way. It's also been a real pleasure collaborating with everyone at the Sustainability in Action Facility! The interdisciplinary practice between Architecture, Science, and Engineering has broadened my perspective and taught me valuable knowledge about nature, biomimicry, and design.
Dominico: I have really enjoyed venturing beyond the confines of designing from home following the recent events of the global pandemic. It has been a gratifying experience to learn from my seniors in the faculty as they have opened my mind to new and sparsely explored territories of materiality and design. More importantly, I enjoyed learning the theories behind biomimetics and divulging into conversations around the wealth of knowledge we can attain for nature and implement in design.
How is the experience sparking ideas for future studies or career goals?
Angeline: Through the research, I believe that I have been more thoughtful and conscious to take inspiration from nature and emulate its principles and values into my work as an emerging designer. I hope to involve myself more in collaborative and interdisciplinary practices with different fields (such as engineering and the sciences) for the remainder of my academic life and into the professional environment. Additionally, I am also ecstatic to see the future growth of our current research, the BIOM_Lab, and how we may contribute to the bigger community in finding solutions for environmental and social issues such as climate change adaptation and mitigation.
Dominico: Throughout this summer, our work with bacterial cellulose and mycelium-based materials has peaked my interest in biomimetic studies and created a new sense of appreciation for hidden treasures of design inspiration littered within our environment. In the future I would hope to continue to be invigorated by ideas surrounding sustainable design and green architecture. Looking forward, I am excited to see our research flourish and continue to strive towards reaching a larger audience with projects of a grander scale.
How can we find out more?
Our work will be featured in the forthcoming 30th volume of the Warehouse Journal, edited by Chelsea Colburn and Teresa Lyons. Follow us too on Instagram: @BIOM_Lab !
_____________________________
Sabba Rezai and Max Sandred, ED-Architecture
Theatres of Architectural Imagination (Archimagination)
With Dr. Lisa Landrum
Tell us about the research you have been doing this summer:
This summer we have been working with Professor Lisa Landrum on numerous projects relating to the Theatres of Architectural Imagination project. Our summer began with organizing, promoting and hosting the international Theatres of Architectural Imagination symposium, co-hosted virtually by the University of Manitoba, UQAM in Montreal, Quebec, and the University of Adelaide in Australia. This international symposium explored relationships between theatre and architecture.
Currently we are working together with graduate students Andria Langi and Alixa Lacerna on a virtual exhibition in collaboration with Arts Letters and Numbers that will be exhibited at the 2021 Venice Biennale.
Max: I will have an audio-visual installation that I created in collaboration with composer Örjan Sandred called Sonic Trails: Lockdown exhibited virtually in this exhibition at the Venice Biennale, and in person at the A2G Gallery in the Arch2 Building at the UofM. This installation will run from Sept. 7-11 virtually and in-person (following COVID 19 restrictions) at the A2G Gallery.
Sabba: I have been supporting research and coordination for a group submission for the Biennale Architettura 2021. A large portion of the work that I did was graphic design, such as managing and producing posts for the @frascari_v Instagram page, and designing posters for an exhibition. I also prepared transcripts of symposium sessions for Dr. Landrum's own research and related book publication.
What have you found most exciting?
Max: Being able to develop my own work (Sonic Trails: Lockdown), and to have it exhibited at an event as important as the Venice Biennale is very inspiring and exiting.
Sabba: I found that this summer provided an opportunity to try a variety of new things within the realm of design, including videography, animation + poster design.
How is the experience sparking ideas for future studies or career goals?
Max: Sonic Trails: Lockdown is one of the most ambitious projects I have worked on so far in my life as an architecture student, and I would like to develop many of the ideas in this project further in the future. I'm particularly interested in how our experiences of the built environment are in many ways similar to how we experience music.
Sabba: The knowledge and experience that I have gained this summer has allowed me to reflect on what I appreciate most in design and architecture and what it is that I truly want to achieve within my education. It has enabled my growth as both an aspiring architect and as a person who is passionate about design.
How can we find out more?
On the Theatres of Architectural Imagination Symposium, see the UMToday story here, the Frascari website, https://www.marcofrascaridreamhouse.com/past-events, and Instagram @frascari_v
More the exhibition we are working on at the Venice Biennale titled
Theatres of Archimagination: https://artslettersandnumbers.org/theatres-of-archimagination/
More information about Sonic Trails: Lockdown: https://artslettersandnumbers.org/sonic-trails/ ; and here https://maxsandred.wordpress.com/
Is there anything else you would like to add?
Max: I am very thankful for all of the great opportunities Professor Lisa Landrum has provided me in my two summers working as an undergraduate researcher for her. I am also very thankful for support of the Arts Letters and Numbers collective on my Venice Biennale submission.
_____________________________
Owen Swendrowski-Yerex, ED-Landscape + Urbanism
Wild Winnipeg
With Prof. Kamni Gill
Tell us about the research you have been doing this summer:
At Wild Winnipeg, we aim to document the interaction of people and animals in the urban and suburban woodlands around the city. We use a network of ten wildlife camera traps located in greenspaces to record the diversity and activity of urban wildlife. We also have a website where residents of Winnipeg are invited to submit their own animal encounters and narratives to add to our database.
Starting the summer off, I took field notes for each of our cameras, documenting site info like prevalent plant species and their average density, and relationships with the immediate context, then layering this info onto atmospheric drawings that attempt to capture the visual-spatial experience of the site. I have also been regularly maintaining our trail cams and collecting their memory cards, processing collected images through classification software, as well as organizing our public outreach effort. We are now drawing from our archive of over 700,000 images to create data visualizations representative of the city's animal population.
What have you found most exciting?
Access to our database of animal images is a singular privilege – the constant influx of new and fascinating photos spurs so much intrigue, prompting questions about animal relationships with the urban environment, the human population or other species; about identifying patterns of movement and behaviour that lend themselves to design interventions; about whether they get up and start walking on two legs when nobody is watching, and so on. These would be very difficult to even begin to answer without such a broad and encompassing foundation like this image repository that Profs Gill and Meagher have laboriously assembled. I also very much appreciate having the opportunity go out on my bike to check the cameras regularly. Working from home leaves a certain desire for "doing-something-other-than-just-sitting-at-the-desk-in-your-room-for-7-hours-a-day." This research got me out in the city.
How is the experience sparking ideas for future studies or career goals?
The premise of this research – a multi-faceted inquiry into urban wildlife – should be very important to landscape architecture, considering that humans and animals coinhabit outdoor space on earth. Yet, consideration for animals in LA projects is often, but not always, less than satisfactory: animals may superficially suggest form, or even be taken for ornamentation in a space designed solely for humans. This underrepresentation has made me quite curious about the intersection of wild animals with people in urban environments. I've become eager to explore that in my studio work this fall term.
How can we find out more?
We can be found online at https://www.wildwinnipeg.org/, where the participation tab is hungry for your responses. Please participate, should you feel inclined!
Is there anything else you would like to add?
Go Jets go! And listen to my friends' band Jamboree, they really rock!
_____________________________
Yutaka Dirks also worked with Dr. Sarah Cooper as part of the URA program this summer.