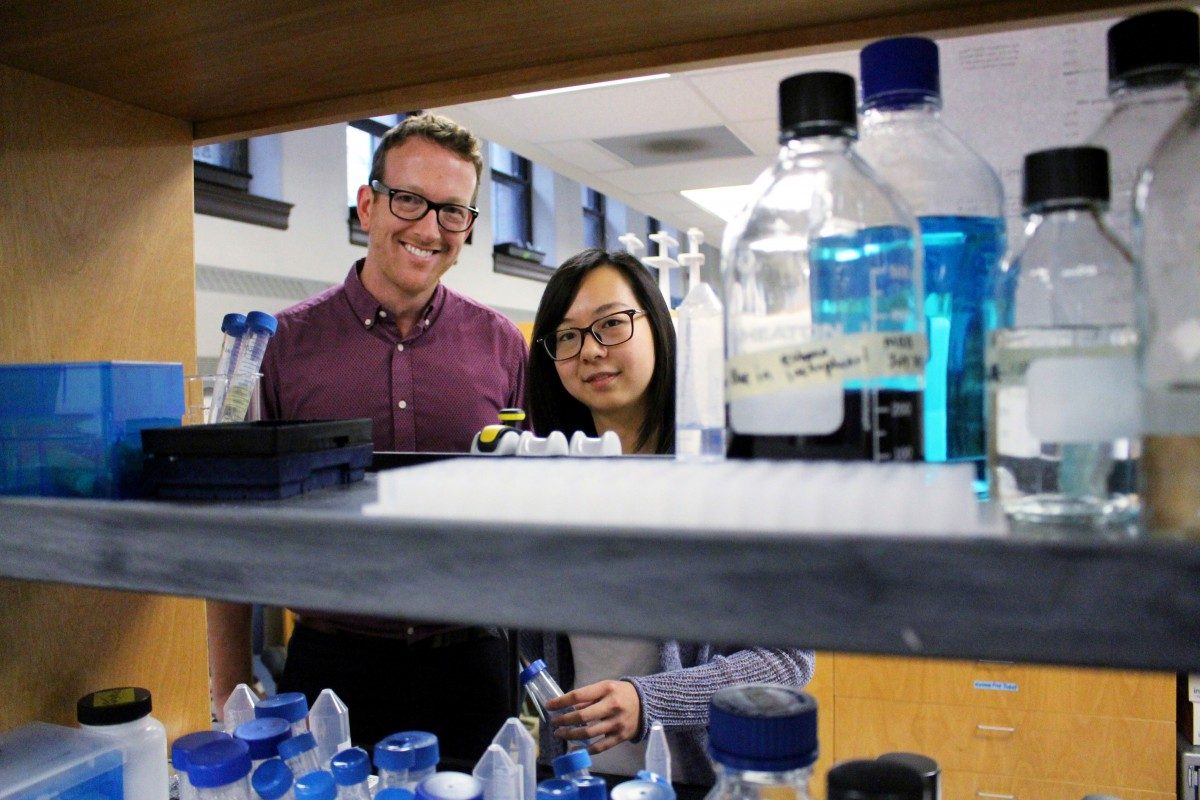 Undergrad helping develop better canola crops
December 16, 2016 —
Vanessa Hoi holds a small clear box with a plant in it that's only a few centimetres high. She's standing next to an incubator, about the size of a fridge, containing more boxes and petri dishes. There are different stages of life inside, from tissue cultures to masses of cells to plants with bright green leaves.
Though these plants fill only an incubator now, this genetically modified canola will cover hectares of land in farmers' fields if all goes as planned.
"We need to do it step by step," says Hoi, a third-year student in the Faculty of Science.
Through Experience Research, the undergraduate research award the office of the vice-president (research and international) offers, Mark Belmonte mentored Hoi this past year. Belmonte is an associate professor in the department of biological sciences, with much of his work focusing on agriculture.
His team is trying to identify genes essential for crop production so they can isolate those that produce desirable traits, like bigger and better quality seeds in canola plants. The value of canola, a plant that Belmonte notes was developed at the U of M in the 1970s, lies in the seed, since that's what the oil comes from.
"Industry and agriculture companies are always looking for new innovative technologies," Belmonte says. "They are looking to better understand what the genes do."
Inspiring undergrads in the lab
Some of Hoi and Belmonte's work is still in the discovery stage, and it will take five to 10 years to actually apply this research to the field.
A big part of Hoi's role in Belmonte's lab this summer was cloning the genes the team identified as beneficial and incorporating this DNA into canola. Then by turning the gene on or off, the researchers get a better idea of the gene's function.
"You can't just pick out the sequence that you want from a gene and then re-introduce it back into canola — there's a number of complex steps along the way," Belmonte says.
These steps include isolating the gene, expressing the gene in E. coli and then Agrobacterium and finally transferring the gene back into canola by infecting plant cells and killing off the bacteria. The plant cells, now with the desired gene, can grow, using added hormones to help generate its roots and shoots.
"In this lab, I'm doing it all by myself so that I know every step along the way," Hoi says.
Belmonte's lab has had a few successful gene transfers — known as transformations — where the cells incorporated DNA from their surroundings. The transformations that worked are ready for further analysis to better understand the function of the gene.
"I try to give projects to students in the lab that are balanced between high risk and high reward," he says. "You need projects that work to continue having good faith in moving forward. If everything fails all the time, you're never going to inspire undergrads to stay in science."
Developing troubleshooting skills
Belmonte calls Hoi, 21, a cloning expert, but she had some obstacles along the way.
"It's inherent within the biology of the plants that they don't want to be messed with, just like we don't want to be messed with," Belmonte says.
Hoi ran into one problem when working with a plasmid — a DNA molecule used to transfer the gene. She had to cut it using an enzyme. When you cut it, you have to make sure it doesn't go back together. You chew up one of the ends with another enzyme, so the plasmid doesn't fit perfectly together again. But she forgot to do this step, resulting in a failed experiment.
"Those failures lead to a better education in the end," Belmonte says. "In theory, everything should work out perfectly. But in practice, you're always encountering obstacles and always trying to troubleshoot."
Hoi has continued her research into the school year. She plans to graduate with a bachelor of science (honours) in biotechnology. Belmonte says Hoi can apply the skills she's learning in his lab to anywhere she works in the biotechnology field.
The application deadline for Experience Research is Feb. 15.