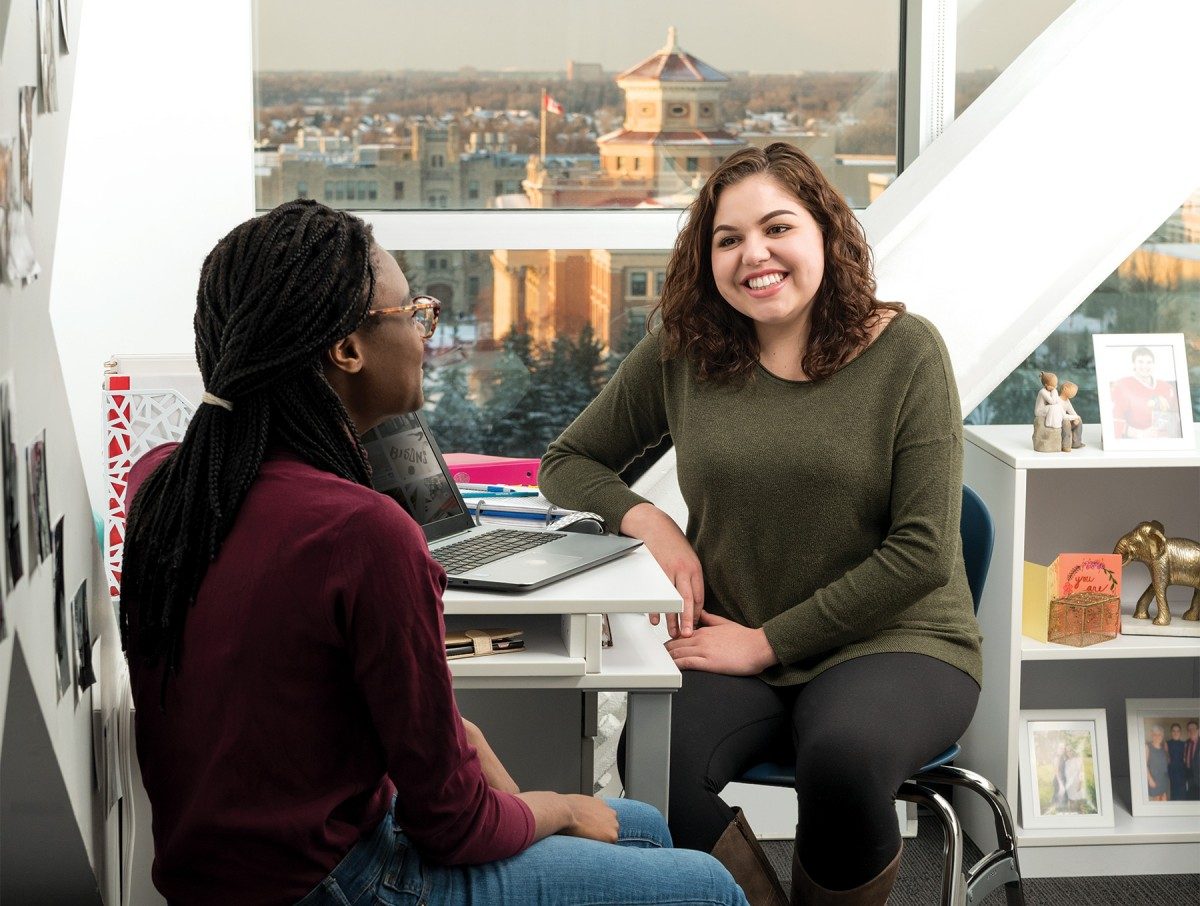 I'm connecting with my community
October 15, 2018 —
Morgan Hanson-Oliveira believes in the power of university to expand horizons. The fourth year student thought she was going to be a chemistry major, but first year classes in Native Studies and Women and Gender Studies inspired her to take a different path to her ultimate goal of pursuing a medicine degree.
"I feel that what I am learning from my Native Studies and Women and Gender Studies degree will help me to connect with others and understand a greater variety of people on a deeper level," says Hanson-Oliveira, who transferred from the Faculty of Science into the Faculty of Arts between her second and third years of study. "In medicine, you deal with such a diverse population. It is important to see all people as more than just patients, but rather as unique individuals with their own stories to tell."
Hanson-Oliveira, who is from Thompson, Manitoba, has found a home away from home in residence, but it's not the only way that she's built community on campus.
"Everyone staying in residence is in the same situation; we have all moved away from home and are essentially starting over in a new location and building a new community for ourselves," says Hanson-Oliveira, who also got involved with student groups.
"There is a larger community at the University of Manitoba than you realize, and student groups are a fantastic way to expand your social circle and meet people who you may have never had the chance to meet otherwise."
This year, Hanson-Oliveira is getting involved as a consent culture facilitator with Justice for Women, allowing her to tie in her degree with her passion for feminism and promoting equality on campus.
She's also taken on the role of assistant Indigenous students representative on the Arts Student Body Council.
"I love my Native Studies major and I love the people I've met in these courses, and being a part of ASBC allows me to reach out to an even greater number of people while also engaging with what I've learned and studied in my classes."
Hanson-Oliveira, a Métis student, also participated in the Indigenous Homecoming event where she met graduates of the U of M who imparted valuable advice.
"The singular message each graduate had in common was that no matter what happens, everything will work out. You cannot worry about the little things, but rather stay focused on your end goal and where you would like to be," she says.
Visit umconnect.ca to learn more about our students' experiences and explore our campus.