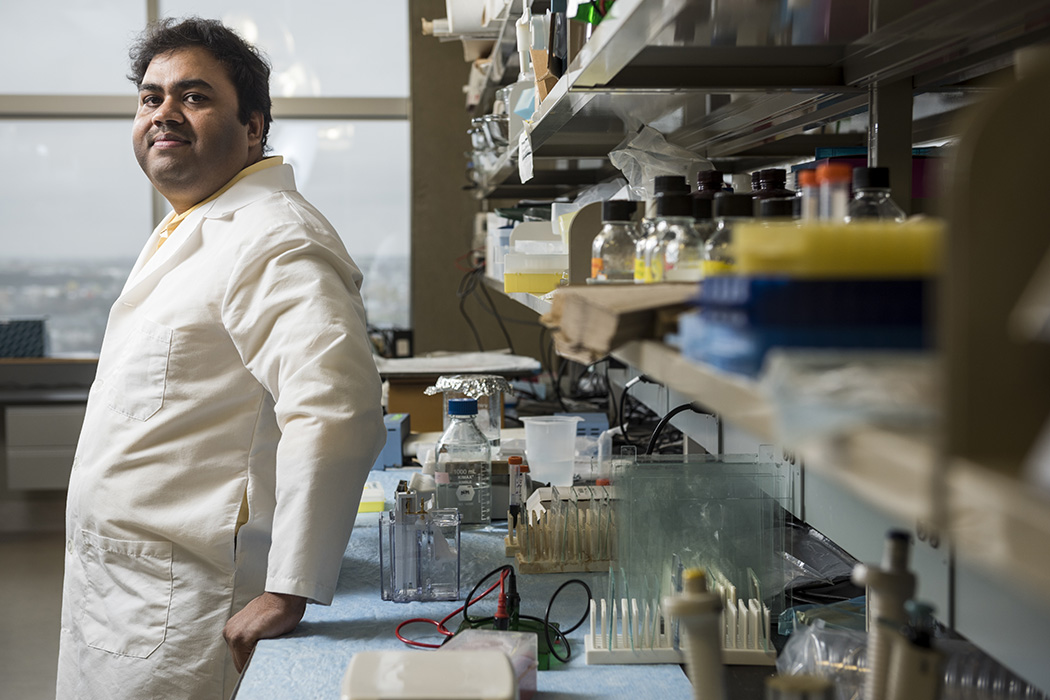 UM scientist makes Arthritis Society Canada's Top 10 Research Advances list again
March 2, 2023 —
A Rady Faculty of Health Sciences researcher might have found a way to predict how a person with early rheumatoid arthritis will respond to treatments based on a sample of their joint lining tissue and the discovery has made Arthritis Society Canada's Top 10 Research Advances of 2022.
"I'm humbled," said Dr. Vidyanand Anaparti, a research associate in the department of internal medicine at the Max Rady College of Medicine. "I'm honoured my research made the list."
But this isn't the first time Anaparti's work has made the annual list highlighting research breakthroughs in the area of arthritis. Anaparti's findings have been featured on the list for 2019 and 2020.
The research that most recently made the list began 12 years ago, when samples of synovial tissue were collected from the knees of 17 patients with early rheumatoid arthritis. Synovial tissue is a connective tissue that surrounds joints. It's where rheumatoid arthritis begins, Anaparti said.
After the synovial tissue was collected, the patients' clinical data was gathered over 12 years and the scientists discovered that the patients could be placed into two groups. One group of patients had significantly high levels of matrix metalloproteinase (MMP) and the other group of patients had low levels. MMP is a group of enzymes that break down proteins found in spaces between cells in tissues. The enzymes were responsible for tissue degradation of synovial tissue and increased inflammation, Anaparti said.
The research team observed that people with high MMP responded well to treatment, had lower joint inflammation and a reduction in swollen joint count than those who had low MMP levels. The study was published in Frontiers of Medicine last year.
"We can predict by analyzing the genes expressed in the tissue biopsy of an individual who will respond to treatment better and who will resist treatment," Anaparti said. "We need to collect more samples and conduct more studies to validate our model, but this is definitely a big start and a step closer to a precision medicine based approach to treating rheumatoid arthritis."
Dr. Siân Bevan, chief science officer, Arthritis Society Canada, said that one in five Manitobans has arthritis and it's time to transform how we understand and treat this disease.
"By revealing new insights about the molecular features and outcomes of people with rheumatoid arthritis, this research could help tackle the common problem of patients going through trial-and-error cycles before finding the best treatment for them," Bevan said.
This research will not only benefit patients but the health-care system as well, Anaparti said. The system will save money because patients won't be on treatments that don't work for them, he said.
"My sincerest congratulations to Vidyanand on this important accomplishment," said Dr. Hani El-Gabalawy, professor of internal medicine and immunology at the Max Rady College of Medicine, who is Anaparti's supervisor along with Dr. Neeloffer Mookherjee, professor of internal medicine and immunology. "The basic and translational research he has undertaken at the Manitoba Centre for Proteomics and Systems Biology provided new insights into how the early molecular and cellular patterns found in the inflamed joints can predict the outcomes of rheumatoid arthritis up to 15 year later."