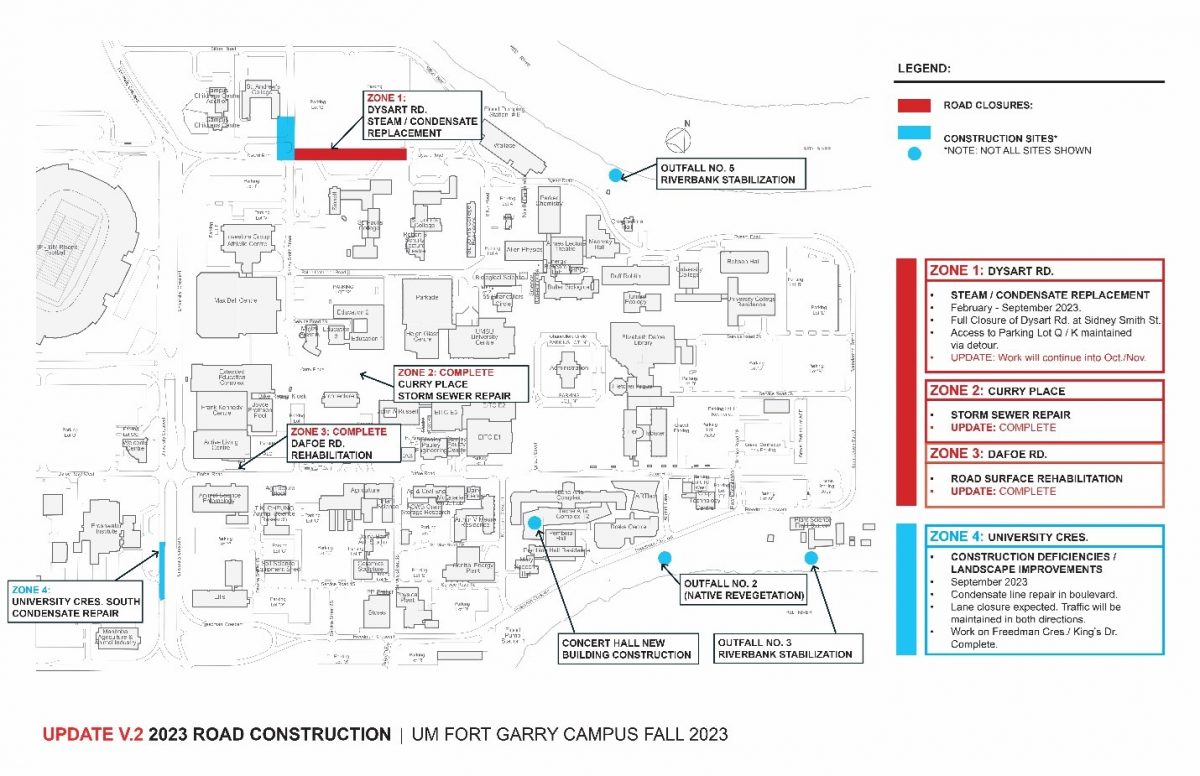 UM road construction and closures update fall 2023
Keep up to date on closures and traffic reroutes
August 31, 2023 —
As we begin another school year, see below for an update on 2023 fall road construction and infrastructure renewal expected on campus though October.
FALL CONSTRUCTION UPDATES
Watch for further updates regarding construction on Dysart Road, including vehicular, pedestrian and cycling impacts. Changes to the detour are expected mid-September with the reopening of Dysart Rd.
Barricades and safety signage will be posted to safely direct pedestrians, cyclists and vehicles. Flaggers will be on site to help guide traffic during peak times.
Take caution at all times during construction to ensure everyone's safety.
Current construction and closure status:
Zone 1:Dysart Road closed at Sidney Smith Street for a steam line replacement. Completion anticipated early October. Full outline appears in a previous story.
Zone 2: Curry Place COMPLETE
Zone 3: Dafoe Road COMPLETE
Zone 4:University Crescent will be impacted by construction to address a condensate leak. One lane will be closed southbound University Cres. during construction.
See map below. (Click to enlarge.)
To stay informed about traffic impacts for vehicles, pedestrians and cyclists, visit the service disruptions web page.
For any questions, contact Vanessa Jukes Strutt, MALA, CSLA, PMP, Project Manager, Architectural & Engineering Services, Physical Plant at vanessa [dot] jukes [at] umanitoba [dot] ca.