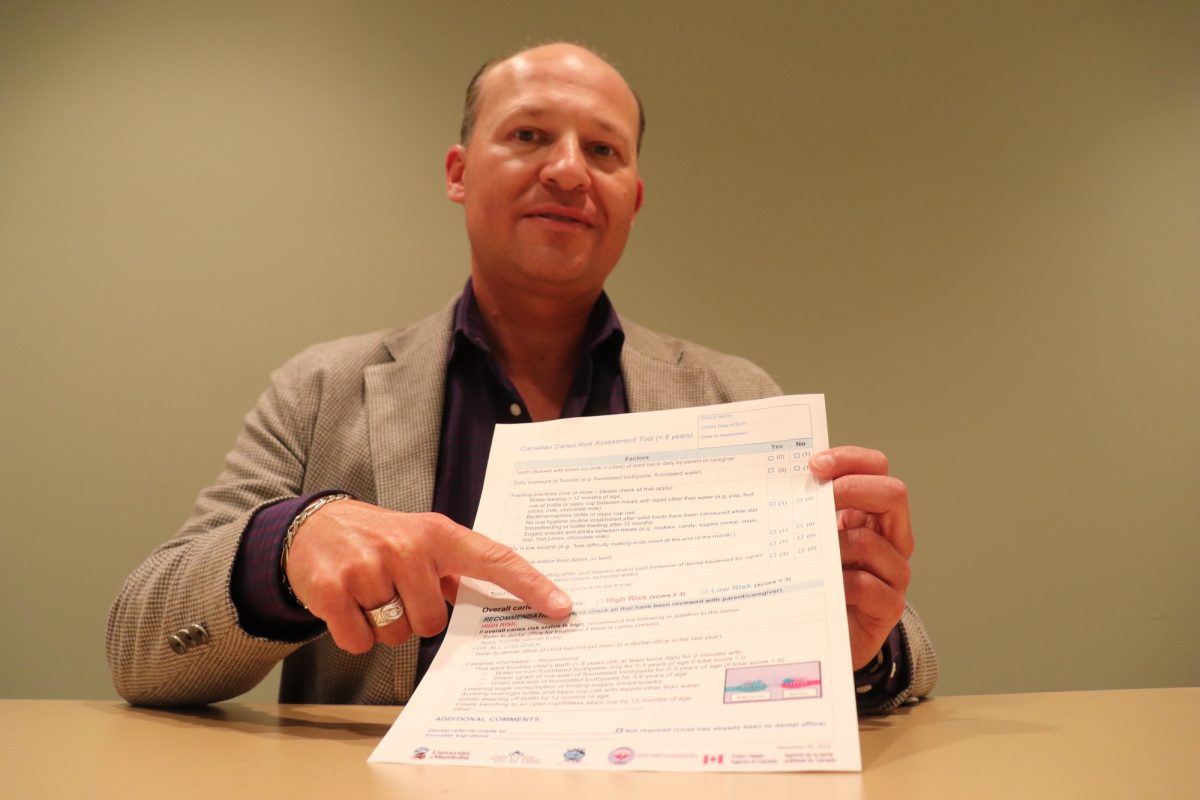 UM researcher develops tool to assess children's tooth decay
April 20, 2020 —
A Rady Faculty of Health Sciences professor has developed Canada's first screening tool designed for non-oral health professionals to assess the risk of tooth decay in children under six.
The Canadian Caries Risk Assessment Tool was created by Dr. Bob Schroth, a professor in the Dr. Gerald Niznick College of Dentistry's department of preventive dental science, and in the Max Rady College of Medicine's departments of community health sciences, and pediatrics and child health.
"Poor oral health and early childhood caries in children is a huge issue," said Schroth, who is also a scientist with the Children's Hospital Research Institute of Manitoba. "It's epidemic in some populations. I think this tool is one way we can raise awareness and get people thinking about teeth and young kids."
The tool was developed for doctors, daycare workers, dieticians and social workers to help identify whether a child under six years old is at risk of tooth decay. The tool can also be used by dentists who might not have many children patients, Schroth said.
The tool (view in English and French here) is comprised of a series of questions focused on the factors that cause cavities. The non-dental professional will ask the child's parents a series of questions, such as: are the child's teeth cleaned at least twice daily? And does the child eat sugary snack and drinks between meals?
Points are given for each yes and no question and the total determines a high or low caries risk status. If the risk is high, the professional is urged to refer the child to a dentist for treatment and apply fluoride varnish. As well, there are recommendations that the professional can give to the parents.
The tool also includes a series of photographs to give the professional an idea of what early and advanced cavities look like or if there is plaque present.
"I think traditionally, a lot of people think, 'well, baby teeth fall out eventually, so why do we need to worry about them?' But we know that good early childhood oral health sets that good foundation for a lifetime of good dental health," Schroth said.
In 2017, Schroth was approached by the Public Health Agency of Canada's Office of the Chief Dental Officer of Canada to develop the tool. He was asked because of his research background and his work with the Healthy Smile Happy Child initiative that has been promoting early childhood oral health in Manitoba for the past 20 years.
To begin the project, Schroth and his team conducted a review of the literature to see what the main risk factors are over time for kids getting cavities. They then developed a draft of the tool and introduced it to a focus group of close to 70 people, which included doctors, nurses, nurse practitioners, dieticians and dental professionals. The group provided feedback and the tool was revised.
While Schroth is currently conducting a small validation pilot study funded by the Network for Canadian Oral Health Research, the next step is to secure funding for a more robust analysis.
The tool is endorsed by the Canadian Paediatric Society, the Canadian Academy of Pediatric Dentistry, the Canadian Association of Public Health Dentistry and the Public Health Agency of Canada. A link to the tool is now included as part of the Rourke Baby Record, a guide for primary healthcare practitioners of children.