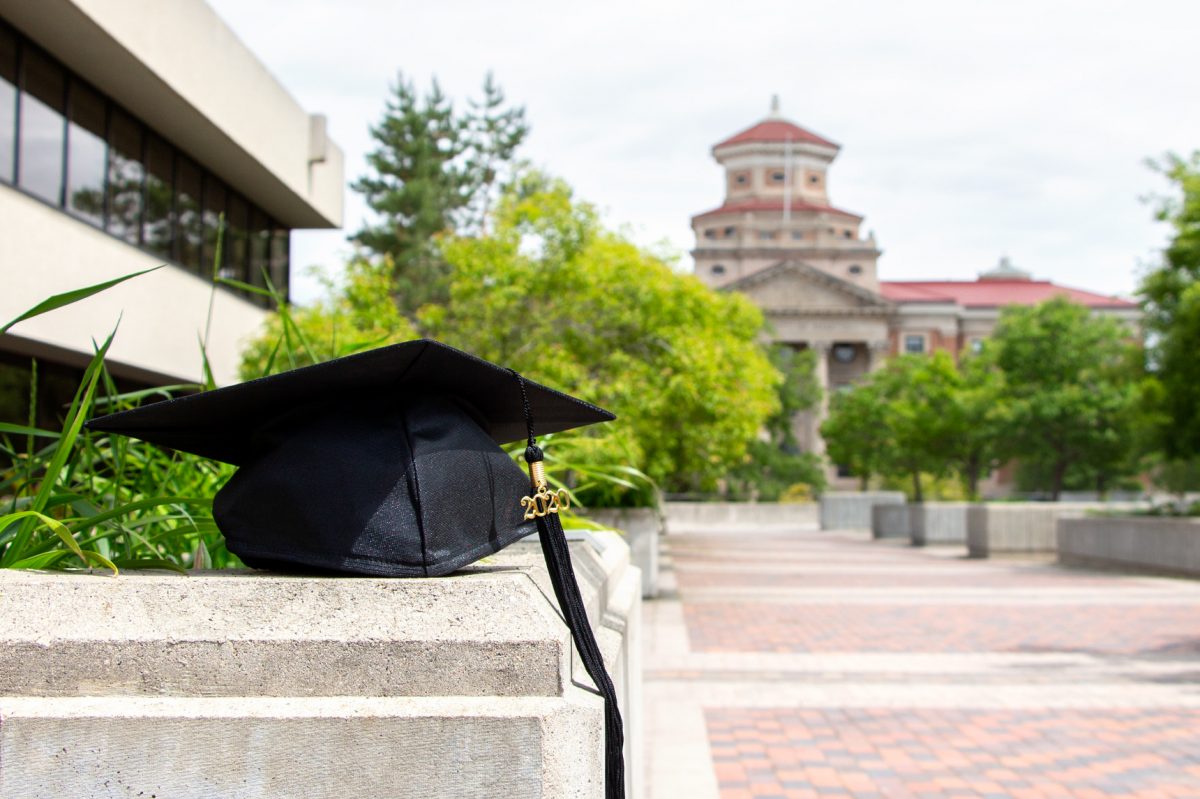 UM recognized for adaptability and creativity
Four CCAE awards given for Convocation, Front and Centre campaign, Indigenous speaker series and alumni magazine
May 26, 2021 —
Thrust into a pandemic in 2020, organizations around the world were forced to show their ability to adapt to the challenges brought on by COVID-19, including the University of Manitoba.
Faced with remote learning, campus restrictions, canceled events and celebrations, the university community consistently showed its resilience and ability to pivot in a crisis.
And for one special event – 2020 Spring Convocation – the UM community even seized the opportunity to celebrate in a new and exciting way, and were recognized for it.
Last week it was announced that UM had won a Canadian Council for the Advancement of Education (CCAE) Prix d'Excellence Gold Award for Best Public Relations/Marketing/Communications Initiative for 2020 Spring Convocation.
The award was one of four prestigious CCAE awards won by UM for its outstanding work in 2020. Other awards include:
Gold Award for Best Development Event: Front and Centre Campaign Wrap
Bronze Award for Best Indigenous Relations Initiative: Indigenous Scholar Profile and Speaker Series
Bronze Award for Best Print Magazine: UM Today The Magazine, Spring 2020
For Spring Convocation, UM was recognized for its innovative outreach and the online ceremony that successfully brought the community together virtually. Stories of student success, invitations to the event and other celebratory messages were shared across a variety of digital channels – including our website and social media – leading up to the unique event, helping to create a buzz.
The event itself was a combination of pre-recorded videos and a live-streamed procession. It kicked-off with a video that included speeches by the president, chancellor, faculty members, and an Indigenous honour song. Notable alumni, as well as government officials shared messages of congratulations which were posted on the Convocation website and social media.
In the end, over 9,000 people tuned-in to the 2020 Spring Convocation ceremony – many from outside of Canada – making it one of the largest virtual events ever at UM.
"Congratulations to all! The pandemic has challenged us to do nearly everything differently, and these national awards demonstrate that the UM community has stepped up to create meaningful, engaging, world-class work and opportunities despite the obstacles," said President and Vice-Chancellor Michael Benarroch. "Thank you for your outstanding efforts and well done!"
The Gold Award in the Best Development Event category recognizes UM's Front and Centre campaign wrap event in April 2020. The campaign, launched in 2015, raised over $626 million taking its place in Manitoba's history as the province's largest-ever fundraising campaign, thanks to the generosity of over 62,000 donors. Because of the pandemic, UM had to pivot from a large in-person celebration to a more intimate digital event that highlighted the campaign's milestones, key supporters and, of course, the final total.
The campaign wrap video – the centre piece of the campaign wrap experience that brought our audience on a journey from the launch event that had students storming the field of a football half-time show, to our various gift announcements, to the final outcome in numbers – was one of UM's most-viewed videos in 2020 with nearly 9,000 views across institutional and alumni social media channels.
The Bronze Award for Best Indigenous Relations Initiative recognizes UM's Indigenous Scholar Profile and Speaker Series. The talks highlight the research and expertise of Indigenous scholars, while providing new opportunities for students, staff and faculty to learn about Indigenous perspectives and knowledges.
The three Fall Term 2020 virtual talks were very well received by the community. With a total of nearly 1,500 views on the Indigenous Student Centre Facebook page, it was a significant increase from Fall Term 2019 talks with 1,165 views. Profile articles of the Indigenous scholars garnered an average of more than 1,100 reads each in 2020, with reading times of nearly two to more than four minutes longer than average.
The Bronze Award in the Best Print Magazine category recognized UM Today The Magazine's Spring 2020 issue. The 'Gratitude' issue told thoughtful and thought-provoking stories on protecting the Arctic; the future of work; research breakthroughs; and of how the UM community came together to reach its ambitious Front and Centre campaign goal. High reader engagement across all UM platforms and channels was seen with the magazine content with total pageviews over 11,000. The four features averaged more than 1,000 reads, placing them in the top one per cent of all pages from our UM Today news site during 2020.
"It is incredibly meaningful for our UM community to be recognized by our Canadian peers with these four national awards," said John Kearsey, Vice-President (External). "Each success represents tireless effort, patience, enthusiasm and creativity and proves that we are conducting exceptional work during the most trying time in our professional and personal lives. Congratulations to all across our university community involved with these outstanding projects and initiatives."