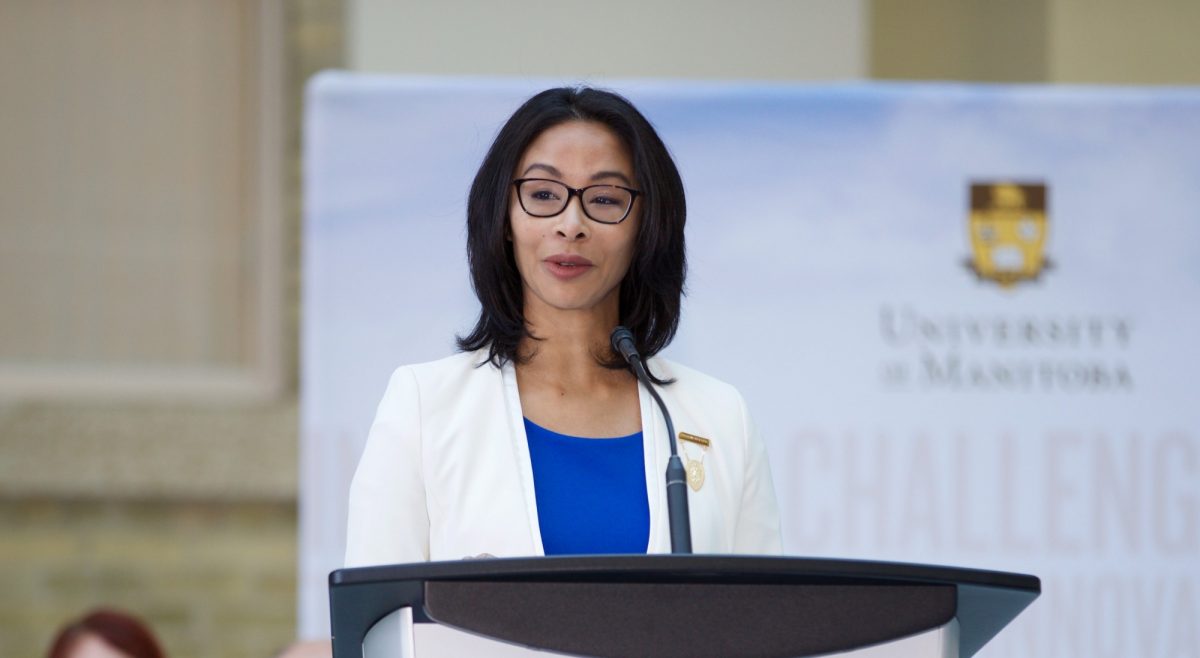 UM medical prof honoured for equity, diversity and gender initiatives in medicine
May 31, 2021 —
For Dr. Gigi Osler, it was the #MeToo movement shining a light on sexual harassment in 2017 that was the catalyst for her to advance the cause of gender equity in the workplace.
"At the time, I was the president-elect of the Canadian Medical Association (CMA) and realized that I had an opportunity to use my voice and platform to advocate for equity, diversity, and inclusion in medicine," said Osler.
Osler went on to lead the CMA's involvement in several initiatives, including the development of CMA's first ever policy on equity and diversity in medicine.
Osler, an assistant professor in the department of otolaryngology-head and neck surgery at the University of Manitoba, is being recognized for her efforts, becoming the recipient of the 2021 May Cohen Equity, Diversity and Gender Award from the Association of Faculties of Medicine of Canada (AFMC).
"Dr. May Cohen was a pioneer of positive change in women's health and a trailblazer for women in medicine," said Osler, "I was delighted to be nominated and absolutely honoured to win the award."
The May Cohen Equity, Diversity and Gender Award was first awarded in 2003 by the AFMC and Osler is the third recipient from the University of Manitoba, following Dr. Bruce Martin in 2017, and Dr. Catherine Cook in 2011.
Osler points out that not only those who work in the field of medicine benefit from equity and diversity, but those receiving treatment are also positively impacted by these initiatives.
"There is a growing body of research examining diversity in the physician workforce and the impact on health outcomes; the research suggests that better diversity could improve health outcomes," said Osler. "For example, when Black newborn babies are cared for by Black physicians, their mortality, as compared to white newborn babies, is reduced by 50%."
UM today spoke with Osler about the progress that has been made on equity and diversity in medicine, and what she hopes to see in the future.
How has gender-equity in health sciences and medicine changed over the past 10 years from your perspective?
Honestly, 10 years ago we weren't having open and robust discussions on gender-equity in health sciences and medicine. Now the discussions have progressed to embrace intersectionality and understand the overlapping and interdependent systems of discrimination or disadvantage. To truly achieve inclusion will require an intersectional approach.
What past initiatives do you think have made a big difference towards improving gender-equity and diversity in medicine and health sciences?
The Rady Faculty of Health Sciences' 2020 policy on Disruption of All Forms of Racism was a landmark achievement and the first anti-racism policy to be passed by any post-secondary institution in Canada. I am immensely proud of the progressive leadership shown by vice-dean Dr. Marcia Anderson, director of EDI Jackie Gruber, and anti-racism practice lead Dr. Delia Douglas, to develop the policy. The University of Manitoba is a leader and positive disruptor in Canadian academic medicine.
What important steps do you hope to see made in the future?
There is still much work to be done. In the corporate world, there is an ongoing push for diversity from a business and moral imperative because diverse workforces produce better results than homogeneous ones. In health care, the results we should strive for are improved health outcomes for patients. For physicians, there is emerging research to suggest that better diversity in our workforce could improve health outcomes for patients and populations.
Canada's physician workforce is increasingly diverse, but that diversity has yet to reach the upper echelons of academic medicine and health leadership in Canada. And leaders are instrumental in driving change. In the words of Marian Wright Edelman, "you can't be what you can't see." My hope is for a future with more diverse and representative medical leadership in Canada to disrupt, drive change, and improve the health of Canadians.