UM assistant prof named Future Leader in Canadian Brain Research
Henry Dunn to receive $100,000 grant for neurobiological research
September 21, 2023 —
Dr. Henry A. Dunn, an assistant professor in the department of pharmacology and therapeutics at the Max Rady College of Medicine within the University of Manitoba, is 1 of 28 recipients of the 2023 Future Leaders in Canadian Brain Research (FLCBR) fund. This program provides funding of $100,000 to support innovative research focused on developing solutions to brain disorders and diseases including ALS, epilepsy and brain injuries.
"I've always wanted to come back to Canada to continue my research," said Dunn, who recently spent some time at The Scripps Research Institute in Jupiter, Florida. "To be honoured by the Brain Canada Foundation not only provides critical funding for early-career researchers like me, but also gives me an opportunity to reintroduce myself to the Canadian scientific community and opens up opportunities for collaboration on a national level."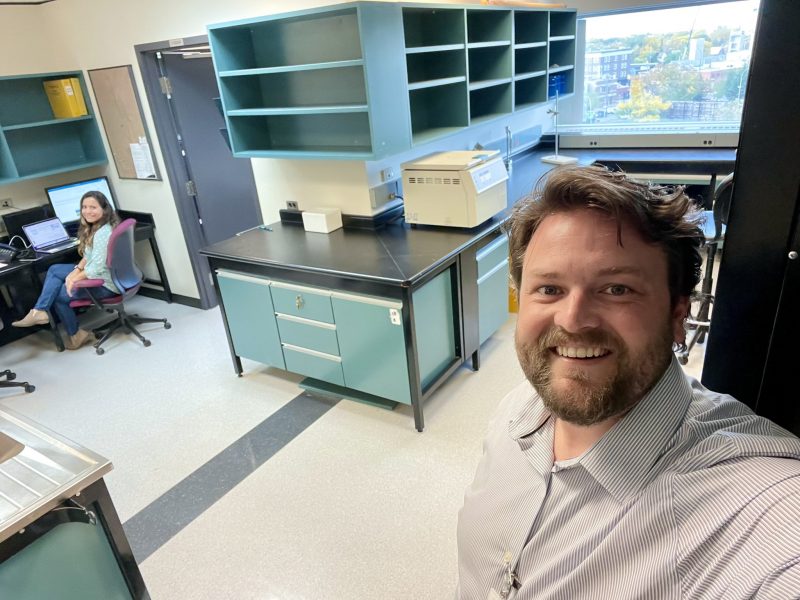 Dunn studies receptors in brain cells (neurons) that help facilitate communications with other neurons. These G-protein-coupled-receptors (GPCRs) are the main target used in the pharmaceutical industry, with over 35 per cent of drugs leveraging them as a treatment pathway.
Dunn is receiving the Brain Canada grant to further his research after he discovered a new mechanism by which GPCRs communicate with other brain cells. This mechanism has been observed to be disrupted in several brain disorders, including autism, attention deficit hyperactivity disorder (ADHD) and epilepsy.
"This new mechanism could provide us with a new avenue for drug design, a new signaling pathway, a new interface for more specific drug targeting," said Dunn. "This is brand new neurobiology, and we expect to find more of these types of mechanisms between other receptors, which would allow us to target other diseases."
The impact of Dunn and team's research is far-reaching, with immediate implications once treatments are developed. "We've already identified families with members who have mutations in this particular pathway. They could directly benefit from our further understanding of this atypical signaling mechanism," said Dunn.
"Congratulations to Dr. Dunn for this prestigious recognition, and I look forward to the meaningful work that he and his team are doing to support treatment for some of the most debilitating brain disorders," said Dr. Mario Pinto, Vice-President (Research and International). "This award is a testament to the innovation and tenacity of UM researchers, and the implications of his work demonstrate the calibre of research that the global medical community has come to expect from UM."
Since 2019, the Brain Canada Foundation has recognized the most promising and innovative brain research in Canda, specifically targeting early-career Canadian researchers to provide funding over a two-year period. This program is funded by the Canada Brain Research Fund (CBRF), an innovative arrangement between the Government of Canada (through Health Canada) Brain Canada Foundation, and the Azrieli Foundation, with support from The Erika Legacy Foundation, The Arrell Family Foundation, the Segal Foundation, and the Canadian Institutes of Health Research (CIHR).
Research at the University of Manitoba is partially supported by funding from the Government of Canada Research Support Fund.