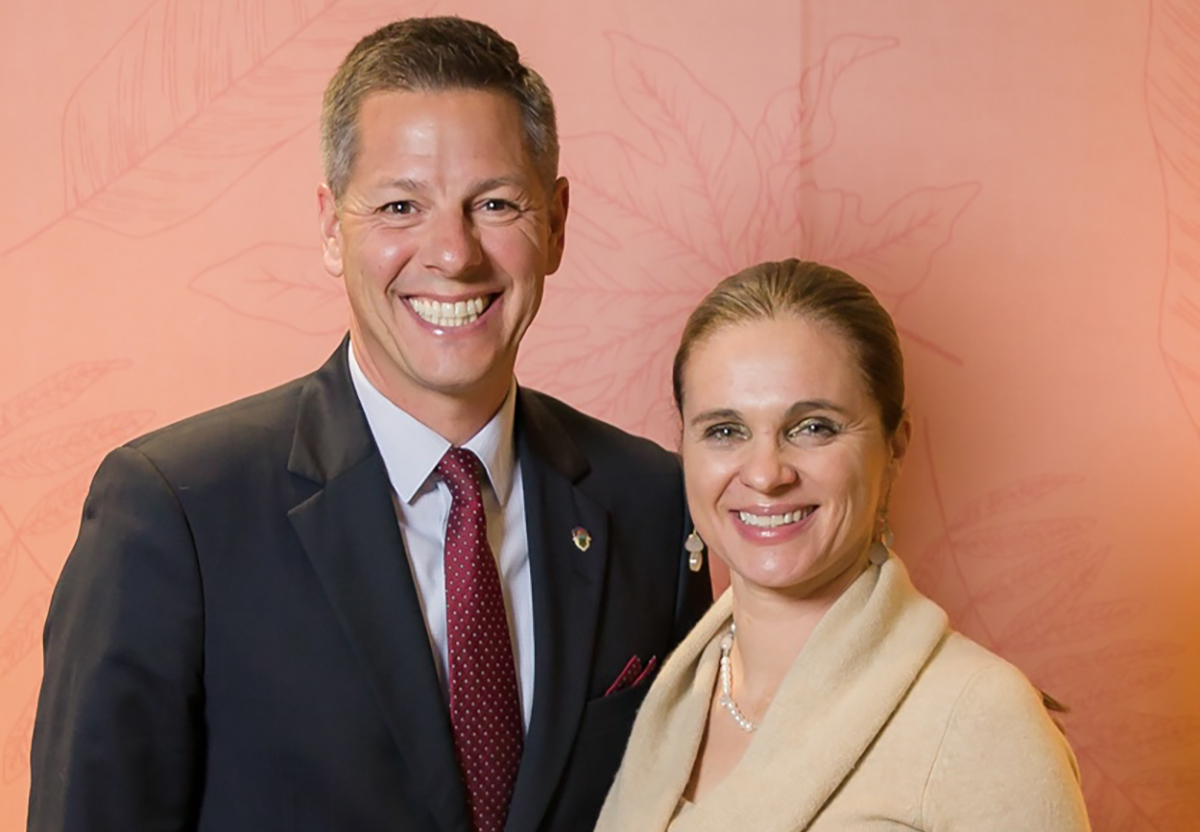 UM alums Brian and Tracy Bowman pay it forward with planned gift
November 15, 2023 —
When choosing where to apply to university, Tracy Bowman [BA(Hons)/96] says the University of Manitoba was the natural and best choice.
"My parents are both graduates of the University of Manitoba. My sister and I went to Mini U as kids, so UM was very ingrained in our family. I didn't even think about going anywhere else," she says. "I also ran track and field, so being able to continue to do that was important."
Her husband, Brian [BA(Adv)/96], was also involved in Bisons sports as a competitive swimmer but says what appealed to him about UM was the large offering of programs.
"I hadn't yet decided on a career path, so I saw UM as a huge advantage to be able to have more options available to me for my academic experience," says Brian.
Since graduation, they have continued to build their relationship with UM. Brian, Winnipeg's former mayor, has previously served as the President of the Alumni Council and Tracy is currently the Executive Director of Alumni Relations. As their family began to grow, they decided it was time to sit down with their lawyer and financial advisor to talk about a will.
"I think that's usual for most people when they start having children. You need to make sure you cover all the 'what-if' situations but then you also start to think about what kind of legacy you will leave for your children," says Tracy.
While working with their advisor, they were asked 'is there anywhere else you would like to direct some of your estate?' and without question, they both said the University of Manitoba. Having both received scholarships in university, they understood firsthand how important and beneficial that money can be for students. Now, through their planned gift, they are committed to helping the next generation of students.
"UM has had the greatest impact on my life," says Brian. "My professional life has been shaped by the opportunities that were afforded to me as a student. I met Tracy here, and we've built a life together now with our two children. And a lot of our friends are people that we met while studying here."
With their planned gift, they have established the Tracy and Brian Bowman Swimming Student Award, which was given for the first time this year. They are also in talks about increasing the gift in the future to potentially set up a track and field scholarship.
"Brian and I are very passionate about Bisons sports and understand the sacrifices that athletes at that level make," says Tracy. "They're expected to have a 3.5 or 4.0 grade point average and commit 20-to-40 hours a week to their sport. They're traveling and training and it really takes a lot."
Since Alexander Kennedy Isbister left the first planned gift to the University of Manitoba 140 years ago, his legacy of giving has continued to inspire people like the Bowmans to plan their own gifts and pay it forward to the next generations of UM students and researchers. To celebrate Isbister's dedication to philanthropy, UM is looking to welcome 40 new members to the Isbister Legacy Society during this remarkable 140th anniversary year. The Isbister Legacy Society is comprised of those who have committed to leaving a planned gift — a meaningful way to give back with no immediate cost — to UM.
"We're hoping that what we're doing, which is inspired by the giving of others, can also in turn inspire folks who haven't considered to give in this way to do so," says Brian.
Tracy adds: "Brian and I made this will over 10 years ago, so we do hope a lot of alumni, particularly younger alumni, start to understand it's never too early to start thinking about how you can impact an organization that's meaningful to you.
"We truly believe in the power of paying it forward. We try to instill that in our children as well. We're only as great as a community for doing this all together and supporting people, but especially those who perhaps need more support than others," says Tracy.
"Philanthropy is one way in which we can work with our friends and neighbours to do something positive in the world," adds Brian.
Whether you are supporting health as a human right, advancing reconciliation and promoting Indigenous achievement, climate change research, or transforming the learning experience, you are making the world a better place.
Read more in our Gratitude Report