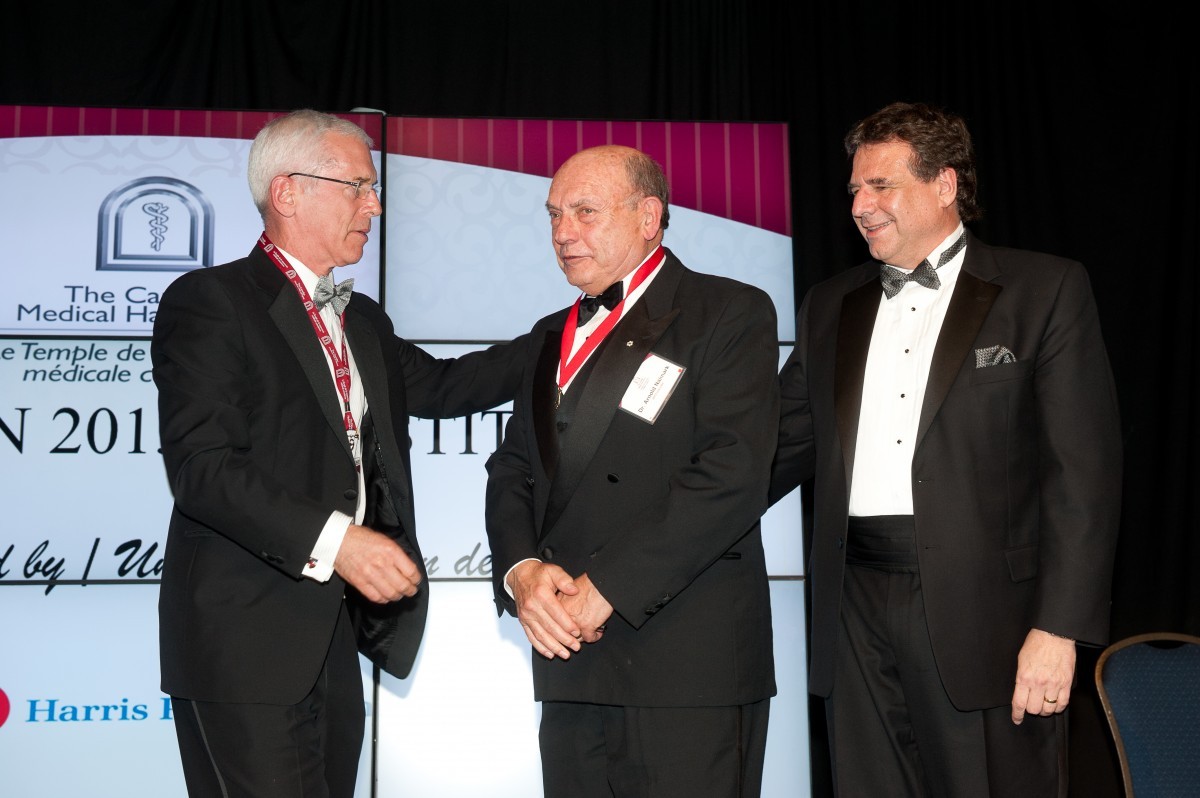 2015 Canadian Medical Hall of Fame induction ceremony
April 20, 2015 —
Downtown Winnipeg will be at the centre of medical excellence this week as the Canadian Medical Hall of Fame , in association with the University of Manitoba, pays tribute to six medical pioneers for their extraordinary contributions to improving the health of Canadians and people worldwide.
The University of Manitoba is proud to be hosting the 17th Canadian Medical Hall of Fame (CMHF) induction ceremony on April 23 at the Metropolitan Entertainment Centre for the second time in the CMHF's 21 year history.
Every year, the CMHF, based in London, Ontario, elevates a select few of our country's most brilliant minds to laureate status. Laureates are "medical heroes" who have pushed the boundaries of discovery and innovation.
More than 430 academic, research and health leaders from across Canada will join co-chairs, Dr. Brian Postl, Dean, Faculty of Health Sciences and Dr. Arnold Naimark, President Emeritus, to celebrate medical innovation and excellence and pay tribute to the 2015 inductees.
This year's planning committee included broad representation from the University of Manitoba and across the health and research sector and has ensured an event with plenty of Manitoba flavour from food (pickerel, bison, Bothwell cheese, wild mushrooms and more) to entertainment (hoop dancing, honour song and medical student performances) promising a spectacular evening!
The University of Manitoba has a long and proud history with the Canadian Medical Hall of Fame and is honoured that seven of our alumni have been recognized with this prestigious distinction. Our laureates include: Bruce Chown [MD/22], John Dirks [MD/57], Henry Friesen[MD/58], James Hogg [MD/62],Charles H. Hollenberg [MD/55], Arnold Naimark [MD/57] and Allan Ronald [MD/61.]
Dr. Naimark was recognized by the CMHF in 2012 for his work as one of the country's foremost educational administrators and for his lifetime of leadership in the development of departments, universities, institutions and organizations at the local, provincial and national level.
Dr. Ronald, University of Manitoba Distinguished Professor Emeritus, was inducted in 2011 in honour of his work as an internationally respected expert in infectious disease. A mentor of young physicians, Ronald his limitless enthusiasm and dedications has ensured the advancement of infectious disease as a leading medical discipline and has contributed to the ongoing battle of HIV/AIDS in Africa.
Dr. Friesen has carried out ground breaking research on human growth hormone which made successful replacement therapy in hormone-deficient children possible. Dr. Friesen was chair of the council that recommended the creation of the Canadian Institutes of Health Research and is credited with starting a "world-class health research establishment" He was inducted into the CMHF in 2001.
This year's inductees are:
Alan Bernstein, world-renowned health leader, researcher and mentor who has made important discoveries in stem cell and cancer research
Judith G. Hall, pediatrician and geneticist, specializing in the genetic factors that affect children's growth
Bernard Langer, innovator, gifted surgeon and respected teacher, considered a global pioneer of hepatobiliary/pancreatic (HPB) surgery
The late John McCrae, one of the best trained physicians of his generation for his advanced research on tuberculosis, scarlet fever, nephritis and lobar pneumonia
Julio Montaner, determined and passionate visionary whose work has directly contributed to the increased survival and dignity of people living with HIV in Canada and the world
Duncan G. Sinclair, internationally recognized leader in health care reform, whose courageous leadership led to a re-defined health system in Ontario.
Learn about our U of M alumni and other Canadian Medical Hall of Fame laureates here.
Research at the University of Manitoba is partially supported by funding from the Government of Canada Research Support Fund.