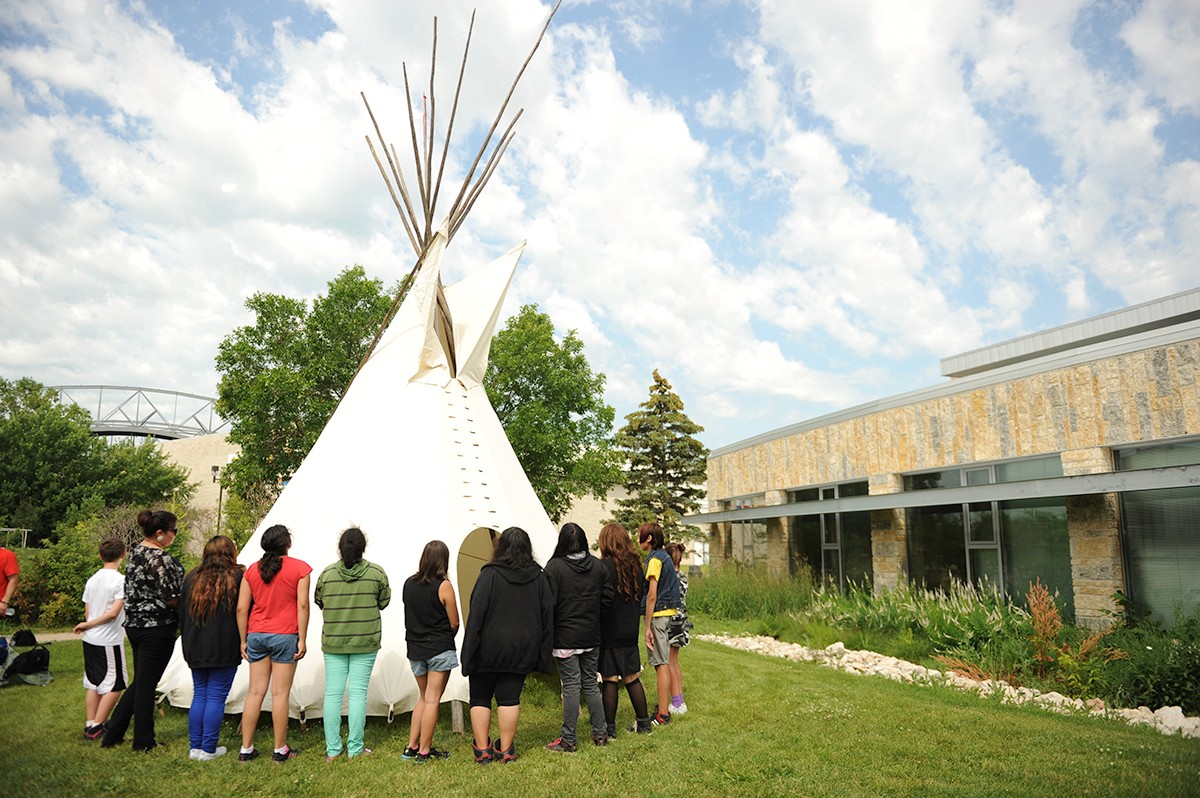 U of M celebrates National Indigenous Peoples Day
June 19, 2019 —
The University of Manitoba is celebrating National Indigenous Peoples Day with several events taking place June 20 on Bannatyne campus, and June 21 on the Fort Garry campus.
It is an opportunity for students, staff, and the public to celebrate and learn more about the cultural diversity of the First Nations, Inuit and Métis peoples.
Events begin at the Rady Faculty of Health Sciences with the construction of a teepee from 7:30-8:30 a.m. in the Medicine Garden/Mashkiki Gitigann (745 Bannatyne Ave.). This will be followed by a pipe ceremony led by Elder Margaret Lavallee from 8:45-9:45 a.m.
A children's story time takes place from 10:15-10:45 a.m. at the teepee with Knowledge Keeper Leslie Spillett, who will read The Water Walker, written and illustrated by Joanne Robertson.
Opening remarks will be held in the Brodie Centre Atrium (727 McDermot Ave.) from 11 a.m. – 11:30 a.m. The speeches will be followed by a blessing of food by Elder Margaret Lavallee and a complimentary feast from 11:30 a.m. – 1 p.m. Entertainment will be provided by David Boulanger from Burnt Project 1, Aboriginal School of Dance – "Wohitika" and James Favel, executive director of the Bear Clan Patrol.
Artist and crafters will have their artwork on display from 9 a.m. – 2 p.m. in the Brodie Centre atrium (727 McDermot Ave.).
At the Fort Garry campus, National Indigenous Peoples Day will be recognized with a Teach-In for Reconciliation, which will take place at 108 St. John's College and at Migizii Agamik — Bald Eagle Lodge from 9 a.m. to 4:30 p.m. on June 21.
Sessions will explore colonialism, resistance, identity, relationships and economic development, and how they relate to and affect reconciliation. Topics include:
Colonialism and Resistance: Inuit Style
What does Reconciliation have to do with me?
Tipi Teachings
Colonialism and Resistance in Northern Manitoba
10 Ways Organizations Get in their Own Way on "Indigenous Achievement" / "Reconciliation" / "Diversity" / "Inclusion" / "Anti-Racism"
Top 10 Indigenous things you need to know about Manitoba
What does it mean to be a Canadian citizen as an Indigenous person?
Métis Government – Past, Present and Future
The National Indigenous Peoples Day events at the Bannatyne campus are sponsored by Ongomiizwin – Indigenous Institute of Health and Healing, Winnipeg Regional Health Authority Indigenous Health and Health Science Centre. The Teach-In for Reconciliation is hosted by the department of Native studies, Campus Alliance for Diversity and Inclusion, Indigenous Student Centre, and Indigenous Achievement.
Find the full schedule of events here.