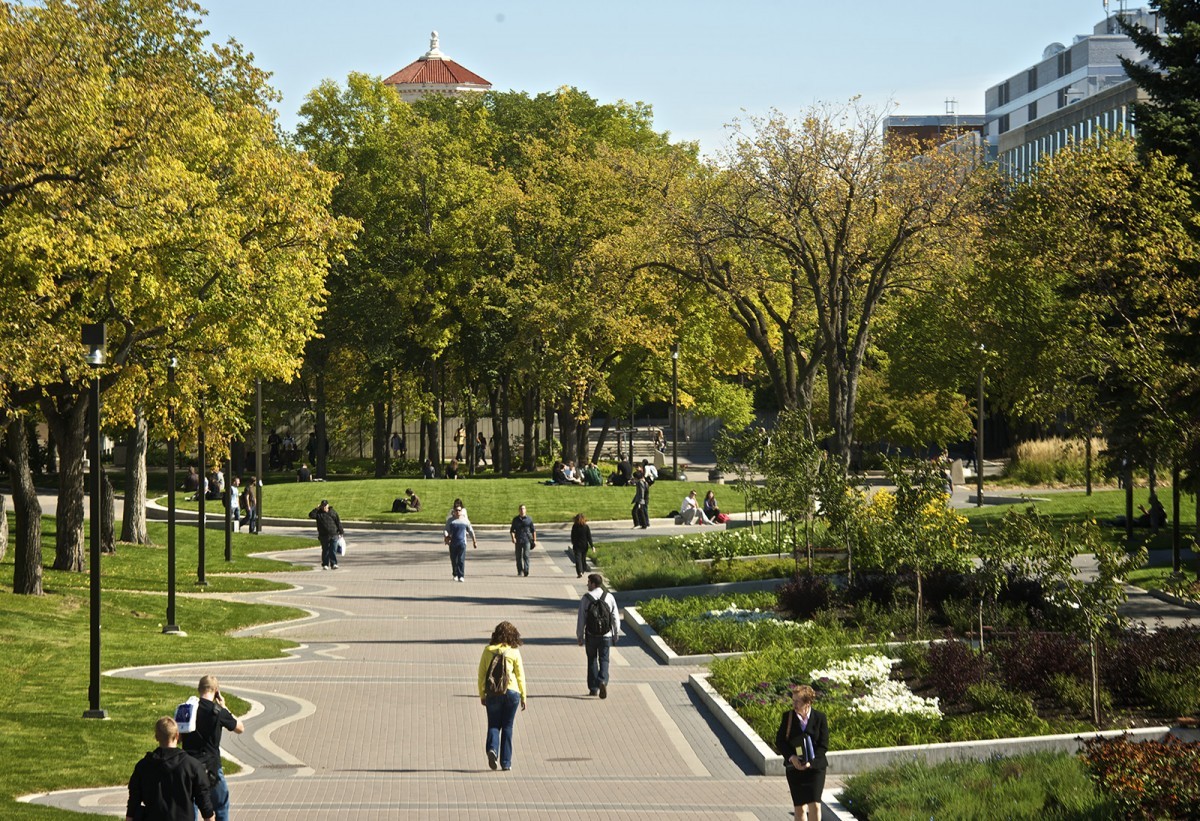 U of M becomes Canada's first age-friendly university
May 2, 2016 —
David T. Barnard, president and vice-chancellor, announced on May 2 that the university has joined the international Age-Friendly University Network. The initiative began in 2012 at Dublin City University (DCU) in Ireland with the development of 10 principles to guide higher education institutions in addressing the needs of older adults.
"Our institutional mandate to increase accessibility and be an open resource for the community has driven the development of research projects, programs, and policies that respond to the needs of Manitoba's aging population," Barnard said at the university's Centre on Aging 33rd Annual Spring Research Symposium.
The Age-Friendly University Network builds on the World Health Organization's Age-Friendly Communities Initiative launched in 2006 to encourage communities to shape physical and social environments to support people of all ages, especially older citizens.
Professor Brian MacCraith, president of DCU, commented on the U of M joining the network:
"An aging demographic is a global phenomena and it offers a unique once in a generation opportunity to those who are willing to creatively engage and reframe some of our contemporary understanding. A properly functioning international network of innovative, higher education institutions in dialogue and collaboration is a necessary first step. Welcoming the University of Manitoba, as the inaugural Canadian member of the AFU (Age-Friendly University Network), witnesses to this vision becoming a reality and we are delighted to welcome a university of this standing and prestige to our growing membership acknowledging the expertise and passion they will bring to this venture."
He added, "In keeping with this vision, I was particularly pleased to note that an organization with as broad a membership base as the Association for Gerontology in Higher Education (AGHE) had recently given their board's endorsement to the ten principles document, which forms the foundation for this growing global network. These are indeed exciting times."
The U of M led a five-year Community University Research Alliance project, with funding provided by the Social Sciences and Humanities Research Council, which supported communities across Manitoba in becoming more age-friendly. The commitment to the International Age-Friendly University network is a natural extension of this leadership role.
"My alma mater as an Age-Friendly environment – I am proud to be a part of a University that recognizes all ages including older adults," said Connie Newman [BSc/69, BEd/70, Med/90], executive director of the Manitoba Association of Senior Centres.
The 10 guiding principles of an age-friendly university are:
To encourage the participation of older adults in all the core activities of the university, including educational and research program
To promote personal and career development in the second half of life and to support those who wish to pursue "second careers"
To recognize the range of educational needs of older adults
To promote intergenerational learning to facilitate the reciprocal sharing of expertise between learners of all ages
To widen access to online educational opportunities for older adults to ensure a diversity of routes to participation
To ensure that the university's research agenda is informed by the needs of an aging society and to promote public discourse on how higher education can better respond to the varied interests and needs of older adults
To increase the understanding of students of the longevity dividend and the increasing complexity and richness that aging brings to our society
To enhance access for older adults to the university's range of health and wellness programs and its arts and cultural activities
To engage actively with the university's own retired community
To ensure regular dialogue with organizations representing the interests of the aging population
Research at the University of Manitoba is partially supported by funding from the Government of Canada Research Support Fund.