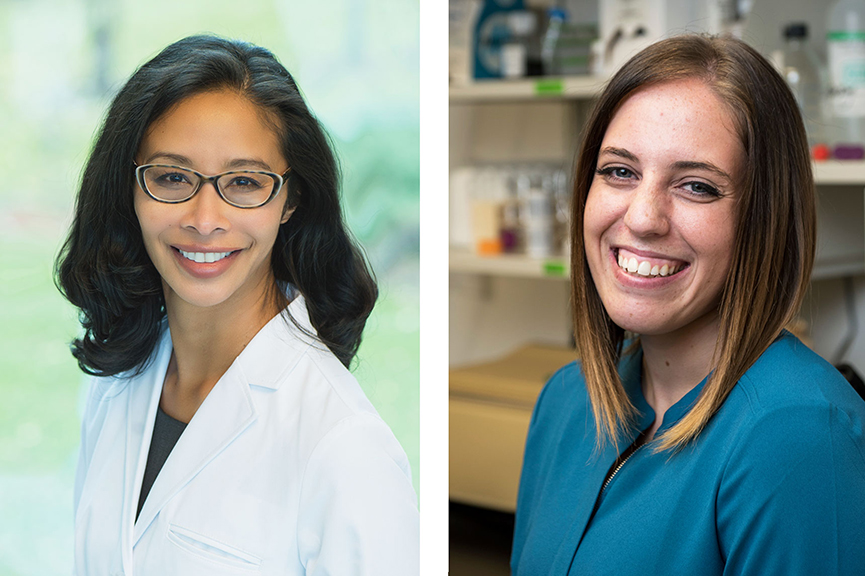 Two researchers named as Canada's most powerful women
November 20, 2019 —
Two UM researchers in the Rady Faculty of Health Sciences have been named as Canada's Most Powerful Women in 2019 by Women's Executive Network (WXN).
Dr. Flordeliz Gigi Osler, an associate professor in the department of Otolaryngology, and PhD student and Vanier Scholar Taylor Morriseau are receiving the honour.
Launched in 2003, WXN's annual awards celebrate the incredible accomplishments of 100 Canadian women who have achieved great things for our society.
"Dr. Gigi Osler and Ms. Morriseau's are remarkable leaders with great accomplishments. They represent voices of empowerment. They have used their talents and passions to transform medical education and care in our province," said Digvir Jayas, vice-president (research and international) and distinguished professor at the U of M. "The University of Manitoba is proud of their achievements and congratulates them on this deserved recognition."
Dr. Osler [BSc/92, MD/92] and Ms. Morriseau [BSc/17] will be honoured at a gala in Toronto on November 21. UM now has 17 women who have been named Canada's Most Powerful Women: Top 100 since the awards began.
Dr. Osler
A graduate of the University of Manitoba, Dr. Osler is an associate professor at UM and the former Head of the Section of Otolaryngology – Head and Neck Surgery at St. Boniface Hospital.
She became the Canadian Medical Association's 151st President in August 2018 – the first female surgeon and first woman of colour to ever ascend to the role. A member of various associations, including Doctors Manitoba and the Royal College of Physicians and Surgeons of Canada, Dr. Gigi Osler has appeared numerous times before the House of Commons Committees on Finance and Health to present the Canadian Medical Association's stand on seniors care in Canada. She also led the CMA's position on the issue of legalization of cannabis. Dr. Osler is also one of three physician leads on a national Virtual Care Task Force to explore the barriers and opportunities for digital health in Canada, and she has provided a key voice in raising the awareness on the impact of climate change on health in Canada.
Dr. Osler has led CMA delegations at the United Nations, World Medical Association and international medical meetings in Canada, Iceland, Sweden, UK, USA. She has also taken her expertise internationally, working with Canadians Helping Kids in Vietnam and volunteers annually to train other surgeons in Africa.
Ms. Morriseau
Ms. Taylor Morriseau, a Cree woman from Peguis First Nation, has a career goal to become an Indigenous scholar leading an independent research laboratory in Manitoba. Already blazing her own trail in Indigenous health research, she was awarded a Canadian Institutes of Health Research (CIHR) Vanier Canada Graduate Scholarship to complete her doctoral studies. Now at UM, her research centers on the genetic and environmental factors that contribute to early-onset of type 2 diabetes (T2D) among Manitoban Indigenous youth, where incidences are approximately 20 times higher than the national average.
With guidance from an Indigenous Stakeholder Committee within the Diabetes Research Envisioned and Accomplished (DREAM) theme, Taylor explores how nutrients abundant in traditional Indigenous foods may prevent or delay T2D development. By incorporating Indigenous knowledge, Taylor strives to inform policies surrounding food security and the restoration of traditional food practices.
From the lab to Parliament Hill, she has advocated for investments in Indigenous health in the 2017 Daughters of the Vote National Leadership Forum, offered an address to the 2019 Parliamentary Health Research Caucus, and testified in the 2019 Indigenize the Senate.
Research at the University of Manitoba is partially supported by funding from the Government of Canada Research Support Fund.