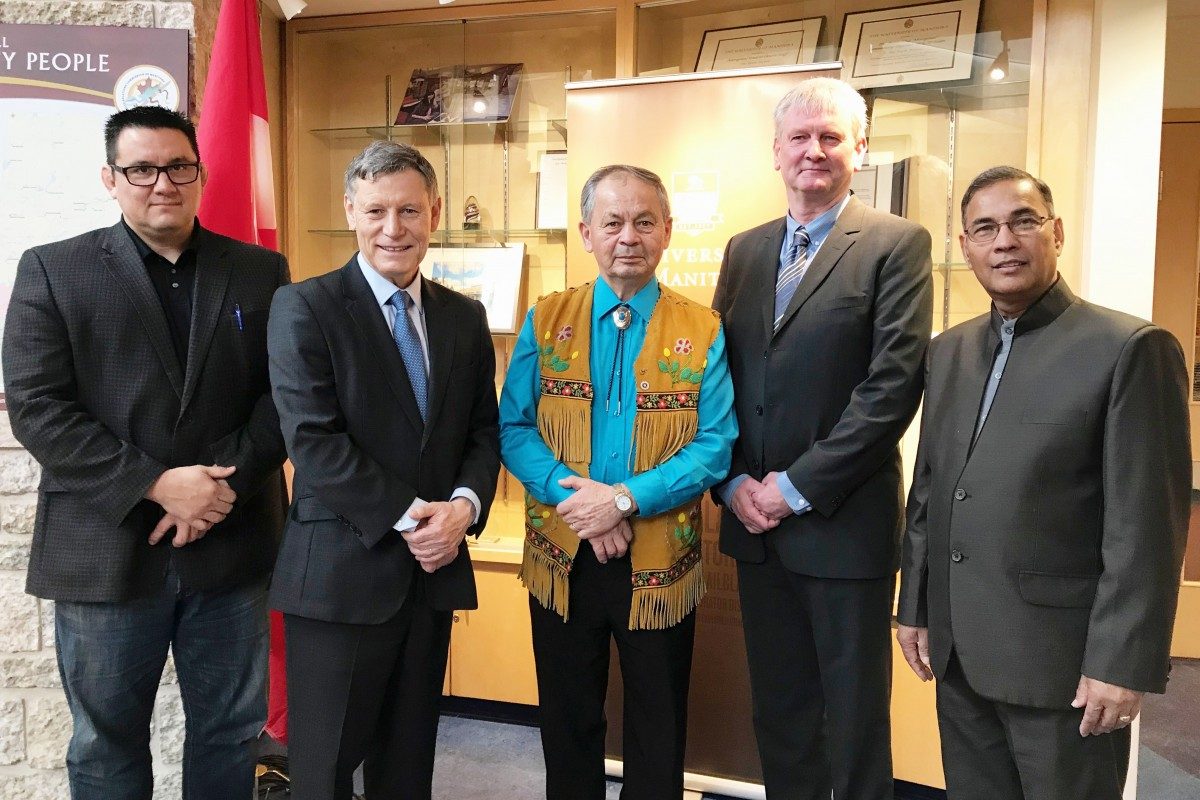 Two new Canada Research Chairs have been awarded to U of M
January 25, 2018 —
Two new Canada Research Chairs have been awarded to University of Manitoba professors and another has been renewed.
The announcement of $2.4 million for U of M researchers was made by Member of Parliament for Winnipeg South and Parliamentary Secretary Terry Duguid on Jan. 25.
"The University of Manitoba is a world-leader in the science and innovation fields, and I am pleased to announce that the funding for two new and one renewed Canada Research Chair will support the outstanding research at the University of Manitoba," Duguid said. "This investment is a part of our vision to build Canada as a centre of global innovation, renowned for its science, technology, creative and entrepreneurial citizens, and globally competitive companies."
"These Canada Research Chairs are leading crucial investigations into a wide-range of problems our society is facing," says Digvir S. Jayas, Vice-President (Research and International) and Distinguished Professor at the University of Manitoba. "Their world-class research programs will no doubt impact global society, and will advance Reconciliation and profoundly affect the health and prosperity of Canadians," he said.
The Researchers
Frank Deer
Chair in Indigenous Education
The research program will focus upon Indigenous education in school and community contexts. Specifically, how Indigenous languages can be revitalized in schools and communities.
Deer has been an associate professor in the University of Manitoba's Faculty of Education since July of 2009 and his research into language and culture has revealed, amongst other things, that tensions between frequently used classroom resources for language (e.g., language dictionaries and community-developed resources) as well as those for supplementary learning through technology (e.g., smart phone apps) may have undesired consequences for language syntax and development due to the lexicographic imperatives for translation. In short, modern tools fumble crucial aspects of Indigenous language and Deer will find ways around this.
Jörg Stetefeld
Chair in Structural Biology
It's a mystery how many proteins work in the human body. There could be a million different types on the body and some cells have about 10,000 different ones working away in them. Each folded in a specific way, each allowing for a specific task to be done. Stetefeld is a professor of chemistry and biology in the Faculty of Science. His research seeks to understand, in detail, the structure-function relationship of proteins as dynamic systems: how are they involved in signaling complexes related to human disease and how can they be used for biomedical applications.
But outside the body, Stetefeld and his research have laid the foundation for a new avenue of research: designing proteins to help industry, such as oil and gas companies, monitor and clean spills, for instance.
Salah Mahmud
Chair in Pharmaco-epidemiology and vaccine evaluation (Renewed)
The ultimate goal of Mahmud's research is to find effective ways to prevent disease. The associate professor of Community Health Sciences at the Rady Faculty of Health Sciences studies whether certain widely used medications (e.g., aspirin, cholesterol lowering drugs, and anti-depressants) could prevent prostate cancer. The results of this research could also improve our understanding of how cancers develop, which in turn could lead to the development of more effective drugs. He is also carrying out studies to assess the effectiveness and safety of vaccines against diseases caused by the Human Papillomaviruses and influenza virus. In short, Mahmud leads a research program that provides actionable evidence for public health decision-making on preventing malignant and infectious diseases.
Research at the University of Manitoba is partially supported by funding from the Government of Canada Research Support Fund.