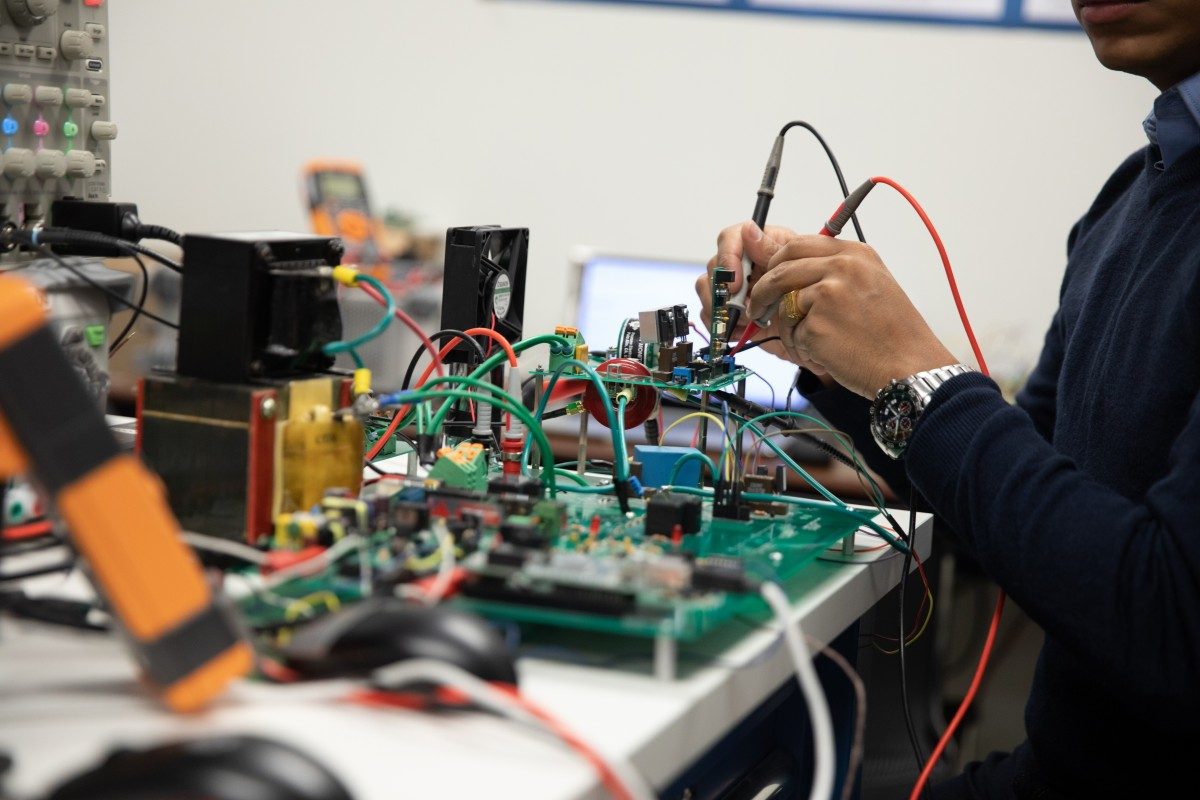 Transforming the power grid
February 4, 2019 —
Within the Old Testa­ment lies a metaphor for the modern-day power grid: the story of the Tower of Babel.
God smites the tower's workforce with multilingualism, preventing its labourers from communicat­ing among themselves and as a result halting construction of the idolic structure.
As new energy sources are developed, and as traditional ones are modernized, the power grid is becoming ever-more populated with new energy communication devices, new unstable electricity and new entrance points for electricity.
As a result, power producers are having to overcome the same multilinguistic conundrum as Tower of Babel labourers.
Researchers such as the U of M's Carl Ho are ensuring that electricity isn't lost in trans­lation before reaching the grid and, ultimately, consumers and industry.
Nearing the end of a five-year term as Canada Research Chair (CRC) in Efficient Utilization of Electric Power in the Faculty of Engineering, Ho is developing technologies that improve the efficiency, stability and costs of power grids and the power electronic systems that run them.
On the heels of his CRC appointment in 2014, Ho formed the Renewable-energy Interface and Grid Automation (RIGA) Lab—his main vehicle for research.
In addition to the CRC program, the RIGA lab is funded through the Canada Foundation for Innovation (CFI) and Research Manitoba.
Ho and his research team tackle issues that often arise from multiple unstable power systems vying for space on the same grid at once.
These can include load loss, power surges, voltage fluctuations and inefficient power conversion.
"The power systems industry is changing from using only passive devices and conventional energy sources to using more high-frequency switch-mode power electronics devices and renewable energy sources," said Ho.
He noted that the once-conceptual "smart grid" is becoming a reality. He described the smart grid as the convergence of traditional and renewable energies, energy storage elements, power electronics, and new advanced communications and control devices for power systems.
"The university and I would like to keep the advantage that Manitoba has and to be technological pioneers in the future smart grid era–that's why I created the RIGA lab," said Ho.
Each particular power source, whether traditional or renewable, has its own idiosyncratic problems.
Take solar for example, which is a focal point of Ho's research.
Sunlight's transformation from radiant energy to, say, electricity in a countertop plug, is arduous: When sunlight hits a solar panel, that panel converts radiating light into energy by essentially jostling electrons free from conductive plates. The electrons are collected as direct current (DC) power.
The panel's DC power output is unstable and changing all the time, depending on factors such as the panel's surface temperature, radiation levels (which are higher in the afternoon) and cloud cover.
The RIGA lab is developing energy conversion technologies that can better stabilize solar-generated DC power, and more efficiently convert DC power into alternating current (AC) power— the form that power needs to take to enter the grid.
For example, Ho's team is developing so-called "intelligent" communication devices, that can allow solar-power converters to speak to each other digitally.
These devices can improve and better control the flow of multiple power sources at once.
RIGA's intelligent devices can also reduce energy consumption by turning devices off or placing them in standby during periods of inactivity.
Currently, Ho leads a team of seven PhD students, three Masters students and one visiting professor. He also typically has a handful of undergraduate students working in the lab during the summer.
Educated in Hong Kong, Ho completed his PhD there in 2007 and relocated to Switzerland to do applied research for power-electronics giant ABB Switzerland Ltd.
There, he led a research team on the development of the company's solar conversion technology.
With a career that has crossed from academia to industry and back again, Ho appreciates the need to balance fundamental research and applied research.
"You can do basic research in a corporate setting, but you really need to produce," said Ho.
Looking to the future, Ho wants to explore the idea of the "Energy Internet."
It's the idea that power systems will evolve from being uni-directional systems into ones in which electricity and information can flow two ways—in much the same way television has evolved in recent years.
"TV viewers passively received programs from central producers," explains Ho. "But now people can broadcast their own videos in, for example, YouTube—everyone can be a producer."
Similarly, the control of electricity remains largely at the moment with centralized producers.
"I foresee consumers generating power by themselves," said Ho, "but controlling the flow of that power will be challenging."
And while at the academic level, research tends to follow a linear path from theory to eventual application, research in a business setting occurs in reverse.
First, a potential application or need in the marketplace is identified (along with the potential profits stemming from it).
Secondly, researchers follow the breadcrumbs back to the theory needed for invention.
"In the field of engineering, you cannot decouple from industry. If you do, you're closing the door to having your research develop into an outdoor application or product."
---
Mother of invention
Carl Ho places an emphasis on researching solutions for marketplace problems. The first application of his research came in the 1990s while he was still a technical college student.
He invented a heart-rate monitor that could wirelessly transmit data and display heartbeat waveform in real-time, without any data-loss, to archaic 1990s computer technology.
He developed his second important invention as a PhD student. A municipal government approached a professor of his regarding over-voltage and surges it was experiencing at night, after the city's factory shutdown for the evening. He found a way to control and ultimately stabilize this reactive power.
A private firm eventually took ownership of his system and sells it worldwide.
Ho's RIGA lab has filed two patent applications for technologies developed so far in his time at the U of M.
The Manitoba Inverter is a single-stage grid-connected conversion device. It uses the novel concept of "shaping" electrical waveforms to convert and connect energy from solar panels to the grid. As a single-stage converter (the market standard is two-stage converters), it can reduce material costs for solar power generation.
The second patent application is for a system called Transformerless Unified Power Quality Conditioner (UPQC). The system's development stemmed from an issue Manitoba Hydro customers were experiencing with dimmable LED light bulbs: flickering light.
The lab found a way to harmonize power flowing to LED lights to eliminate the flickering, ultimately reducing energy costs and extending the life of the bulbs.
– From the Winter 2019 edition of ResearchLIFE
Research at the University of Manitoba is partially supported by funding from the Government of Canada Research Support Fund.