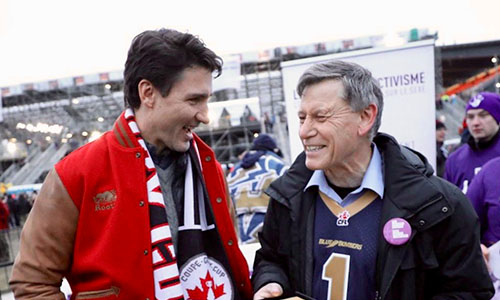 Town hall with Prime Minister Justin Trudeau
January 25, 2018 —
Update: To accommodate the Prime Minister's town hall, the V lot and parts of I lot will be closed Wednesday, Jan. 31. Parking Services will be relocating those with parking passes to P and Q lots.
In 2017, Prime Minister Justin Trudeau hosted town halls from coast to coast to coast hearing directly from Canadians on how we create well-paying jobs, strengthen the middle class, grow the economy, and ensure more opportunities for everyone.
This year, the Prime Minister will continue connecting and engaging with Canadians in their communities at public town halls across the country, discussing how we create growth that works for everyone, prepare for the jobs of the future, and build a stronger more resilient middle class.
On Wednesday, Jan. 31, 2018 at 7:00 p.m., the public is invited to attend a town hall with Prime Minister Justin Trudeau. The Prime Minister wants to hear from Canadians about issues that matter as we begin the New Year.
Location: Although the town hall will take place in Investors Group Athletic Centre, the only entrance and access to the event will be through Max Bell Centre, specifically the southeast entrance, 109 Sidney Smith Street, University of Manitoba.
Doors open 5:00 p.m.
RSVP is required through the website of MP Terry Duguid.
Items to note:
RSVPs do not guarantee access to the event. Admission to the event will be on a first come, first served basis.
Large bags and coats/jackets will not be permitted inside the venue. There will be a MANDATORY coat check on site.
Consider car pooling or public transit as parking is limited.
Videos of past town halls have been available on Prime Minister Trudeau's Facebook page.