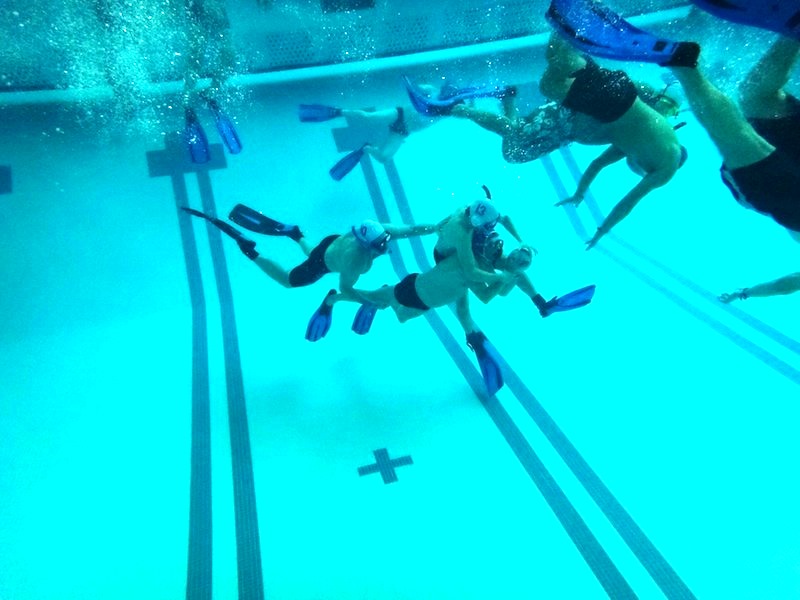 Touchdown! Three metres under water
January 23, 2018 —
It's 40 below with the wind chill. The air stings to breathe. Icicles form on eyelashes and noses.
It's perfect weather for football!
Underwater football, that is.
Just across the street from where the Winnipeg Blue Bombers and U of M Bisons play at Investors Group Field during the summer and fall, a dedicated group of athletes play a slightly different kind of football in the Joyce Fromson Pool. And what's more, this international sport actually began here in Winnipeg at the University of Manitoba.
"The U of M Scuba Club started playing underwater football in 1967 as a way of learning how to improve diving skills in a fun way," says Keith Peters, the chair of underwater sport for the Manitoba Underwater Council and president of the U of M Scuba Club. "One of the founders was Dave Murdoch, who started in 1968 and still comes out to this day."
In fact, a Wikipedia entry for "Underwater Football" says the sport actually originated at the University of Manitoba:
"Underwater football was developed in the 1960s by a scuba instructor who was teaching in the Manitoba's Frank Kennedy Centre. The game developed from a 'keep-away' training exercise that used a pool brick to develop the students' snorkelling skills. It is still played there today."
There are actually two underwater football teams in Winnipeg today. One is based in East Kildonan and the other practices at the U of M on Mondays at 8:30 pm. An underwater football tournament is planned for Feb. 17-18, 2018 at the U of M.
Underwater football has rules that resemble its land-based cousin. The aim is to carry a non-buoyant ball to the other side of the pool and out onto the bulkhead while trying to evade tacklers. All players use snorkels, swim fins and masks as part of their equipment, but shoulder pads are a no-no.
"It's the only three-dimensional sport because you can pass sideways, back and forth, and up and down," Peters notes, "as long as the ball remains underwater at all times."
About three dozen divers play underwater football in Winnipeg, the most players in any city in North America for any underwater sport. There are Canadian underwater teams in Saskatoon, Brantford, Toronto, Montreal, Calgary, and even St. John's.
"But Winnipeg has the best underwater football teams in the world," Peters boasts. A multiple U of M grad (BEd/93, BPE/91, PBDE/14), he's played teams across North America, including New York, Boston, and in Florida.
He adds: "It's really good exercise, and it's fun."
Underwater sport is popular around the world, in Europe, South America, and in China. Germany has a version of underwater rugby that is played similarly to football but scoring is a bit different. And in Russia, they play underwater hockey.
Although underwater football in Winnipeg is fairly popular, it wasn't always so. Peters says the U of M almost lost its club in 2008 when membership dropped to only a handful of players, but has since built up to more than 20 players, "the strongest and most diverse team in North America."
Underwater football in Winnipeg has been boosted by being eligible for government funding, mostly through Manitoba Liquor and Lotteries, although this funding has recently been cancelled by the Province.
"We have a fairly small participation base, so we are particularly vulnerable to a loss of outside funding," Peters says.
Despite this, Peters is optimistic about the future of underwater football in Winnipeg.
"Our longevity is what makes us special," he says, and adds: "We are always looking for new members."
Hopefully, they can stay afloat.
If they could only figure out how to get Dancing Gabe to dance underwater, and keep the beer snakes from floating away.
For more information or if you would like to try the sport, contact Keith Peters at: kpeters [dot] com [at] gmail [dot] com