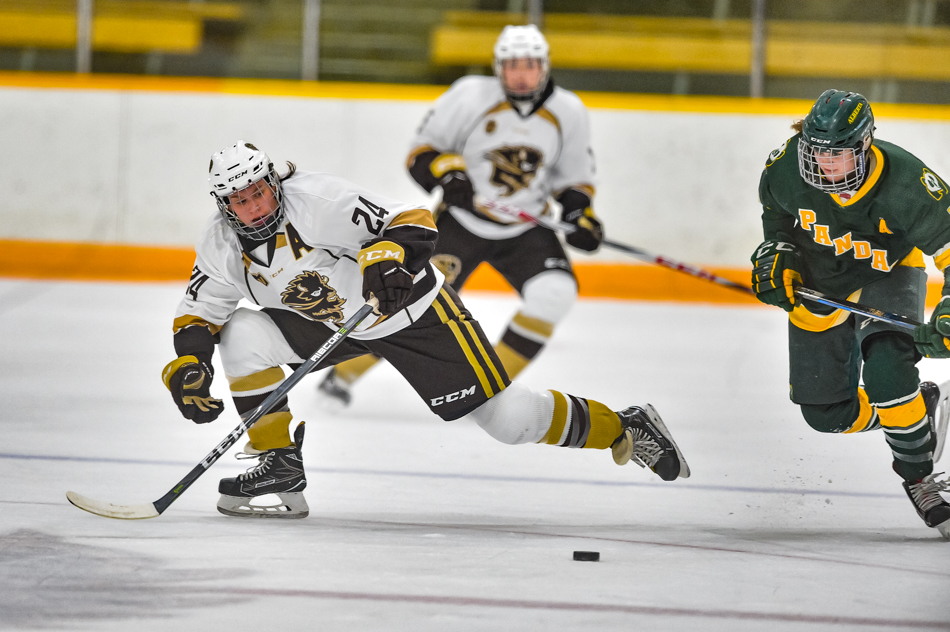 Top of their game
Bison women's hockey team ranked #1 going into playoffs
February 20, 2018 —
Never before has the Bison women's hockey team started their playoff run as the number one ranked team in the country. Never before have they finished their regular season on a nine-game winning streak. Never before has the end goal of a U SPORTS National Championship been so close; but first thing's first: the University of Alberta Pandas.
This weekend the Bisons will host round two of the Canada West playoffs in a best-of-three series against the Pandas after earning a bye in the first round as the top team in the conference. All games will be played at the Wayne Fleming Arena with the puck dropping at 7:00 p.m. on Friday and Saturday night then game 3, if necessary, on Sunday at 5:00 p.m.
The Bisons go into their playoff run short one player in the forward position. Venla Hovi is currently on leave at the 2018 Winter Olympics in Pyeongchang representing Finland for the third time and will face the Olympic Athletes of Russia on Wednesday to compete for the bronze medal.
Despite Hovi's absence, this brown and gold squad is well stacked with a solid foundation of offence and defence. Jordyn Zacharias and Alanna Sharman are ranked third and fourth in scoring with last year's scoring champ, Lauryn Keen and Alana Serhan rounding out the top twenty at eleventh and twentieth respectively. Rookie net minder Lauren Taraschuk leads all in conference goalie stats while veteran keeper Rachel Dyck not far behind in seventh.
When the Bisons hit the ice on Friday night against Alberta they will do so being backed by a 22-6 regular season, winning 11 of 14 on at home and everyone knows that home advantage is everything—and you can help. Be there and be loud.
Get your tickets online today. Adults are $12, seniors $7 while UM students and fans 17U get in for free.
For more information visit gobisons.ca.