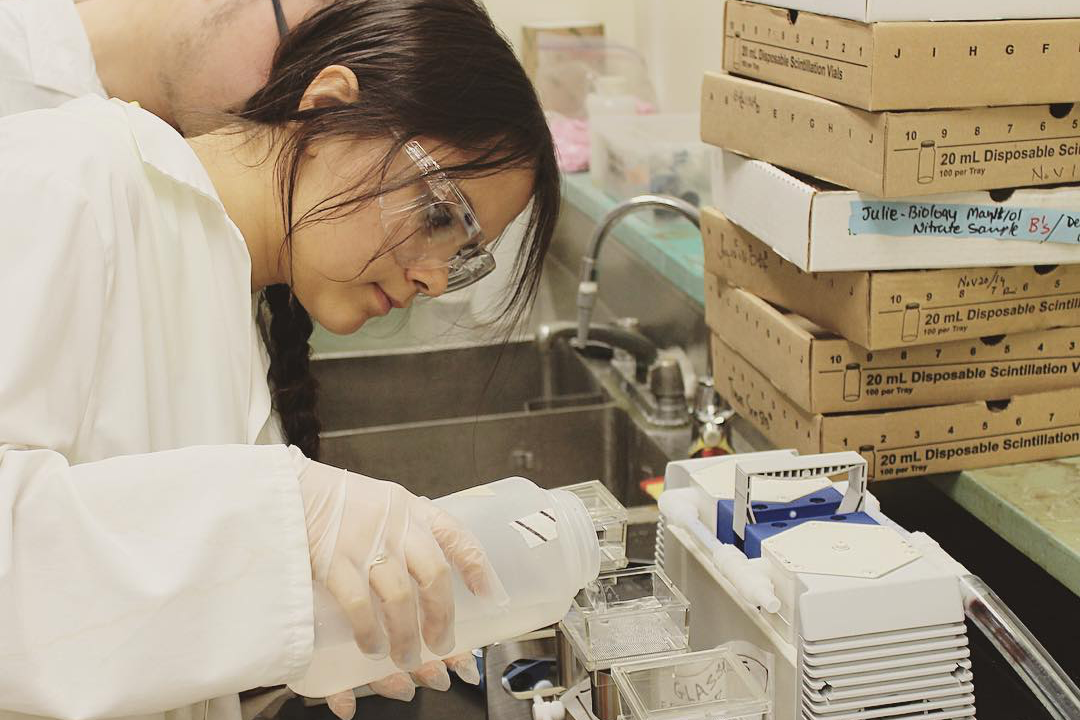 Through their eyes
Students from across Canada come to our campus and show their experience during the renowned Verna J. Kirkness Science and Engineering Education Program
May 13, 2016 —
From May 9 to 14, Indigenous Grade 11 students from across Canada will experience the thrill of exploratory research first-hand University of Manitoba campus. The 40 students are guests at the U of M as part of the Verna J. Kirkness Science and Engineering Education Program.
"The purpose of the VJK Education Foundation is to encourage more Aboriginal students to pursue careers in science and engineering. As our people seek to be self-sufficient, it is important that expertise in these fields is available in the community," says Dr. Verna Kirkness. "Elders participate in the program providing cultural grounding in science to help the students understand how important science has always been to our people."
For the fifth year in a row, students representing First Nations, Métis and Inuit communities will come to campus to experience hands-on research and be mentored by more than 100 U of M professors, postdoctoral fellows, graduate and undergraduate students, and research technicians. The growth of the program is largely due to the influence the past Kirkness scholars have with their younger classmates.
As a former participant – and current assistant coordinator – in the program, Sydney Park saw the benefits first-hand. "It opened doors for new ideas, potential career paths and meeting new people. I see the benefits for the students coming back from the labs day after day, excited of the new ideas they have learned and the new people they have met and get to work with. They usually speak about how they are excited to tell others when the program is finished."
Incorporating Indigenous perspectives into learning, discovery and engagement programs is central to Creating Pathways to Indigenous Achievement, one of the pillars of the university's strategic plan. As part of this commitment, the university will help foster K-12 Indigenous student participation in post-secondary education, benefitting individuals, families and communities.
"The legacy of Verna Kirkness's career has inspired many Indigenous educators and students to strive for excellence," says Frank Deer, Acting Executive Lead, Indigenous Achievement, at the U of M. "In primary, secondary, and post-secondary educational contexts, Verna's efforts have benefitted those who hope to support Indigenous children and youth to achieve personal and academic success. The University of Manitoba is proud to support the Verna J. Kirkness Science and Engineering Program in its goal to increase the number of First Nations, Métis and Inuit students graduating from science and engineering programs in Canada."
Below is a view through the Kirkness program participants' eyes, curated via Twitter and Instagram | #umindigenous.
An Honorary Degree recipient (2008) as well as a distinguished alumna of the University of Manitoba, Dr. Kirkness graduated from the University of Manitoba in 1980 with a Master's in Education after she completed her BA and BEd at the U of M as well. She is a member of the Fisher River Cree Nation, and a member of the Order of Manitoba and Order of Canada. She is a national leader in education in Canada who has inspired countless students and educators in both Indigenous and non- Indigenous communities.