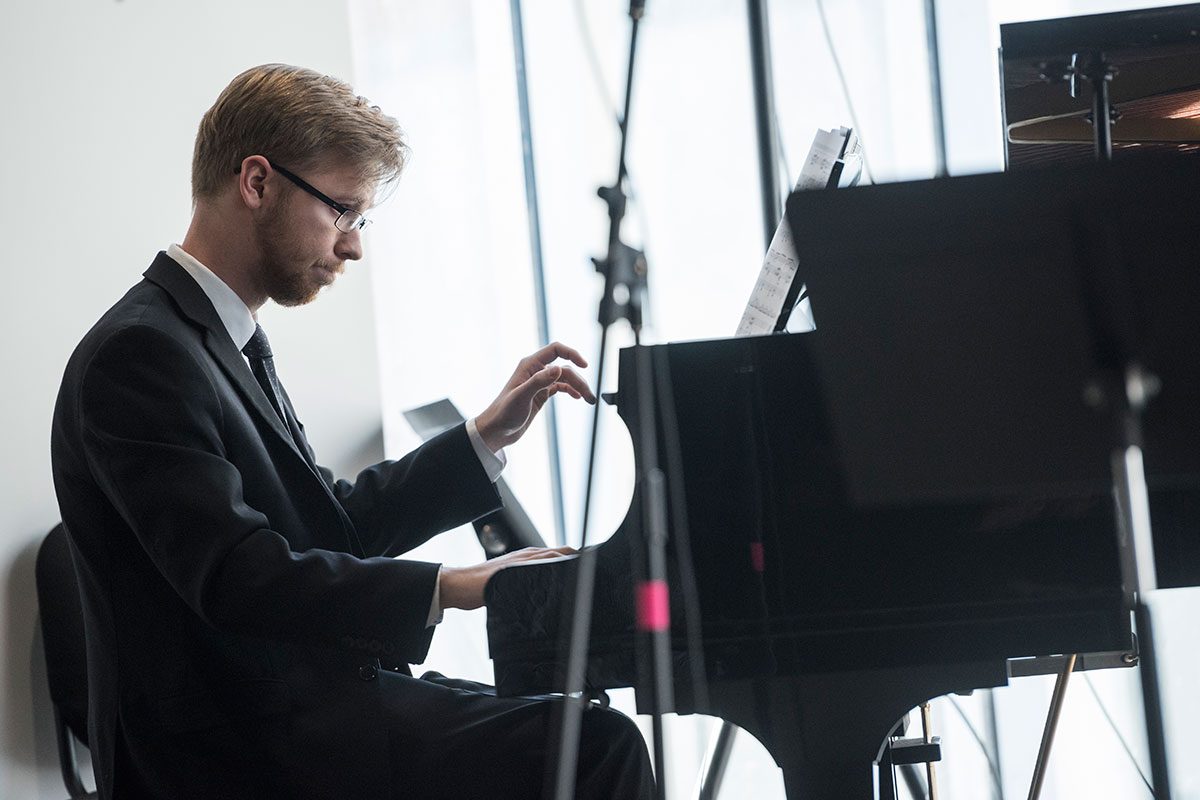 Third-year pianist a four-time national award winner
April 3, 2017 —
Paul Williamson, who is in his third year studying piano at the Desautels Faculty of Music, represented Manitoba at the Canadian Federation of Music Teachers' Association National Competition in late March.
Not only did Paul win first prize at the Competition ($6,000), he was also awarded three of the four special prizes:
Dorothy Buckley Prize for the best performance of a Canadian composition ($1,000)
Marek Jablonski Prize for the best performance of a Chopin composition ($1,000)
Willard Schultz Prize for the performer whose reading of Baroque music best communicates the intentions of the composer in the opinion of the adjudicator panel ($1,500)
"Paul's performances were outstanding," said Edmund Dawe, dean of the Desautels Faculty of Music who attended the conference/competition in Baltimore. "The demanding music he chose showcased his impressive artistry in a wide range of styles."
UM Today caught up with Paul to learn more.
You won first place at the Canadian Federation of Music Teachers' Association National Competition. Congratulations! How does it feel to be awarded not one, but four prizes at the competition?
I am very honoured by the results of the CFMTA piano competition! When entering the competition, I tailored my semifinal repertoire to be eligible for the additional awards in the hopes of maybe winning one of them. When I was awarded all of the semifinal prizes, I was quite surprised!
What was your journey to get to this point like?
In 2013, I participated in this same competition representing B.C., the province I originally come from. It was my first time competing at the national level and unfortunately, I did not progress to finals. Since then I have gained more experience competing and when the opportunity arose to apply for the Manitoba Registered Music Teachers' Association piano competition in the hopes of representing Manitoba at the national competition, I figured why not give it another shot? Upon competing in January of this year, I was fortunate to be chosen as Manitoba's representative, and from there I flew to Baltimore and competed at the national competition in March.
My teacher was very helpful in deciding what I planned to play in the two recital rounds. He guided me in choosing repertoire that displayed as many facets of my ability as possible. Additionally, the music program at U of M is a rather tight-knit group with the atmosphere among faculty and fellow students being one of support and encouragement – this can go a long way in preparing for a competition.
Why did you choose the Desautels Faculty of Music?
In the summers of 2012, 2013, and 2014, I participated in the international music festival, Morningside Music Bridge, held in Calgary. The program features a distinguished faculty and while there I worked with David Moroz, my current piano teacher here at the U of M. We worked well together, so when I applied to undergraduate programs in my Grade 12 year, I decided to come to the Desautels Faculty of Music and study with him.
When did you know you wanted to be a pianist?
I'm not sure I can recall a single turning point when I decided to be a pianist. I always enjoyed playing the piano even from a very young age as music was something I naturally gravitated towards. My parents have always been incredibly supportive of my endeavours; when I started to become more serious about piano in high school, they encouraged me to pursue it as a career.
What are your plans after this?
This summer I will be a returning participant at the Kneisel Hall Chamber Music Festival in Blue Hill, Maine. I am looking forward to going back for another summer of music-making and am also excited to be part of their mentorship program for Maine students! The following academic year, I will be applying to graduate programs abroad in the hopes of furthering my musical education.