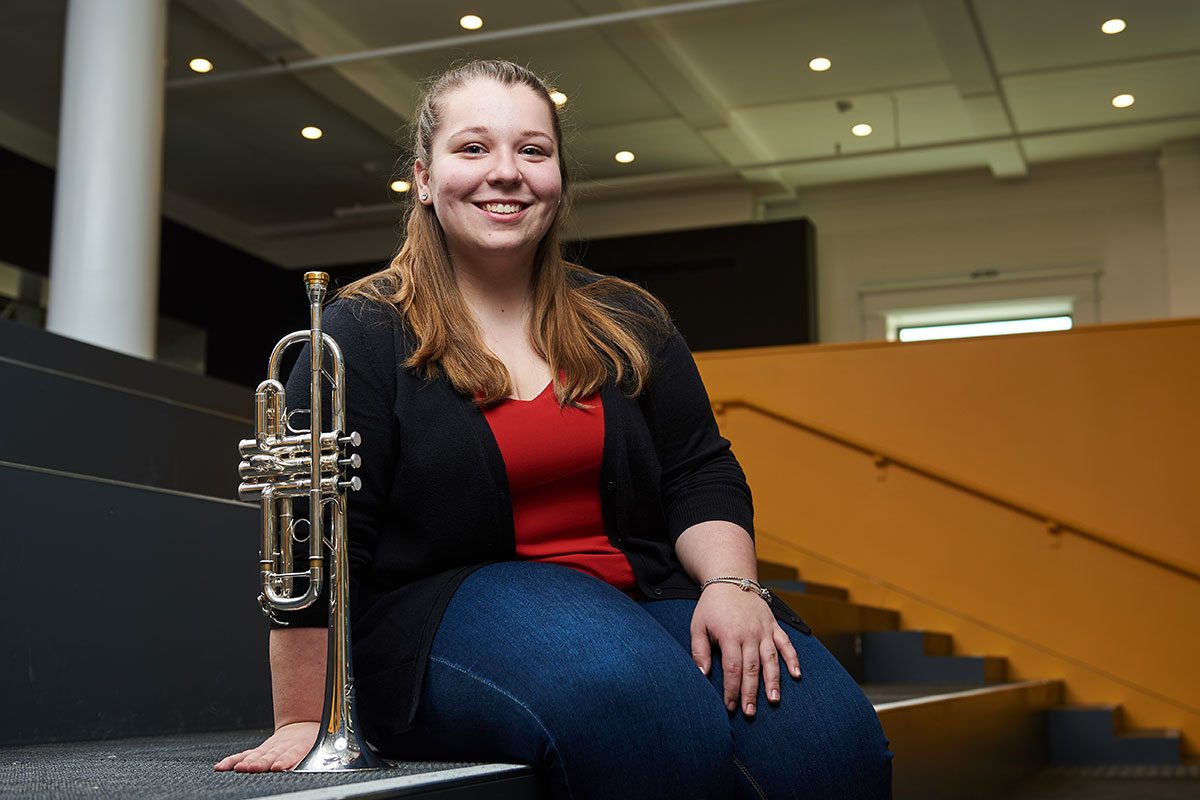 'They truly care about us and our success'
Desautels Scholar reflects on first year in the U of M's music faculty
July 6, 2018 —
This summer marks the 10th anniversary of Marcel A. Desautels' $20 million investment in the University of Manitoba's music faculty—one of the largest gifts in Canadian history to a department, school or faculty of music. To celebrate, we're taking a look at just a few of the students who have received a Desautels Scholarship over the last decade.
Anticipation has always been a large part of Colleen Zwarych's passion for music. She remembers buying a shiny new trumpet and having to wait the entire summer for classes to start in Grade 6.
"I took to it immediately, working my way through the exercise books by myself," she says. "It was my very own trumpet. I was so proud."
And after years of dreaming about attending the Desautels Faculty of Music, the experience has far surpassed the first-year student's expectations. Beyond the skills of the highly knowledgeable professors and technical instructors, she is invigorated by their leadership and the supportive environment they create.
"It's so heart-warming to think of students who've come from elsewhere, or those who don't have the support of their families…they have that here. The faculty—and Dr. Desautels, when he comes to visit—I feel like they truly care about us and our success. We feel secure and valued. It's all furthering our education and it's all part of the reputation of our faculty."
Since the sixth grade, Zwarych has wanted to be a high school music teacher. When it is finally her turn to stand in front of the class, she's excited to create the same sense of comfort she's enjoying now. She knows breakthroughs and innovation come to those who are confident in feeling vulnerable.
"You learn to express yourself, and not to be afraid doing so, because there's someone to catch you," she says. "Even if there's failure, there's growth in that."
The trumpet major knows her education at this world-class music school will offer a big advantage in landing her dream job.
"This faculty is so dedicated to our art and to building community. People see 'U of M Desautels Faculty of Music grad' on a resume and they know this person has worked hard and is focused beyond themselves," Zwarych says. "They'll know I've been greatly supported here, that I understand what that support can do, and that I'm ready to offer it to my own students. My learning will become the next generation's learning."