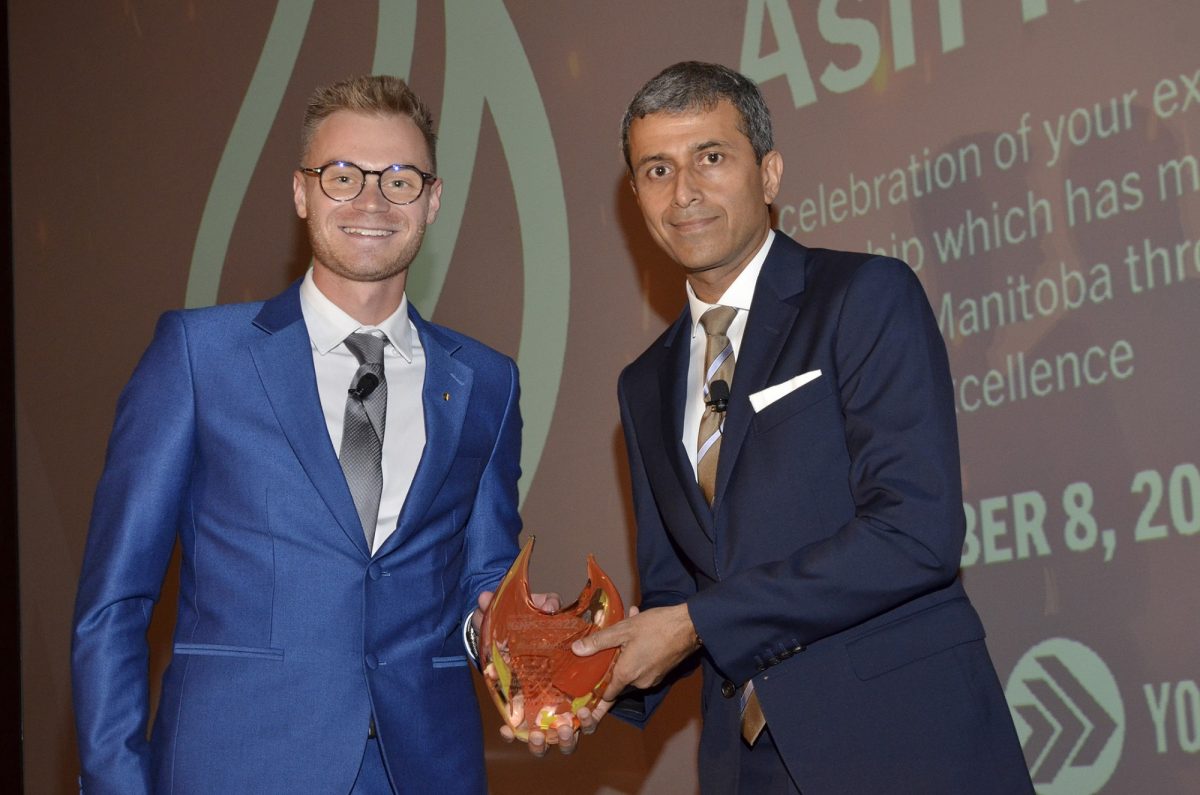 The Young Associates celebrate the IGNITE awards
UM alum Ash Modha receives first IGNITE award
September 16, 2022 —
On September 7, 2022, The Young Associates of the Asper School of Business celebrated the inaugural IGNITE awards at the RBC Convention Centre. A crowd of more than 600 Asper students, business leaders and faculty honoured Ash Modha [BA/98], President and CEO of Mondetta Clothing as the first IGNITE award recipient in recognition of his entrepreneurial success.
The IGNITE Award, sponsored by The Associates, is presented to a local thought leader who, through business and community endeavors, has made an outstanding impact on the province of Manitoba. A flagship event for the Young Associates, IGNITE is also designed to welcome new-to-Asper students to the Manitoba business community.
The event featured an award presentation along with a fireside chat with Modha, moderated by Matthew Thomson [BComm(Hons)/18], YA Board Member and IGNITE Chair.
"I would like to convey my sincerest thanks and appreciation for this award. Recognition like this is not always about one person. It is more about the excellent caliber of the people you surround yourself with and genuinely make your organization better", said Modha. "I have been lucky to have such outstanding partners and a terrific team of intelligent, dedicated and creative people who helped me to make Mondetta the company it is today."
As a refugee from Africa, who came to Canada in the 70s with his parents, Modha was touched to see the vast diversity represented in the audience for that he called the next generation of industry leaders. He emphasized the importance of unique perspectives and cultural outlooks for the way business is done in our province.
"I am genuinely delighted and inspired to see that so much has changed. And today's event proves that progress continues to march forward, and that we indeed have a country that celebrates diversity," said Modha.
As a member of The Associates of Asper School of Business for more than ten years, Modha highlighted the importance of The Associates and Young Associates and their dedication to providing students direct access to leaders in the business community while elevating the Asper School of Business on a global scale.
"Thank you to the Young Associates for establishing IGNITE – and for your commitment to the Asper School of Business," said Dr. Bruno Silvestre, Dean of the Asper School of Business. "I cannot think of a better way to start the academic year than by being part of an event that welcomes new-to-Asper students to the business community while celebrating Ash Modha – a true Manitoba business success story and an inspiration to our community."
IGNITE 2022 reflected the Young Associates' mission of providing exceptional educational and social forums for professional development and relationship building for young, business and community minded leaders.
Visit the Young Associates pages to learn more: https://ya.associatesmb.ca/