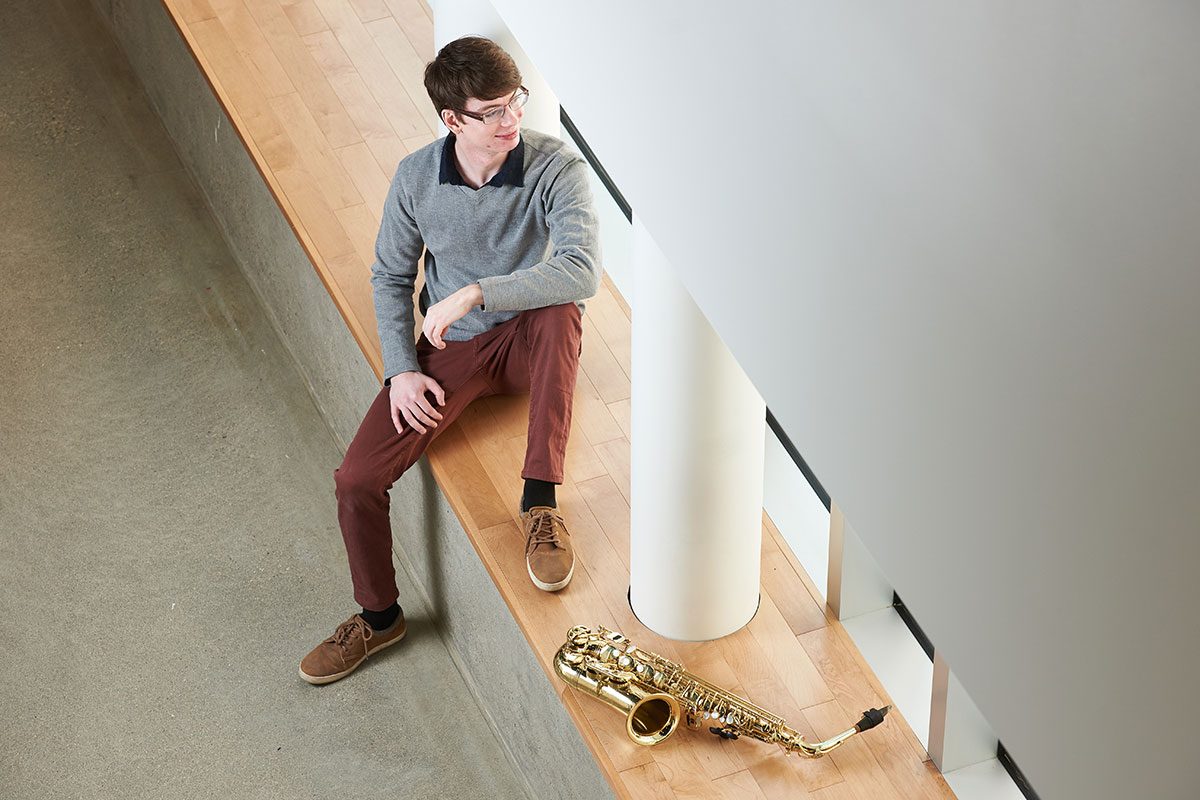 The saxophonist will see you now
Desautels scholar won music trophy only hours after successful medical school interview
June 29, 2018 —
This summer marks the 10th anniversary of Marcel A. Desautels' $20 million investment in the University of Manitoba's music faculty—one of the largest gifts in Canadian history to a department, school or faculty of music. To celebrate, we're taking a look at just a few of the students who have received a Desautels Scholarship over the last decade.
Matthew Packer is a quintessential high achiever. He concurrently completed a science degree and a music performance degree (with a double major in saxophone and piano), and is now enjoying his first year of residency training in the Max Rady College of Medicine.
Music and medicine have always been foremost in Packer's life, complementing each other well. Life as a music student, filled with classes, rehearsals, performances and critiques, instils curiosity, dedication and determination—all valuable qualities in a doctor.
Former Faculty of Music Dean Edmund Dawe says, "I often have other Deans say to me, 'Give us more music students. You can't beat their work ethic.'"
Packer received a renewable four-year Desautels Scholarship, and he says that generosity was a crucial component of his success.
"Not only did it directly make my training as a musician financially feasible, but it also greatly improved the calibre of the music education I received," he says.
In 2011, Packer won the Aikins Memorial Trophy at the Winnipeg Music Festival for his performance on saxophone. He won it again in 2013, only the second repeat winner in the award's 90-year history. Remarkably, his second win was on the piano…just a few hours after his successful medical school interview.
Packer says his time in the Desautels Faculty of Music, particularly the example set out by the faculty, encouraged him to believe he could marry his two passions.
"I was constantly inspired and stimulated by the remarkable dedication and skill of my music professors," he says."Not only imparting knowledge, they transferred, by example, their love for and dedication to their areas of expertise.
Packer continues to perform and is enjoying his residency. He takes jokes about his overflowing calendar in stride, and looks forward to a life of service and music.
"I am very grateful to Dr. Desautels," he says. "His gift will continue to impact my life, as it helped grow and sustain my lifelong passion for music."