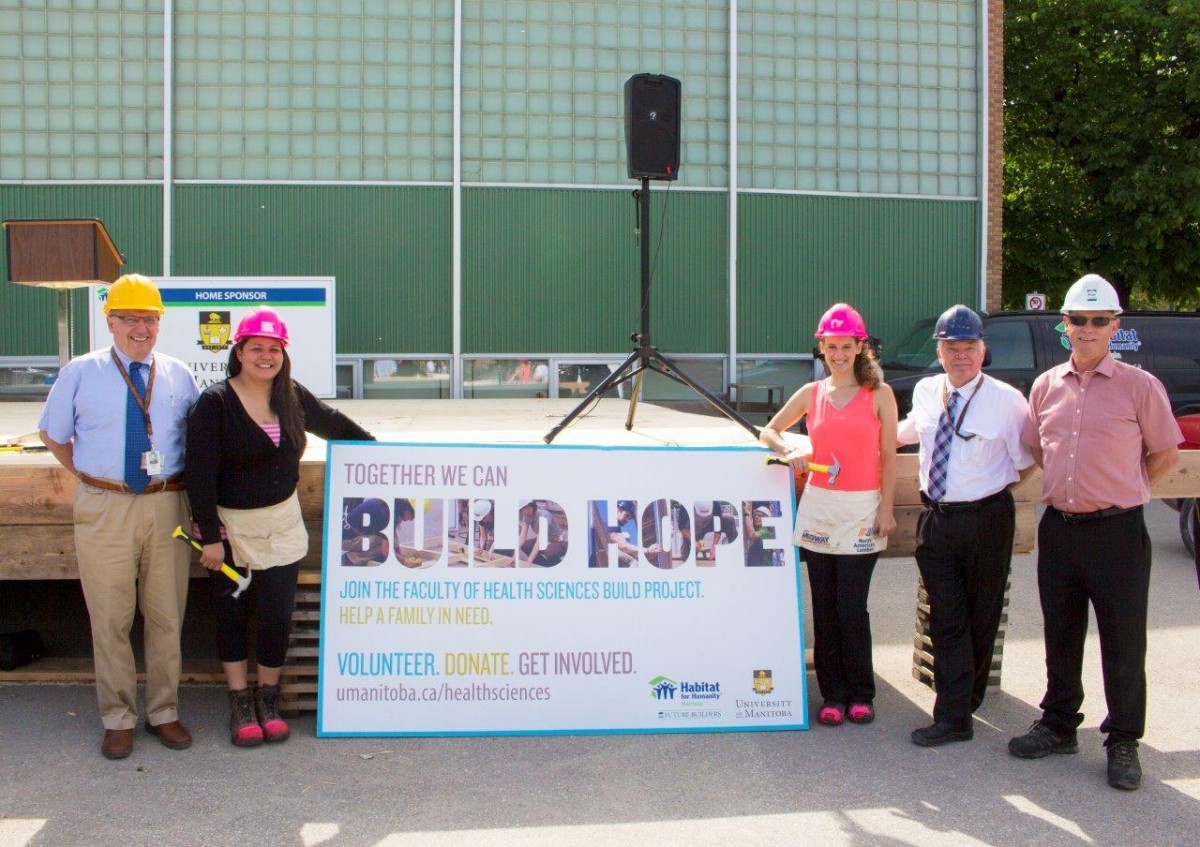 The pride of home ownership: Health professionals pick up hammers for good cause
September 4, 2014 —
WHAT: In 2013, the Faculty of Medicine was the first such faculty in Canada to partner with Habitat for Humanity. A year later, when the faculties integrated into the Faculty of Health Sciences, the build project grew with support from the following colleges: Dentistry, Medicine, Nursing, Pharmacy and Rehabilitation Sciences.
HOW IT WORKS: Habitat for Humanity makes home ownership a reality for low-income families. In 2014, staff, students, instructors and faculty members lent a hand to build a new home for a single mom and her two kids living in a rented row house. The structure was built off-site and then moved to its permanent location near the Bannatyne campus.
WHY IT'S IMPORTANT: Studies show secure housing can have a positive impact on learning; an educated child is more likely to avoid disease, gain employment and have more options in life. The World Health Organization cites housing as among the top social determinants of health.
THE IMPACT: The recipients of the home built in 2013—single mom Leah and her five children—described the experience as life-changing. The house was built with specific requirements to meet the needs of Leah's disabled daughter, Nina. The five-year-old has physical disabilities and accessibility is a challenge. Door frames were widened and a lift system with ceiling tracks installed that allows Leah to move Nina from her bed to the bathroom. A custom ramp was built so that Nina can easily be transported by wheelchair into the house from either the front or the back. "This is our home. We own it; it's not rented, so it's really going to feel like home," said Leah. "The faculty's help and support in building this house—they have no idea how they've changed our lives. Life is going to get easier."
THE INSPIRATION: "The Faculty of Health Sciences Habitat for Humanity build is an excellent opportunity to bring together and engage a new and larger community of health educators, learners, researchers and support staff in a project that can transform a family's life," says Brian Postl, dean of the College of Medicine and dean & vice-provost of the Faculty of Health Sciences. "We are laying down the foundation for a safe and healthy home environment and putting into action the core principal of social accountability important to all of us in the health care professions."
---
FUNDERS: The Tachane Foundation was a major financial contributor to the 2014 build. The foundation, set up by the Sutherland family in 2008, focuses its charitable giving on Canadian Aboriginals and youth development. Jonathan Wong, a palliative care physician with the WRHA and an instructor in the College of Medicine, also donated more than $10,000 through the sales of his Chopin CD Keys to Home.
---
LEARN MORE