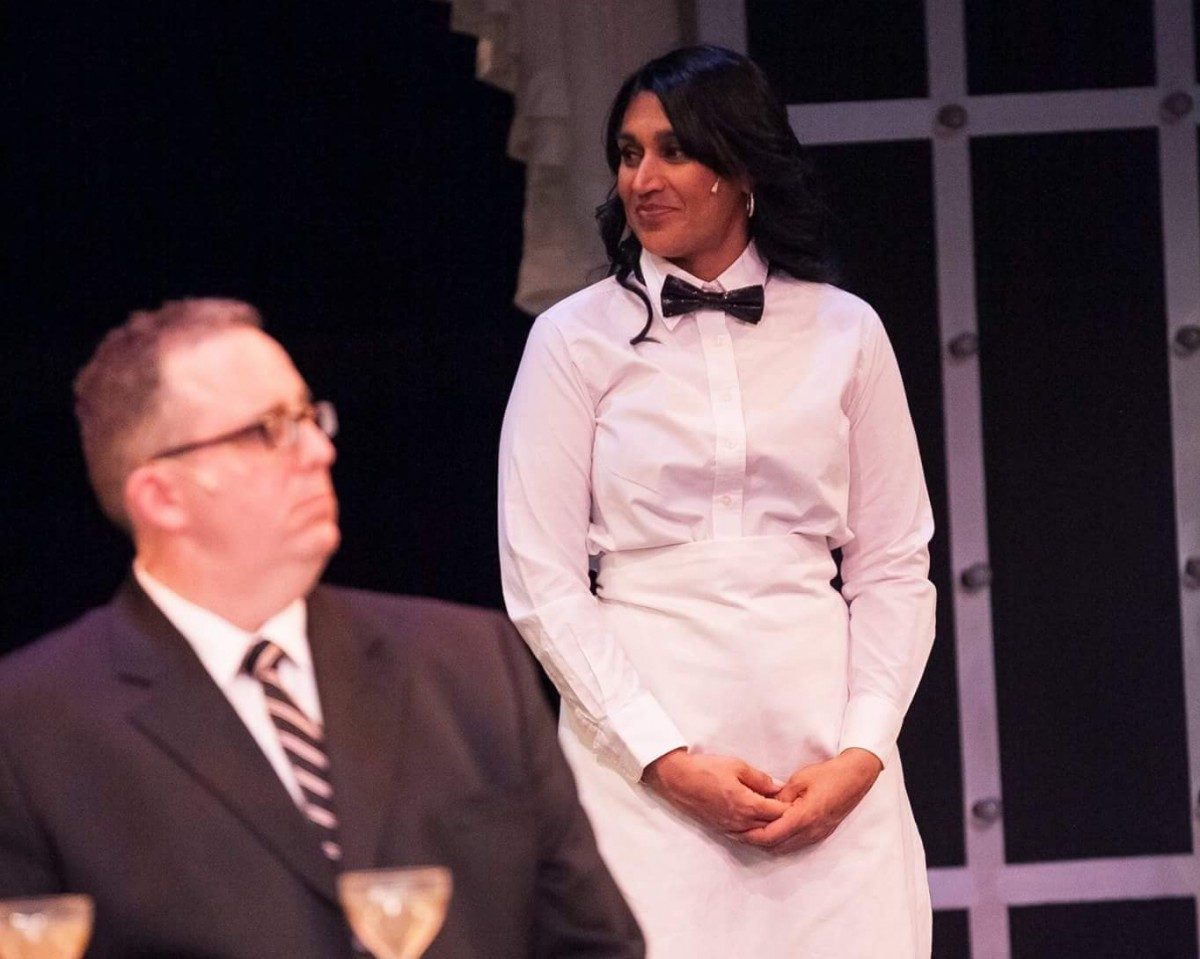 The play's the thing for Winnipeg lawyers
UM grad comfortable onstage but driven to helping others in need
April 23, 2018 —
Next month, the Manitoba Bar Association partners with the Royal Manitoba Theatre Centre in their 26th annual Lawyers Play production on stage at RMTC. This year, the show is an Agatha Christie mystery, Witness for the Prosecution, in which the wife of a murder suspect is called to testify against her own husband in court.
The show, directed by veteran Canadian actor Paul Essiembre, has a cast of 15, including many lawyers who are graduates of Robson Hall at the University of Manitoba.
One of the most prominent lawyers in the cast is Priti Shah [BA/86, LLB/89], the CEO of PRAXIS Conflict Consulting in Winnipeg. Beyond her expertise in legal advice and mediation, Shah is also known for her work around the world on issues relating to human rights, discrimination, and cultural diversity.
She speaks with authority on such issues, and not just because of what she experienced firsthand here in Winnipeg. In 2017, Shah was dining at Hotel Fort Garry when another patron told her to go back to her "own country."
Shah represented Canada as an observer of the parliamentary elections in Bosnia and Herzegovina in 1998, was with the Mennonite Disaster Service rebuilding homes after devastating tornadoes in Alabama in 2013, and also volunteers on Habitat for Humanity house builds. In 2005, she was named Woman Entrepreneur of the Year Award for Contribution to Community by the Women Business Owners of Manitoba.
She loves acting and performing on stage, too.
"I love theatre and I love the people I am able to work with," says Shah. "The RMTC professionals treat us all like professions, with no downgrading of expectations, and I have learned much about acting and singing on stage."
She adds: "But it's a lot of work; like having two full time jobs."
Since 1998, Shah has been actively involved in Lawyers Play, with parts in productions including Guys and Dolls, Fiddler on the Roof, The Pajama Game, Little Shop of Horrors, Cabaret, Inherit the Wind, and La Cage aux Folles.
"My first role was as a 'Kit Kat Girl' in Guys and Dolls," she notes.
The lawyers' productions have raised more than a million dollars for RMTC.
Lawyers Play is only one way in which Shah participates actively in the community. She's just finished her tenth "build" with Habitat for Humanity, and in July she will be off to Oregon for Habitat's Cycle of Hope. Her commitment to voluntarism is part of her personal philosophy.
"I've always lived from a global perspective," she explains. "I have a strong desire to know and understand other cultures, and I want to help make things better for others."
Shah is on the Manitoba Health Appeal Board and is a public representative councillor on the College of Physicians and Surgeons of Manitoba. Volunteering beyond health care, she's also on the board of the Winnipeg Football Club.
Whether acting on stage, raising money to build shelters, rebuilding communities after disasters, or counselling people facing discrimination, Shah is a model for passion-driven benefaction.
She says: "I get as much out of what I do for others as what I give for them."
And she makes time to enjoy life, too. She has the role of Justice Wainwright in the upcoming play at RMTC.
Witness for the Prosecution runs May 9-12, 2018, at Royal Manitoba Theatre Centre.