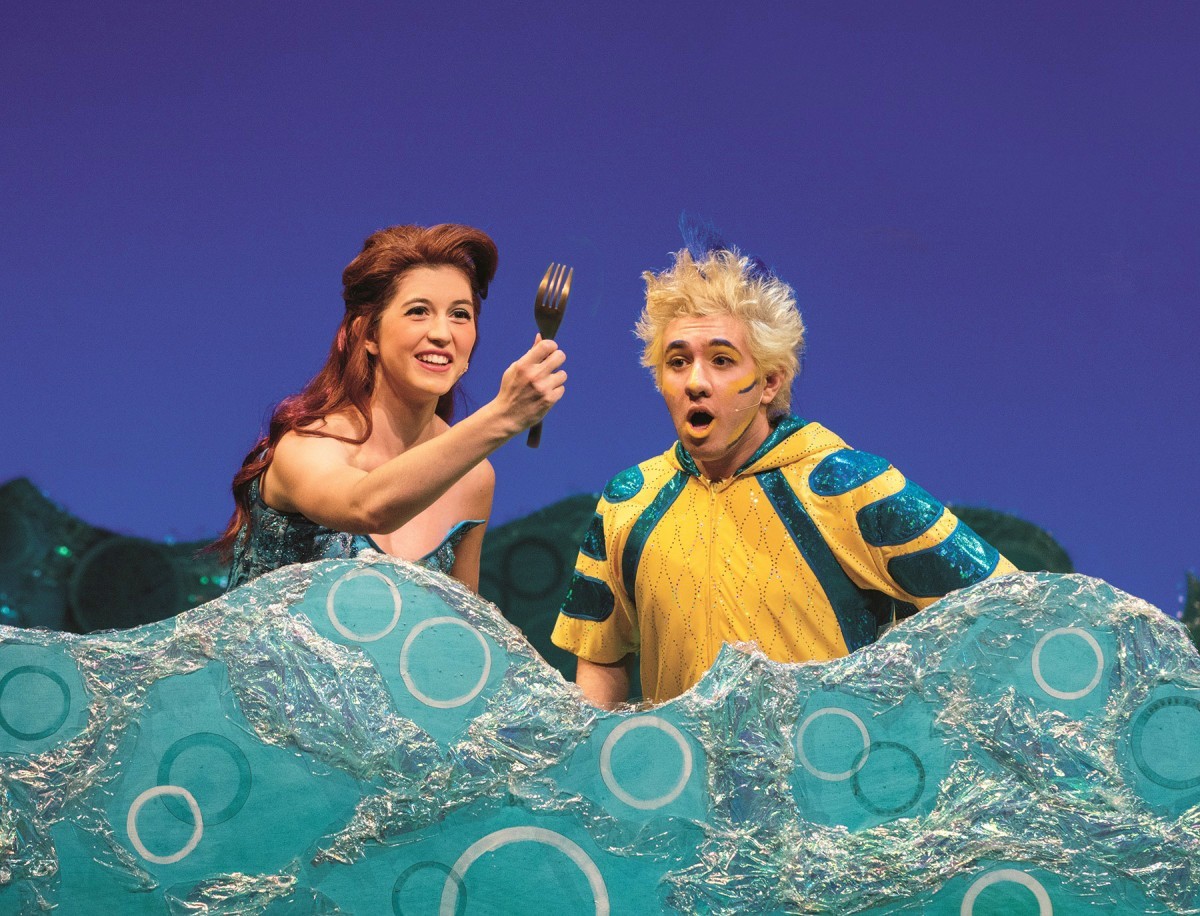 The Little Mermaid stars UM student Colleen Furlan
August 11, 2014 —
Colleen Furlan has some big sparkly fins to fill — along with several sequined aquatic costumes and poufy ballgowns. Starting August 13, the Desautels Faculty of Music voice student will take the lead role in the Rainbow Stage production of The Little Mermaid and christen the costumes, which have been specially tailored for this cast. The Canadian premiere is part of the organization's 60th anniversary celebrations.
The underwater world of the production is magical, says Furlan, with its variegated tints of aqua and blue. Ariel's grotto in the sea — "where I keep all my treasures," as she puts it, "and sit on a clam shell" is decorated with coral and pretty pastel shades. "It's really beautiful!" she says.
[rev_slider LittleMermaid]
Her favourite part of the spectacular set is the large boat, which rocks during the storm. The palace is also pretty impressive, with "gorgeous candelabras and beautiful backdrops," adds Furlan. That set includes a tricked-out dining room table for a bit of levity, she hints: "I don't want to give anything away, but there are a few gags!"
She's excited to play the part of Ariel, which is her favourite Disney role ever. "Part of Your World," one of the songs in the Disney film of The Little Mermaid, was the first she learned in singing lessons, she says.
The role of Ariel is a little intimidating, admits the 21-year-old singer, given that pretty much every female grew up seeing the popular Disney movie, which is based on the classic Hans Christian Anderson tale of the underwater princess who longs to be part of the human world and pays a high price for her love of a prince.
About to enter her third year in the faculty, Furlan is studying Vocal Performance with a focus on classical technique. She says she learns something new in every lesson by her current singing teacher, the renowned coloratura soprano and UM music instructor, Tracy Dahl. Furlan compares classical technique with ballet in dance. "It's the foundation," she says. "The classical technique teaches me how to use my voice, how to control it with proper usage — how to have stamina."
If Furlan's face is familiar, it may be because you cheered her on as Dorothy in CBC's reality competition show called Over the Rainbow in fall 2012. She sang and danced her heart out to make it to the final four — it's impossible to deny her huge talent and charm.
She loves to sing — maybe that's why audiences love her, too. The Little Mermaid is her third professional live musical theatre show, a genre she adores. "I love the fact that it's live and anything can happen," she says.
Musical theatre gives people a chance to laugh and cry, she says, "to express a lot of emotions that maybe they wouldn't be able to release in their regular life."
Furlan especially loves the interaction with the audience, the point where "you can look out and see their faces. It's really cool to watch [the audience] transform as we transform on stage."
And what she gets back is the most rewarding of all, she says.
"I love providing joy to people! That gives me happiness."
In addition to Colleen Furlan, there are other U of M students and alumni involved in Rainbow Stage's production of The Little Mermaid, including Eliot Lazar, who plays Flounder and is entering his third year in the Desautels Faculty of Music. Another music student, Julie Lumsden, is in her first season with Rainbow Stage. There are also alumni Joseph Tritt, Rainbow Stage's 2014 resident music director, and Paul DeGurse, who's working as apprentice music director for The Little Mermaid. Overseeing the stunning costumes for the production is Brenda Zachanowich, who studied clothing and textiles at the U of M — she's head wardrobe for the 2014 Season, in her 8th season with Rainbow Stage.