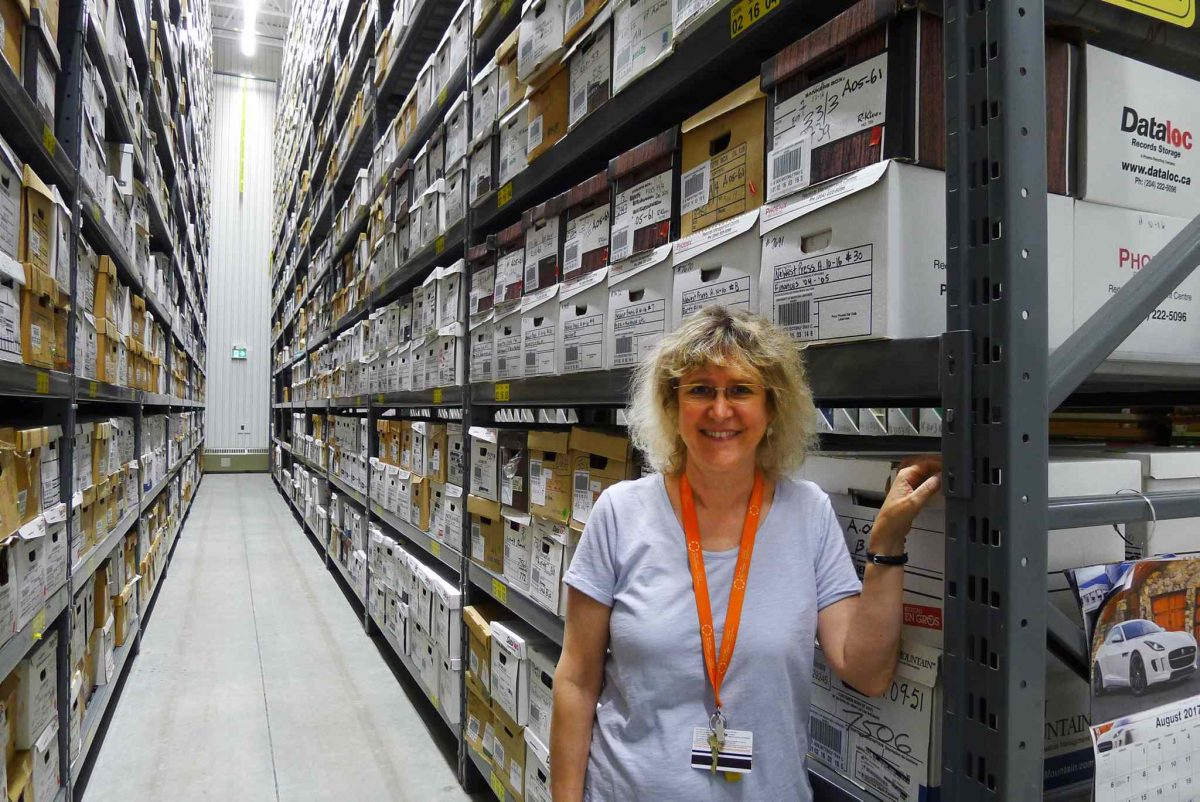 The Grand Reveal: A behind-the-scenes peek at the UM Archives
'We ourselves might have done a few odd things here and there over the years too.'
December 3, 2019 —
Shelley Sweeney is throwing caution to the wind. The head of the Archives & Special Collections will be divulging some of the 'secrets and thrills' of her work on Friday, Dec. 6, from 3 to 3:30 p.m., in a talk entitled "The Grand Reveal: A Behind-the-Scenes Peek at the University of Manitoba Archives."
After 21 years in the role, you get a certain perspective on the university, the province and its people, she says. Sweeney retires at the end of the term after a long and interesting career at the U of M. Read more about Sweeney's career here.
The talk is followed by a drop-in reception from 3:30 to 5:00 p.m. in the University of Manitoba Archives & Special Collections, 3rd Floor, Dafoe Library.
Highlights include a remarkable collection of rare books
One thing that immediately struck her after taking the position was the extraordinary Dysart Collection of Rare Books, she says. "It includes 69 of the finest exemplars of printing and publishing, and a few early illuminated manuscripts."
Purchased in the early 1950s, the collection numbers approximately 30,000 volumes and is constantly expanding. These were purchased by President Gilson at the behest of then-Chief Librarian Elizabeth Dafoe's to celebrate the opening of the library that now bears her name.
Included in the collection are the Dysart Memorial Collection of Rare Books and Manuscripts, the St. John's College Rare Book Collection, and the Slavic Rare Book Collection. Among the subject strengths of the Rare Book Collection are: Canadiana, particularly in Canadian Prairie literature, social history, immigration, agricultural development of western Canada, and early Arctic exploration; early native language syllabics; church history and philosophy; bibles (including the 1611 King James Bible); and English literature.
There's a good story behind the purchase, adds Sweeney: "When the board of governors balked at the purchase price of $10,000, somehow [President] Gilson got the Manitoba Brewers' and Hotelmen's Welfare Fund to pony up the dollars and name the collection in honour of Judge Dysart. Today the collection is worth over $1 million, which means that Gilson probably used his private connections to secure the purchase and got a bargain to boot, a quintessential Winnipeg achievement."

Valiant rescues, zucchini drops and a few other odd things
Sweeney says that she's been particularly impressed by the interest and enthusiasm of people both inside and outside the university, to create a record worthy of the amazing and multilayered history of this university and this province.
"Ordinary people, not archivists, have valiantly rescued important collections and have made extraordinary efforts to get them to the archives to tenderly lay them in our hands," she says.
"On the other hand, sometimes people have resorted to the zucchini method of dropping records off anonymously at our door with no identification and tiptoeing away before we notice so that we can't possibly return the material if we don't want it."
This enthusiasm for Manitoba's documentary history has carried over into many activities, adds Sweeney.
"People have suggested speakers,transcribed texts, located funds for special projects, scanned materials, brought groups in to identify people in photographs, curated exhibits and generally have made visiting the archives a much richer experience. That said, people have also done many unusual things to try to help us, and well, we ourselves might have done a few odd things here and there over the years too"
As her last hurrah before she retires, says Sweeney, she's going to recount some of the more peculiar things that have happened over the years "in a grand reveal."
She hopes that people will come and hear just what some of those things have been.
"The Grand Reveal: A Behind-the-Scenes Peek at the University of Manitoba Archives"
A talk by Shelley Sweeney, Head, Archives & Special Collections
Friday, December 6, 2019
3:00 to 3:30 PM
Reception with coffee and cake 3:30 to 5:00 PM
Room 330, Elizabeth Dafoe Library
More information: archives [at] umanitoba [dot] ca (204)474-9986