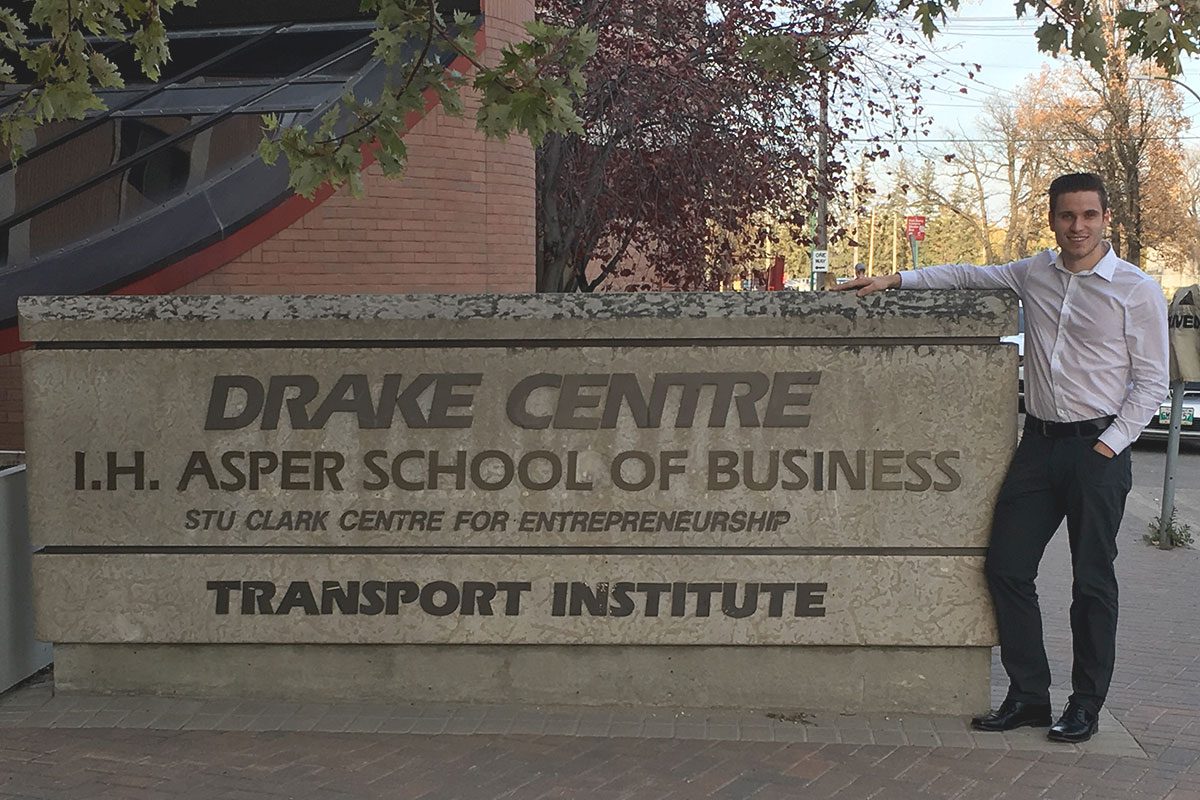 The Governor General's Silver Medal Recipient: Zacharie Raymond Fowler 
October 17, 2017 —
Graduating commerce student Zacharie Fowler accepts setbacks as part of life. In business, it's important to be able to overcome misfortune and look to the future.
And Fowler wasn't going to let something like his house burning down derail his studies. In 2014, his family home in St. Norbert caught fire and was destroyed, but Fowler remained focused on his commerce degree, the program getting his complete attention.
"The business industry has always been a field of interest for me," says Fowler. "From a young age, I was fascinated by business organizations, specifically their operations and supply chain management."
He's passionate about the value of his chosen field, too.
"Completing a commerce degree presents you with a variety of opportunities in different fields. For example, my majors are Logistics and Supply Chain Management and International Business, but I'm currently working in the financial industry," he says.
Fowler is a Commercial Credit Analyst at Caisse Financial Group. His studies and work complemented each other, so that the knowledge that he gained at the Asper School of Business could be directly applied to his work at Caisse.
"This motivated me to do well in class, because the material that I mastered in the classroom increased my production and knowledge at my workplace," he says.
Somehow, Fowler found time for extracurricular activities, despite his busy schedule and interrupted family life. It's been part of his philosophy.
"During your time at university, be sure to make time for yourself and those closest to you," he says. "It can be tempting to pass on a coffee date with friends, or skip out on a workout, but taking time for yourself is important. I know everyone says it, but that's only because it's true."
Fowler was Sports Co-Chair of the Commerce Students' Association, and he recommends getting involved with your faculty a great way to refine your skills.
"Joining the CSA was one of the best decisions I made in my undergraduate degree," he says. "The Commerce Students' Association gives council members the invaluable opportunity to take on various projects, and provides an atmosphere that supports their members. I gained planning skills, improved my marketing capabilities, and had the chance to work on my role as a leader. These three qualities are directly transferable to my future endeavours in the business sector. "
His other advice for students is to diversify your interests.
"Try different things and find an industry or area of study that you truly enjoy," he notes. "This is the time in your life to dream big and follow those dreams. Don't settle for an undergraduate degree in a field that you aren't passionate about, but find your calling."