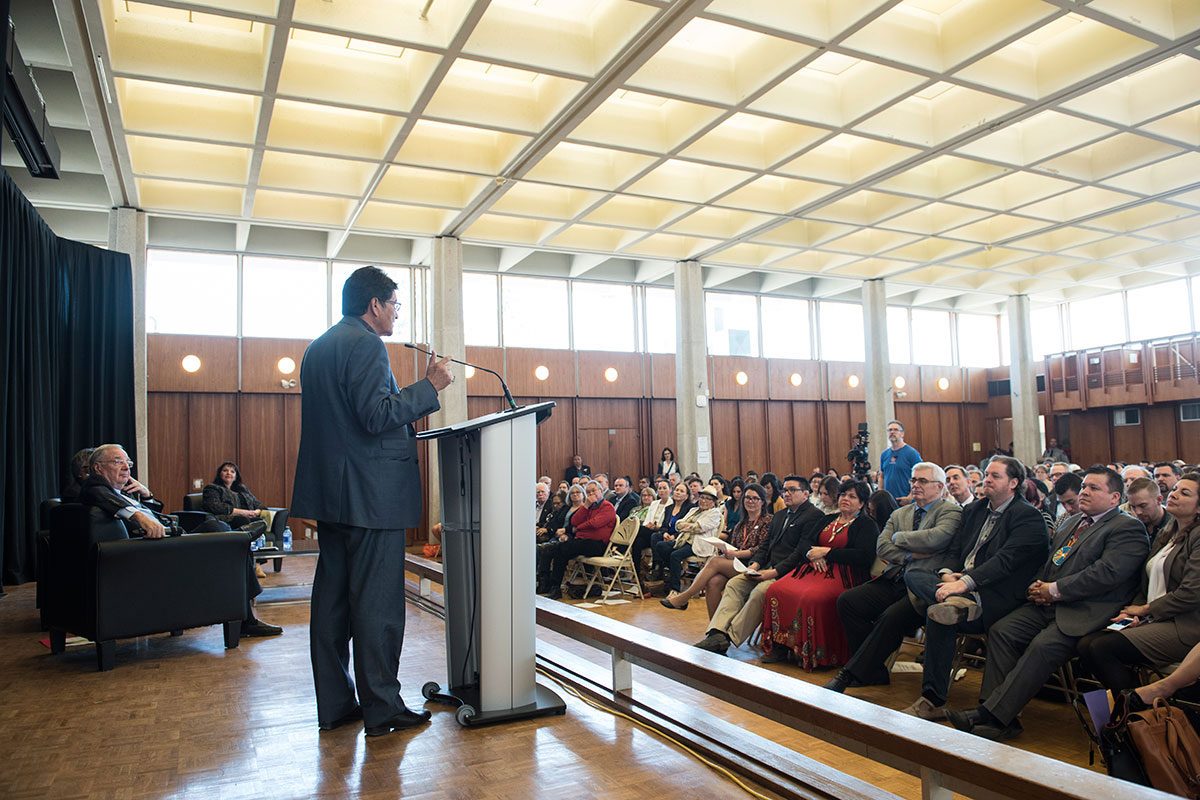 'The future of Indigenous Canada is at stake'
Indigenous leaders gather to discuss empowerment, education and reconciliation
May 8, 2017 —
On a campus known for hosting visionary conversations, this one stood out.
On May 4, former Prime Minister The Right Honourable Paul Martin shared the stage in the Great Hall of University College with some of the most prominent Indigenous leaders in Canada. They came to discuss their perspectives and experiences as mentors in Indigenous communities. Over 300 people came to listen.
Martin, acting as moderator, immediately addressed the importance of the event.
"The future of Indigenous Canada is at stake. For me, this is the single most important moral issue that we face as a country. Because it goes to the heart of who we are and what we stand for as a people," he said to a packed crowd of dignitaries, members of the university community, and off-campus visitors.
Leading the 2017 Indigenous Leadership Roundtable discussion with Martin – who served as Prime Minister of Canada from 2003 to 2006 – were: Stephen Kakfwi, former Premier of the Northwest Territories and current president and CEO of Canadians for a New Partnership, a group supporting and encouraging relationship building between Indigenous and non-Indigenous peoples; Solange Lalonde, associate director of education at Rupertsland Institute, Métis Centre of Excellence in Alberta; and former National Chief for the Assembly of First Nations and U of M alumnus, Ovide Mercredi [LLB/77].
Kafkwi, a Residential School Survivor, shared his journey from anger and frustration as a young man in the Northwest Territories to becoming an established Dene leader and eventual Premier of the territory.
Education was key to the success of that journey.
"At the time, Grade 12 was like a PhD today," he said, pointing out that many of his peers went back to the land to hunt and trap. "So there was just a few of us who kept going to school. The leadership of our people fell to us."
Kakfwi said that group of educated young leaders reached a decisive moment when they asked themselves: "Who are we? What do we call ourselves? Why are we here? And what are we going to do?"
That moment allowed them to get closer to understanding their identity and purpose as a people, and also allowed them to achieve their goals and determine their future.
Mercredi, a University of Manitoba Distinguished Alumni Award recipient and an important member of the U of M community in his mentorship role with the Faculty of Social Work and the president's office, picked up on the theme of education and received resounding applause from the audience in talking about the evolution of the U of M as a centre of Indigenous education and achievement.
"When I first came here in 1972, there were only 11 self-declared Indigenous students," he said. "Now there are 2,500 Indigenous students at this university alone."
But the work isn't done, he cautioned, emphasizing the need to provide support to Indigenous students who are dropping out of the education system.
Mercredi also reflected on the power of positive reinforcement from Elders and educators.
"I was strengthened by my people all the time. It's important to hear your Elders say to you, 'This young man is smart.' When you hear that from your people it empowers you. It touches your heart," he said.
Lalonde, who brought a Métis perspective to the discussion (the previously scheduled guest, Audrey Poitras was unable to attend), spoke to the positivity of the continuing discussions between Indigenous and non-Indigenous people across Canada, though she acknowledged that in this confluence, there can be turbulence.
"If we look at a Métis sash, the strength is in all the threads that are put together," she said. "We can't expect a single person to be the voice of the community or to have the collective knowledge of our entire nation."
"The knowledge and wisdom is in the community, and the real key is in the engagement," she added.
The audience was involved in a lively question and answer period, addressing subjects ranging from the importance of language to whether reconciliation is actually working.
At the end of the two-hour discussion, Martin challenged the audience themselves to take what they had heard and share it with their own communities. To engage others on the subject with the passion they were bringing to the event.
To conclude, Martin referenced a group of Indigenous high school students who filled three rows of the audience.
"The fastest growing segment of those under the age of 15 are Indigenous Canadians. They have got to be given every shot if this country is going to succeed," he said.