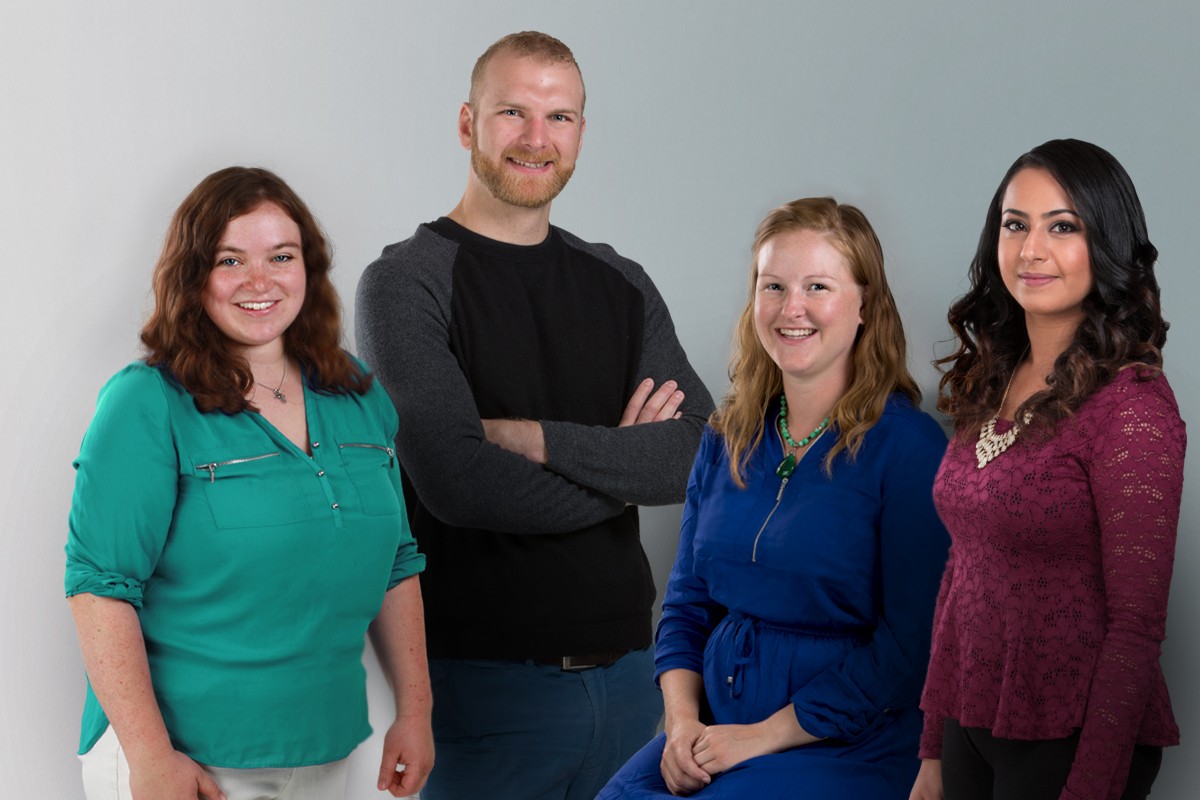 The Fantastic Four U of M Vanier Scholars
New Vanier scholars are receiving major grants to study subjects as varied as Indigenous languages, HIV infection, Lou Gehrig's disease and geothermal energy
October 3, 2016 —
In 2016, for the second year in a row, four University of Manitoba graduate students in a single year are recipients of Vanier Canada Graduate Scholarships.
The recipients of these prestigious awards are: Chantale Cenerini, linguistics; Colin Graydon, medical microbiology; Mamneet Manghera, immunology; and Kayla Moore, civil engineering.
These awards, considered the Canadian equivalent of the United Kingdom's Rhodes Scholarships, help recruit and keep in Canada top doctoral students from across the country and around the world. Each recipient receives $150,000 over three years towards his or her research.
Chantale Cenerini is playing a part in the revitalization of Indigenous languages in Canada; her doctoral research focuses on understanding and supporting the vitality of Michif, the language of the Métis people. As a Métis woman, she aspires to be a role model and inspiration to Indigenous women through her research and academic success and through her participation in Indigenous cultural events. With the birth of her daughter and her research activities, Cenerini has had quite the busy year. She is a skilled polyglot; fluent in French and English, she has knowledge of the Cree language, is literate in Spanish, has functional skills in Italian and has studied German. She has volunteered as a catechist at Saint-Norbert Parish, a soup kitchen worker at Souls Harbor Rescue Mission, and a resource person at Centre Flavie-Laurent Centre, a low-income resource centre.
Colin Graydon has been incredibly productive with his research in medical microbiology, investigating how LAG-3, a protein that suppresses certain components of the immune system, blocks the body's response to diseases. He is studying LAG-3 from the perspective of HIV infection, but what is discovered may have implications in tuberculosis, cancer, autoimmunity, allergy, and vaccine research. Although his work with the Health Sciences Graduate Student Association is quite demanding, Graydon says he spends most of his free time with friends, including playing rugby and guitar. His volunteer experience includes working as a scout leader, fundraising for a building project in Ecuador and working on HIV/AIDS and Hepatitis C community outreach.
With a perfect GPA of 4.50, Mamneet (Sheena) Manghera has been honoured with an extensive list of academic awards, distinctions, prizes and scholarships, including the Sir Gordon Wu Graduate Scholarship in 2015. Her research in immunology at the U of M looks closely at how pieces of human DNA made up of retroviral genomes (called endogenous retroviruses) contribute to neuropathology in ALS, which is also known as Lou Gehrig's disease. She notes that doing medical research provides her with a sense of purpose and direction in life, especially having witnessed first-hand the devastating effects of the neurological disease ALS in her community. She finds it rewarding and satisfying to know that her work has the potential to bring a positive change in the health of individuals living with ALS. Beyond her research, Manghera loves to choreograph and perform at the Punjab pavilion at Folklorama as well as other cultural community events throughout the year, allowing her to preserve and promote her culture and heritage.
For her undergraduate degree, Kayla Moore studied environmental science at the Clayton H. Riddell Faculty of Environment, Earth, and Resources at the U of M. She concluded her bachelor's degree with an international exchange at Flinders University in Adelaide, Australia. She is passionate about sharing her expertise through service to her rural community as the president of the Cherry Point Cottage Owners' Association and as a member of the Oak Lake Aquifer Management Board. Her doctoral research in civil engineering will investigate the solute transport in saline aquifers and application to geothermal energy as a potential power source in the Canadian prairies. Moore lives along Oak Lake and spends a lot of time boating and floating in the summer, and fishing in spring and winter. She plays hockey and fastball with Westman Fusion, out of Reston, Manitoba and says it's as much a therapy session as a game most of the time.
"These students have demonstrated tremendous dedication to their fields and to their communities," said Todd Mondor, Acting Vice-Provost, Graduate Education and Dean, Faculty of Graduate Studies, at the University of Manitoba. "Not only are they exemplary researchers and outstanding leaders, they serve as an example and inspiration to others."
The Vanier Scholarships recognize students who demonstrate leadership skills and a high standard of scholarly achievement in graduate studies in the social sciences and humanities, natural sciences and engineering, and health. Students are nominated by their university. Nominees are evaluated by multi-disciplinary peer-review committees and selected by a board composed of world-renowned Canadian and international experts.
"These graduate students will make an impact on our lives through their research and investigations into issues that matter to us all," says Digvir Jayas, vice-president (research and international) and distinguished professor at the University of Manitoba. "I wish them well and continued success on their research journeys."
The four U of M recipients are among 166 national recipients of the 2016 Vanier Scholarships, bringing the U of M's total to 21 Vanier scholars awarded during the last eight years.
The scholarships are administered by Canada's three federal granting agencies: the Canadian Institutes of Health Research (CIHR); the Natural Sciences and Engineering Research Council of Canada (NSERC); and the Social Sciences and Humanities Research Council (SSHRC).
The Vanier program honours distinguished Canadian soldier and diplomat Major-General the Right Honourable Georges Philias Vanier (1888-1967), who served as Governor General of Canada from 1959 to 1967.