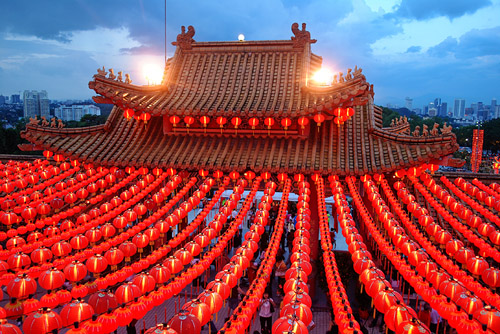 The cultural significance — and politics — of Chinese New Year
January 28, 2014 —
Associate professor of history Tina Chen specializes in Chinese culture and history. UM Today asked her about the significance of Chinese New Year.
Tina Chen: New Year is the major holiday in China and is a significant moment for family relations.  "Chunyun" refers to Spring Festival (with a literal translation of spring rush), lasts about 40 days and begins about 2 weeks before the Lunar New Year.
The Spring Festival centres around the period between the Lunar New Year and Lantern Festival, which in 2014 is Jan. 31 to Feb. 14. Celebrations often begin 2 weeks prior to the Lunar New Year so that the travel rush period extends to approximately 40 days.
One of the most talked about aspects of the Chinese New Year is the masses of people travelling during the holiday period, mostly by train. This is a practice that emerged primarily during the transition to a capitalist economy and the emergence of a system employing 100s of millions of migrant labourers. It is estimated that in 2014, travelers in China will make 3.6 billion trips during this period. Travelling home has become a major political flashpoint each year as New Year travel depends on companies paying previously unpaid wages, often as year-end 'bonuses' in red envelopes. Attempts to control and manage travel is a major challenge for the Chinese state.
Celebration of Chinese New Year, while often associated with traditional practices like eating dumplings and attending banquets, is also politically fraught because stark class differences are evident in who is able to travel and how. Also at the current moment anti-corruption campaigns associated with the leadership of Xi Jinping are being set against elaborate gift-giving, luxury travel, and banquets by the elite.
>> See this UM Today story on celebrating Chinese New Year. Also see story about student Beibei Lu's photo project for Chinese New Year.