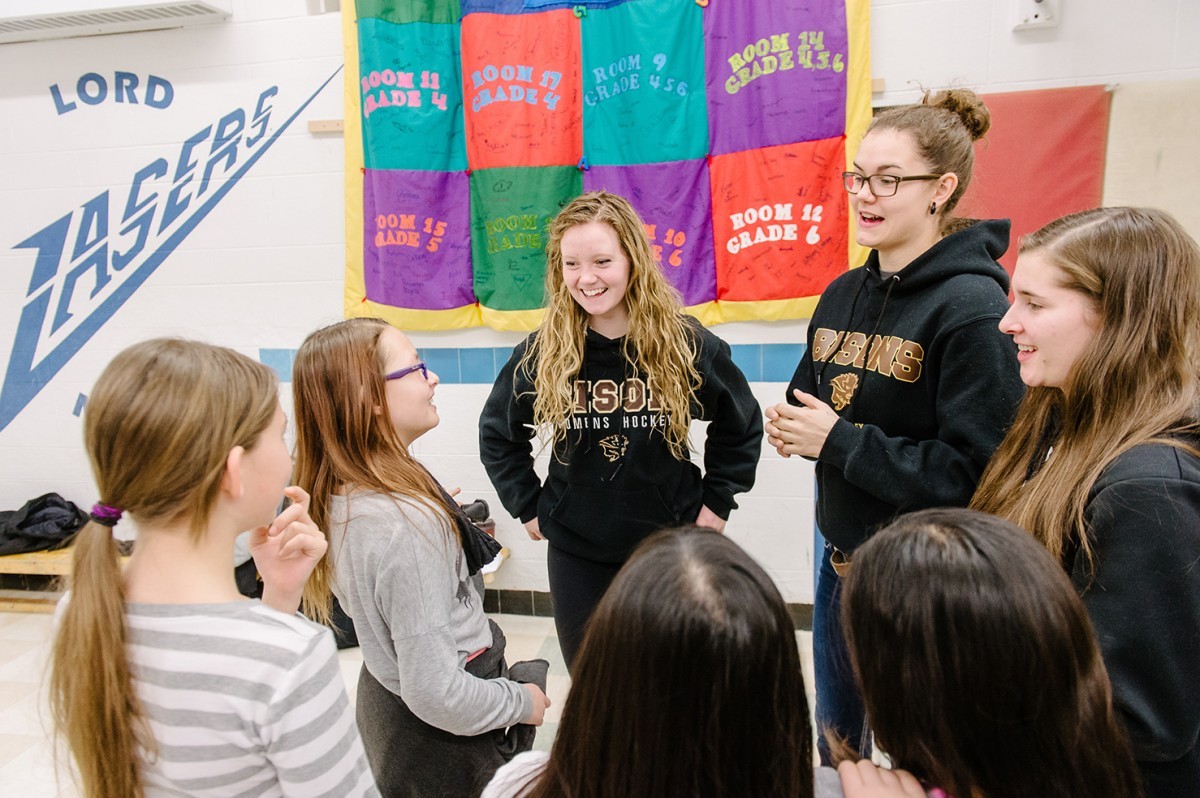 The battle against bullying: Providing positive role models
February 25, 2015 —
WHAT: The Bisons Against Bullying program connects U of M athletes with school kids in Winnipeg to combat bullying.
HOW IT WORKS: Bison athletes visit elementary and middle schools across the Winnipeg, holding bullying prevention seminars and serving as positive role models. These student volunteers—three or four per presentation—aim to make a real connection with the children they meet. "What makes the program special is the interaction we have with the kids. By getting them involved, we feel it keeps the attention of the kids, and helps them to really understand what we are saying," says Amanda Schubert, Bison hockey player and Bisons Against Bullying program organizer. 
THE GOAL: "The goal of our work is to end bullying but one presentation won't do it. That is why we try to go to as many schools as we can. By targeting a younger audience, we can reach kids at a young age and let them know that bullying is not okay," says Schubert. "We hope that the lessons we teach these kids now help them throughout the rest of their education and throughout their lives. We hope they can learn to make a difference and know right from wrong, and help out their peers."

WHEN IT STARTED: Bison Sports launched the program in 2006, in partnership with the University of Manitoba Athletic Counsel.

WHY IT'S IMPORTANT: "Bullying can really hurt kids. In the program, we don't just focus on the victim and the bully and what those two can do to change. We talk about the bystander and what that person can do to impact the situation," says Schubert. "One of our goals is to teach these kids that you can help people who are being bullied by being a positive bystander. Of course we tackle the issue of cyber bullying as well. With it being a huge problem for this generation, it is another important piece to the puzzle. By talking about cyber bullying, we can help give strategies and inform the kids that even through a screen it can still hurt."
THE INSPIRATION: "As athletes we are extremely lucky, fortunate and privileged to play the sports we love at such a high level. Also as athletes we know that we are in a special position—the younger generation really looks up to us," Schubert says. "We know that it is our duty to give back and to do what we can to use our privilege in a positive way…. Listening to what they have to say about bullying and having all those eyes on us, knowing that what we are saying is being listened to, lets us know that what we are doing is really making a change."
---
FUNDERS: University of Manitoba, University of Manitoba Athletic Counsel
---
LEARN MORE
To see the impact the University of Manitoba has on the global community take a look at this map. If you have a community-minded story to tell, please do so by submitting your story here.