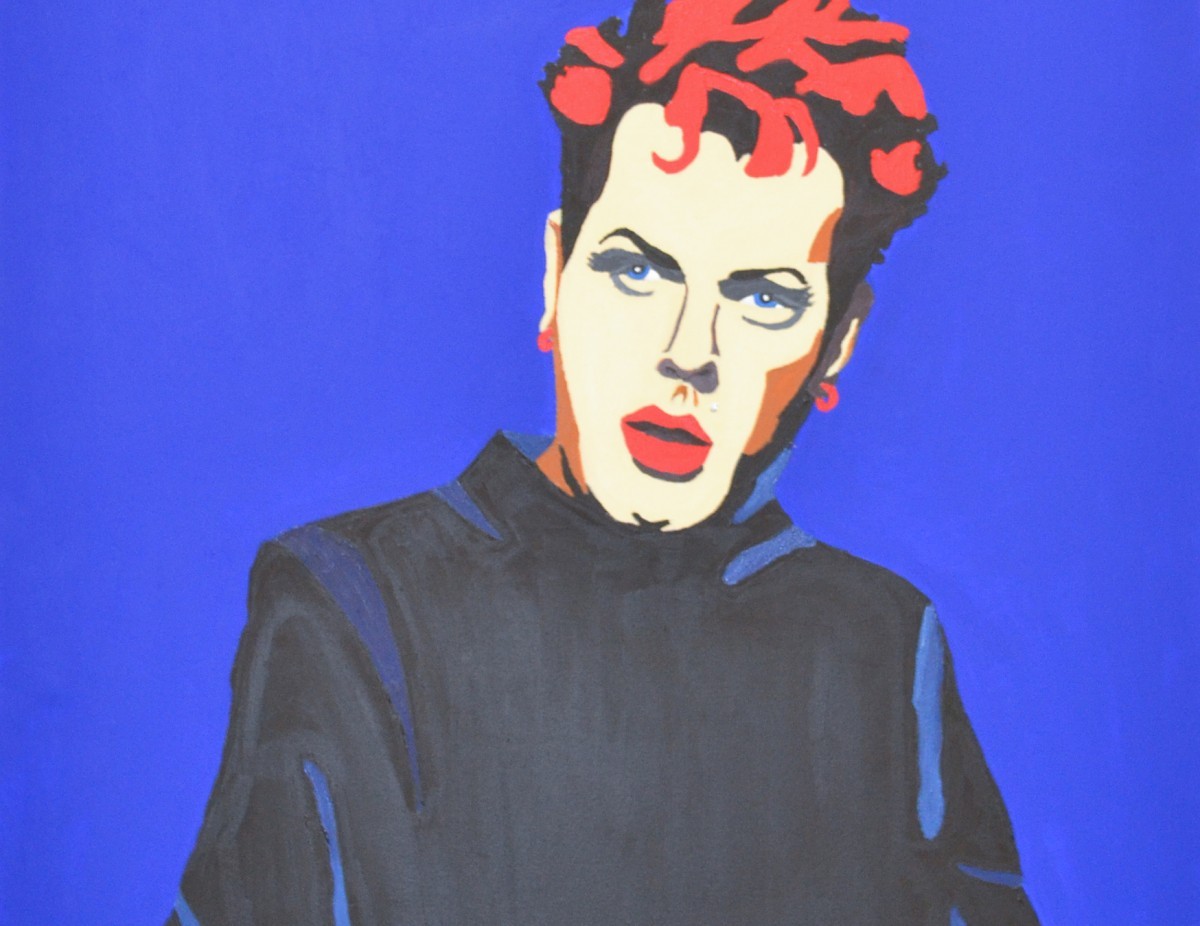 The art of accessibility: Student artwork highlights Access Awareness Days
January 17, 2014 —
The striking artwork of BFA graduate from the School of Art Vivian M. Muska is on display this week as part of a show called "Celebrating Abilities" at the Gallery of Student Art (GOSA) in University Centre. Hosted by Student Accessibility Services, the exhibition is part of  a celebration called Access Awareness Days, which runs until January 24.
For Muska, who suffers with fibromyalgia, learning disabilities and mental health disorders, doing art expresses who she is at her depth. "To be a painter, poet, artist means to express my soul to others," she says. "In hopes of relating and inspiring and communicating parts of who I am as a woman artist. It is what I do, and a big part of who I am."
A spinal cord injury at 13 altered Karina Elisa Cardona Claros's entire approach to life.  "Making sense of those changes is a big part of my art," she says. The moving, sensitive artwork, "Selfie, 2013," which hangs in the gallery as part of the show tells a lot about her struggles.
As a graduate student in the department of environment and geography (Clayton H Riddell Faculty of Environment, Earth, and Resources), Cardona Claros also takes her personal experience into her studies. The critical cultural geographer studies "how it is that people's mobility is circumscribed in urban spaces by expectations of being an independent, productive member of society."
Cardona Claros: "I think it's important to share with one another the realities of our lives – both triumphs and challenges — if we are to better understand how to create 'accessible' environments."
She says that she creates art to help her "understand and describe the world that I am a part of and to be more comfortable with the frustrations that build from daily life."
The work submitted to the show was very personal, she says. It wasn't even originally intended for a public audience.
The reason she decided to show the work? Because it communicates in many ways the effects of living with what is understood as disability, she says. "However, it also describes much of the difficulty experienced by students and staff alike by the pressures of academic and daily life," she adds.
"It is a visual and literal transcript of a very difficult conversation that I needed to have with myself a couple of weeks ago. I took it down from the walls of my bedroom, where it covered my mirror, in order to share it with an audience of university students and staff.
"I think it's important to share with one another the realities of our lives – both triumphs and challenges — if we are to better understand how to create 'accessible' environments."
*****

Vivian's story
Ten years ago, Vivian Muska was hit by a car driven by a drunk driver. After that, she says, her life changed forever. She developed Fibromyalgia, which means that she goes through much of her days feeling fatigue and pain. She also has to pace herself, watch her stress levels and what she ingests.
However, she says, "I overcame my issues to make a difference in my way in this world. One way was to be an artist/poet/painter.
Why did she want to take part in the exhibition? "I took part of the show because we need to raise awareness and not be ashamed of our issues. The stigma of what I live with every day can be very hard to deal with. But I am positive and strong and I want other people to see if I can do it — make dreams come true — so can you.
I want to be a spokesperson for disabilities like I have. I am proof to never give up on your dreams.
"Having Fibro and being an artist is difficult," she admits.
"I have to pace my work and take breaks and work at home. I have been very lucky to have a good doctor who was also my mentor and never stopped believing in me. Dr. Tomchuk passed away one-and-a-half years ago and was my main support. I could not achieve my dreams without the help of access abilities and the support with the advisors I had in my corner, Carolyn [Christie] and Arlana [Vadnais].
"I am blessed and thankful for the work they do for students."
*****
Karina's story
"Self Check-In" is something that I do at regular intervals most Saturdays at a coffeeshop — with a schedule, a to-do list and a plan to build a manageable schedule.
Every few months, just "keeping up" is not enough. I need to zoom out and think about what I want, where I am headed and if those ideas are aligned with my daily plans or not. I know that I need this most when the negative thoughts in my head take over and make me feel paralyzed from doing what I want or need to do.
Through the Life Coaching program offered through Student Accessibility services, I learned some skills that helped me to have those conversations with myself – both more honestly and towards better outcomes. I am often so preoccupied with big issues in the world or little (but important) obligations like stretching my budget that I start ignoring the essence of life that makes my life feel good and meaningful.
When stress takes over, I am living with physical pain and my mood feels unmanageable, it's time to get to the root of the problem. The art that you see here is not a plan but a difficult conversation that exposed those negative thoughts and a reminder of the things that bring me joy.
Last week, I put these up on my wall and covering a full length mirror in my bedroom as you see them arranged here. I made the self portrait ("Selfie 2013;) in the final week of December. After that, I had it out with my toxic "inner gremlin" on New Year's Day. The colourful words on the shiny poster came afterwards as reminders of things that I love to keep me positive in 2014. The big poster "I see my future and it is good!" was one of the first I made in 2012 when I awoke feeling excited about life one morning. Eventually, I carry these words as reminders and I don't need to the posters anymore.
On Friday January 24, SAS will be hosting campus and Winnipeg community disability groups on the main floor of University Centre.  Please stop by to try a game and win a prize.
SAS is still accepting nominations for the Faculty and Staff Access Awards.  If you would like to nominate a faculty or staff who has gone above and beyond for access on campus, please send your nomination to student_accessibility [at] umanitoba [dot] ca.
Student Accessibility Services (SAS, formerly Disability Services) provides support and advocacy for students with disabilities of all kinds, including hearing, learning, injury-related, mental health, physical, visual and temporary (such as breaks or sprains).
SAS acts as a liaison between students and the faculty and staff of the U of M as well as support agencies within the province of Manitoba.