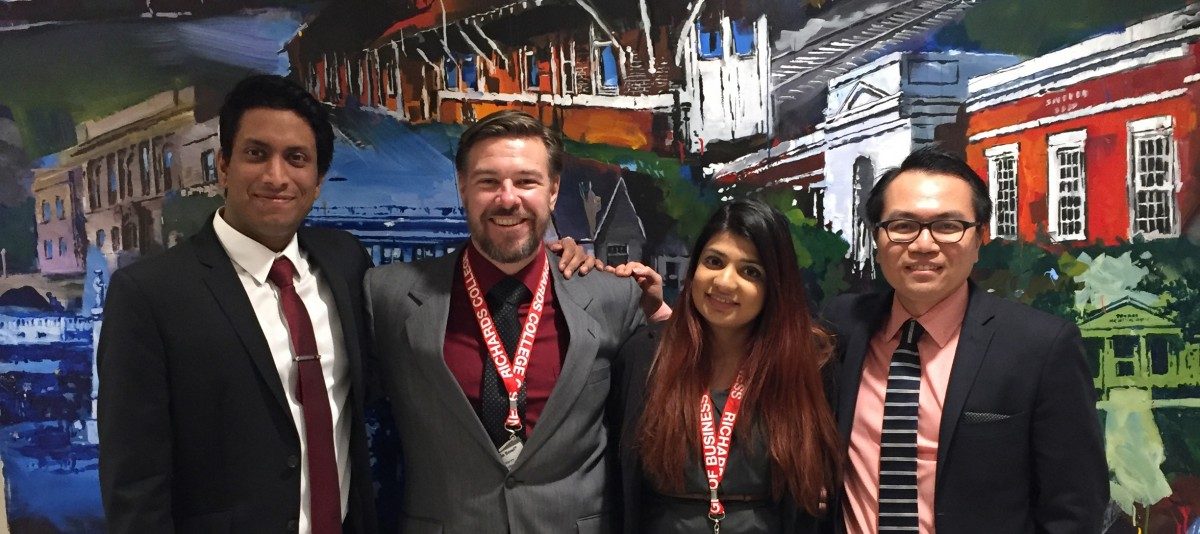 Team Paramergent triumphs at Georgia Bowl
February 15, 2017 —
The Asper MBA's Team Paramergent has won third place at the 2017 Georgia Bowl business planning competition at the University of Georgia. The team pitched a business plan for commercializing an app that that provides real-time, interactive tools for paramedics.
The Georgia Bowl is North America's oldest MBA business plan competition. Getting there is no easy feat. To compete, Paramergent had to stand out from dozens of entries just to be invited. At the competition, they fought a semi-final round against three other teams in their division, then faced off in a championship round, where Paramergent presented for 40 minutes in front of leading venture capitalists, intellectual property experts, CEOs and corporate lawyers.
"It was intense," says Warren Abrey, the team's CEO. "The judges fired question after question at us, and they weren't easy questions. We learned a valuable lesson about making our product and all aspects of our business plan easy to understand for people who aren't as immersed in it as we are. After we knew we were continuing on to the championship round, we revamped our presentation, which made a huge difference."
Team Paramergent began developing the plan in the Business Venture Analysis class taught by Stuart Henrickson, I.H. Asper Executive Director for Entrepreneurship at the Stu Clark Centre for Entrepreneurship. The course is designed to take students through the entire start-up process and prepare them to present their venture to investors.
"The team did exceptionally well," says Henrickson. "After working on a project for four months, the team had to scramble when the inventor decided to keep that business strategy confidential for his own use. They pivoted to Paramergent and did an amazing job creating a viable business strategy in less than five weeks."
Abrey says the team has already pushed their business plan in new directions based on the feedback received at the Georgia Bowl. Developing the app for hands-free use and voice command is now a priority.
"We all came in seeing this as a class project, but it's become something more," says Abrey. "We're proud of the work we're doing and the product we're developing. It is going to save lives."
Paramergent competes at the Brown-Forman Cardinal Challenge in Louisville, Kentucky next week.