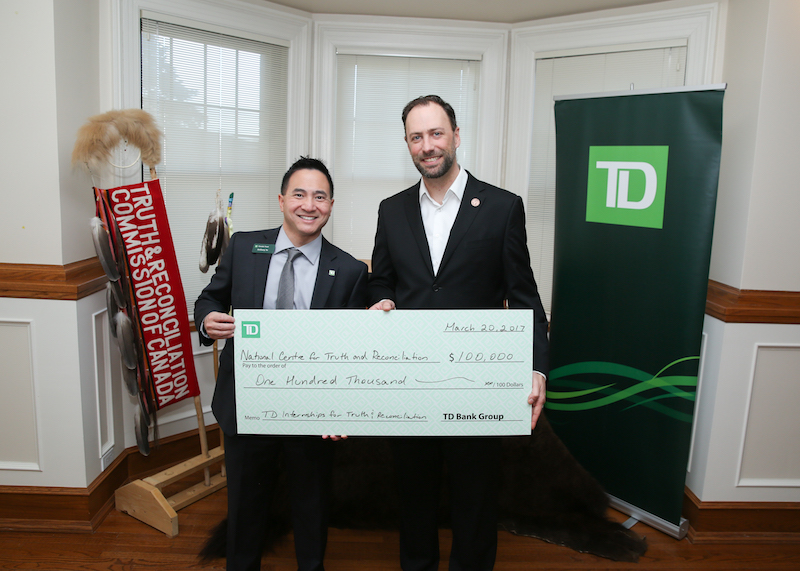 TD Bank Group provides support to NCTR to preserve important testimony
April 12, 2017 —
On March 20, representatives from TD Bank Group presented $100,000 to the National Centre for Truth and Reconciliation (NCTR) at the University of Manitoba to support the TD Internships for Truth and Reconciliation.
This donation is part of the $1-million gift announced in May 2015 to the Front and Centre campaign. The gift will benefit interns over a 10-year period, who will work to process and digitize archival materials acquired during the Truth and Reconciliation Commission.
The March 20 gathering was intimate and informal as people from NCTR, including the three newly announced TD Interns and Bank Group representatives, came together to discuss the impact of this partnership. Ry Moran, director of NCTR, was first to speak.
"This support that our partners at TD Bank Group bring is really important to the work that we do here in understanding this history and getting the truth out there in a good and organized way so people can access it and digest it," he said.
"We've been asked by Survivors to make sure Canadians understand what transpired," Moran said. "It's not all going to happen today but it's through the TD Internships that we are going to be able to make a serious dent in our work in bringing the truth forward, which is a necessary precursor before we can even have a serious conversation about reconciliation….These interns are absolutely essential to surface and share what the country has entrusted us to do."
Moran explained how he envisions the centre as the body of a bird, and all its partners are the wings, stretching more and more across the country.
"TD is honoured to fund an initiative that will unearth important stories and make them accessible to all Canadians and the world beyond. There is a lot of work ahead, but with new partnerships with other universities such as UBC, this vital piece of our nation's history will finally be shared and recognized." Anthony Yu, Senior Manager, Rural Branch Banking, TD Canada Trust.
"I think it's going to take a lot of time, but as you begin to partner with more universities across the country, like UBC, more people will get informed and it's a great honour that we can be a part of this process," Anthony Yu, Senior Manager, Rural Branch Banking, Saskatchewan and Manitoba Districts,TD Canada Trust, told the group.
The funding will support three master's students in Archival studies at the U of M: Carmen Miedema, Jason Carrie, and Andrew Webster.
"This support from TD means everything to me. It means I can stay here and I can balance my life – I can be here and do what I need to do," Miedema says. "It's a privilege and honour to be involved here and I'm excited to help get these documents out there for younger children to access, so that as they go through their schooling they will be more knowledgeable about the situation. I think that's how you bring about reconciliation."
Fellow intern Jason Carrie agrees with Miedema about the power archival material can have on our understanding of the world.
"The material here tells a story and allows us to look back, and it helps us correct the record," he says. "I think that is a big job of the NCTR. They received a lot of material from Library and Archives Canada, and through the NCTR we will take these records and decolonize them, and we will get the proper understanding."
The NCTR at the University of Manitoba is the steward of the Truth and Reconciliation Commission's four million historical records and 7,000 interviews of Residential School Survivors. The TD internships will allow the NCTR to preserve this important testimony and provide a trusted and secure home for these records.
The NCTR is a cornerstone of the U of M's $500-million Front and Centre comprehensive fundraising campaign. This gift supports the University's efforts to ensure that Manitoba becomes a centre of excellence for Indigenous achievement – leading to increased social, economic, and health outcomes for individuals, communities and all Canadians.
"The support from TD is phenomenal," Carrie says. "This is a great opportunity and I'm so thankful. It's just a phenomenal opportunity they are providing us with."
Research at the University of Manitoba is partially supported by funding from the Government of Canada Research Support Fund.