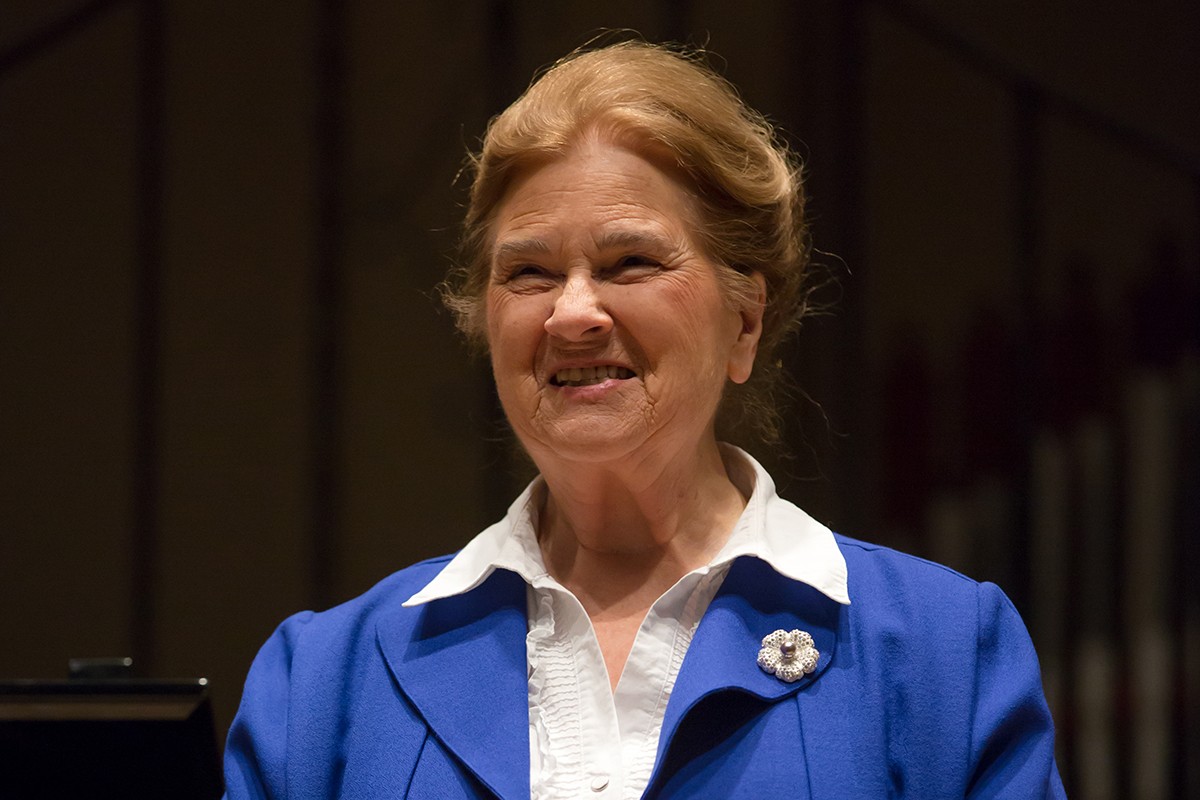 Take note: Zita Bernstein Competition welcomes Elly Ameling as guest adjudicator
April 4, 2016 —
This week, Bachelor of Music students in the Desautels Faculty of Music will have the unique opportunity to compete in a high-profile voice competition in front of a world-class adjudicator.
The final round of the prestigious Zita Bernstein Competition for the Performance of German Lieder will begin at 7:00 pm on Wednesday, April 6, 2016, in Eva Clare Hall. The guest adjudicator is Elly Ameling, who for decades was one of the world's most celebrated sopranos. She has led a prolific performing career working with internationally renowned conductors, orchestras, and collaborative pianists. Her award-winning discography of 150 recordings remains one of the most profound artistic contributions in the field of classical music.
The Zita Bernstein Lieder Competition was established at the University of Manitoba in 1998 by Mark and Zita Bernstein, and carries two cash prize awards. The Competition honours Zita Bernstein whose life was enriched by a love of music, theatre and art, with a special fondness for German lieder. Zita had a lengthy career as a librarian and later assistant to the director of the Elizabeth Dafoe Library. A trust fund was established at the University of Manitoba in her honour, supporting voice students in the Desautels Faculty of Music, encouraging the study and performance of German lieder.
Mel Braun, who heads the vocal program at the University of Manitoba, explains that German lieder (meaning "art songs") developed in Germany and Austria in the early 19th century, when the great German poets began to have their poems set to music by the leading classical composers of the day. Beethoven, Mozart, Schubert, Schumann, Brahms, and Wolf are among the many composers who perfected the art of the lied for voice and piano.
Students in the competition must perform three solo selections of German lieder by at least two different composers, and be enrolled full-time in the Desautels Faculty of Music.
Following the competition, Ameling will present master classes for voice students. Ms. Ameling currently teaches at Austria's Schubert Institute at Baden am Wien, where recent U of M graduate Sarah Kirsch and student Daniel Thielmann have studied.
Braun says: "Thanks to the love and foresight of Gail Asper Family Foundation and the Mark Bernstein family, Ms. Ameling will be here for the 2016 Zita Bernstein Competition. Our gifted faculty have prepared our students and encouraged them to participate in this wonderful art form; we have turned out many fine lieder singers over the years."
"This year's list of singers for the Zita Bernstein Competition is very promising, and we're confident that Elly Ameling will find a lot to work with among them. She will be working with the seven finalists from the Competition, for which she is an adjudicator," adds Braun.
Winners of the Zita Bernstein Lieder Competition often go on to achieve significant recognition in their field. Noted U of M alumna Andriana Chuchman (BMus/04) was the 2003 winner of the Zita Bernstein Lieder Competition, studying under Tracy Dahl. In 2004, Chuchman placed first in the voice category at the Canadian Music Competition's National Finals, performing in the gala concert and was the winner of the 2004 Winnipeg Music Festival's coveted Rose Bowl. In September, 2015 she made her LA Opera debut appearing with Placido Domingo in a performance of Gianna Schicchi directed by Woody Allen.
McKenzie Warriner is one of the students selected for the final round of the competition this year. "I feel so honoured to be a part of this experience. When I entered the competition I didn't think I had much of a chance because I am only a second year, and I almost screamed out loud in the middle of class when I found out I made the finals," she says. "I am so excited to sing for Elly Ameling. Her recordings are such a great resource, and it will be really cool to talk to her in person about her experiences. I can't wait to learn from her."
Braun notes: "Ms. Ameling is one of the great lieder coaches in the world, channelling all her performing experience and love of the art form into her teaching. We look forward to a splendid few days with her. It really is a once-in-a-lifetime experience for our students and for Winnipeg audiences who are welcome to see her at work."
The Final Round of the Zita Bernstein Lieder Competition will begin at 7:00 pm on Wednesday, April 6, 2016, in Eva Clare Hall at the Marcel A. Desautels Faculty of Music, 65 Dafoe Road, on the Fort Garry Campus.
Master classes will be held on Thursday, April 7, 2016, and Friday, April 8, 2016, from 10:00 am to 12:00 noon and 6:00 to 9:00 pm each day.
All events are open to the public, with free admission.