campus news News Archive
December 15, 2020 —
Research by Sean Johnson-Bice, a PhD student in the Department of Biological explains how wolf attacks on beavers are altering the very landscape of a national park.
+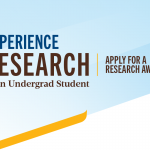 November 9, 2020 —
The Undergraduate Research Award (URA) is an opportunity for UM undergrads to experience research under the mentorship of a UM professor - in all disciplines. It takes places over 16 weeks from approx. May to August 2021.
+