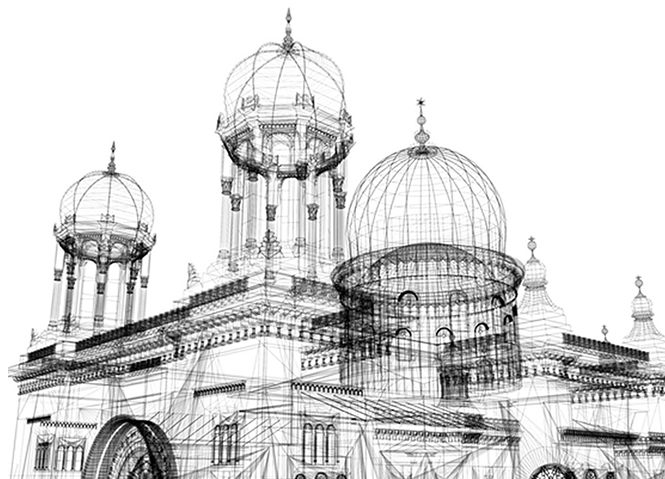 Synagogues in Germany: A Virtual Reconstruction
January 24, 2017 —
A new exhibit that reclaims some of Germany's lost Jewish heritage has its Canadian premiere in Winnipeg this month.
The exhibit, Synagogues in Germany: A Virtual Reconstruction, is a large and interactive German multimedia exhibition brought to Winnipeg by the University of Manitoba, the Freeman Family Foundation Holocaust Education Centre, and the German government. It will be installed at Winnipeg's Mennonite Heritage Centre Gallery before travelling for dates in Vancouver and Toronto.
Work on the exhibition began following the 1994 firebombing of a Lübeck synagogue, the first racist attack on a Jewish house of worship in Germany since 1945. Now, after 20 years of architectural research at Darmstadt Technical University, scholars have created elaborate 3D digital reconstructions of more than 25 of the more than 1000 synagogues destroyed on Kristallnacht.
Along with associated placards, photographs, text panels, books, and three documentary films, these reconstructions speak to the nature and significance of cultural loss as an instrument of genocide. They also visually document the extraordinary architectural variety and historical importance of the buildings the Nazis destroyed, and in so doing contribute to commemorative work ongoing in the wake of the Holocaust by providing a source for reflection on what the historical destruction of Jewish culture means today.
Exhibit hours: From Jan. 29-Mar. 4, 2o17, open weekly on Wednesdays, Thursdays, and Fridays from 9 a.m. – 4 p.m; Tuesday, 9 a.m. – 9 p.m., and Saturday and Sunday from 10 a.m. – 5 p.m.
Admission: Free
Location: Mennonite Heritage Centre, 600 Shaftesbury Blvd.
Please note: Group visits can be arranged, as can guided tours, by emailing Synagogues [dot] Germany [at] umanitoba [dot] ca. A complete schedule of exhibition-related events, themed tours by experts, and general tours for the public, will be made available later in January 2017.
The exhibition and related programming have been made possible thanks to the generous assistance of the Federal Republic of Germany / the Institut für Auslandsbeziehungen (ifa), the German Consulate General-Toronto, the Social Sciences and Humanities Research Council of Canada, the University of Manitoba, the Mennonite Heritage Centre Gallery, the Freeman Family Foundation Holocaust Education Centre, Kuehne + Nagel, and Hapag-Lloyd AG.
Public Programming
Admission to the exhibition and all events are free and open to everybody interested. Lecture Series (in Presentation Room, upper level of MHC Gallery)
All lectures will be between 30 and 45 minutes long with subsequent discussion. Exhibition guides are available after lectures for questions on the exhibition.
Sunday, February 12, 2 p.m.
Belle Jarniewski (Holocaust Education Centre of the Jewish Heritage Centre of Western Canada / International Holocaust Remembrance Alliance): The Impact of the Shoah on Jewish-Christian Dialogue
Tuesday, February 14: 6 p.m.
Prof. Stephan Jaeger (German and Slavic Studies, University of Manitoba): German Public Memory of the Third Reich and the Holocaust between 1945 and 2017
Sunday, February 19, 2 p.m.
Sharon Graham (History, University of Manitoba): Reform Judaism from Hamburg to Cincinnati to Winnipeg
Tuesday, February 21: 6 p.m.
Prof. Adam Muller (English, Film & Theatre, University of Manitoba): Cultural Genocide in Comparative Perspective
Sunday, February 26: 2 p.m.
Prof. Ralph Stern (Architecture, University of Manitoba): Stolpern: Disrupting Narratives of Spatial Appropriation
Wednesday, March 1, 5:30 p.m.
Prof. Benjamin M. Baader: (History & Judaic Studies, University of Manitoba): The Resurgence of Jewish Life in Germany Today
Public tours guided by specialists
Each tour  is about 1 hour and no prior booking is needed, just meet in the foyer of the MHC Gallery.
Sunday, February 5, 2 p.m.: Guided tour with Sharon Graham (History, University of Manitoba)
Tuesday, February 7, 7 p.m.: Guided tour with Prof. Alexandra Heberger (German and Slavic Studies, University of Manitoba)
Sunday, February, 12, 1 p.m.: Guided tour with Esther Hein (German, University of Manitoba)
Tuesday, February 14, 7 p.m.: Guided tour with Emma Mikuska-Tinman (German, University of Manitoba)
Sunday, February 19, 1 p.m.: Guided tour with Michelle Lietz (English, University of Manitoba)
Tuesday, February 21, 7 p.m.: Guided tour with Nicholas Mckenzie (Peace and Conflict Studies, University of Manitoba)
Sunday, February, 26, 1 p.m.: Guided tour with Malak Abas & Braeden Hafichuk (University of Manitoba)
Saturday, March 4, 3 p.m.: Guided tour with Prof. Stephan Jaeger (German and Slavic Studies, University of Manitoba)