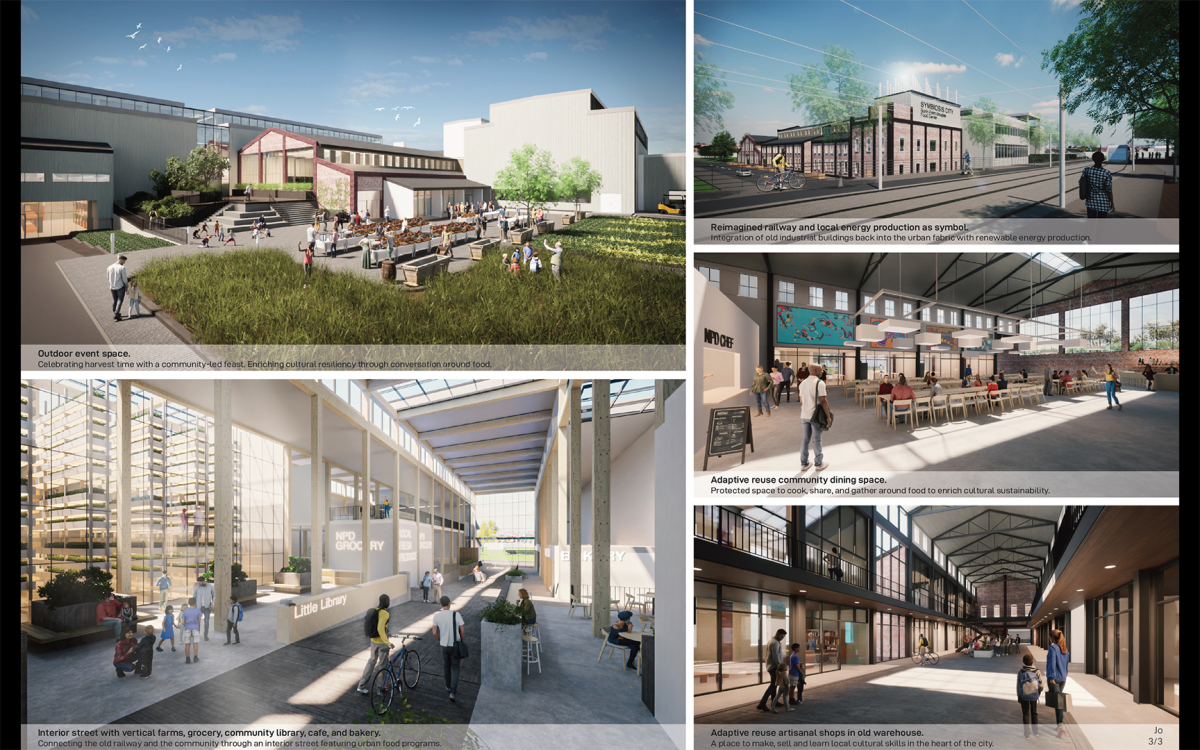 Symbiosis City – National recognition for Kevin Jihoon Jo
June 7, 2022 —
Master of Architecture student Kevin Jihoon Jo has earned second place prize for his submission to the RAIC's Vince Catalli Scholarship for Sustainable Architectural Innovation. This new national award aims to promote and encourage innovative, practical, scalable and transferable approaches to sustainable design among the next generation of architects in Canada.
Kevin's winning project, entitled Symbiosis City: Rails to Resiliency, explores how industrial railyards can become sites for cultural resiliency and environmental sustainability. His vision – developed as part design thesis advised by Lisa Landrum – reimagines Winnipeg's railway infrastructure in North Point Douglas as a multi-modal transportation hub and urban farm.
Symbiosis City presumes the relocation of Winnipeg's train route and Dufferin railyard to the city's outskirts to free space for public transit, cycling and walking. The project creates an adaptive reuse strategy for the Vulcan Ironworks warehouse, transforming it into a transgenerational forum for multicultural food exchange.
Sustainability features include bladeless wind turbines that double as gleaming symbols of renewable prosperity, a geothermal heating and cooling system, recycling and composting facilities, a local grocery, community kitchen and variety of amenities for healthy natural and social ecosystems.
As Kevin writes, "Through innovative mixed programming, the proposal reimagines the global-scale food production system into a condensed urban model that makes the invisible global system visible on the scale of the community."
The jury noted the project's nuanced contextual approach and sustainable vision for urban food production and a cultural hub.
The news was announced on June 6, 2022 as part of the Royal Architectural Institute of Canada Foundation Awards event, dedicated to celebrating Canadian architecture students, interns and young professionals.
For more on Symbiosis City, see here.
For more information on all the 2022 RAIC Foundation Scholarship Recipients, see here.
On the Vince Catalli Scholarship for Sustainable Architectural Innovation, see here.