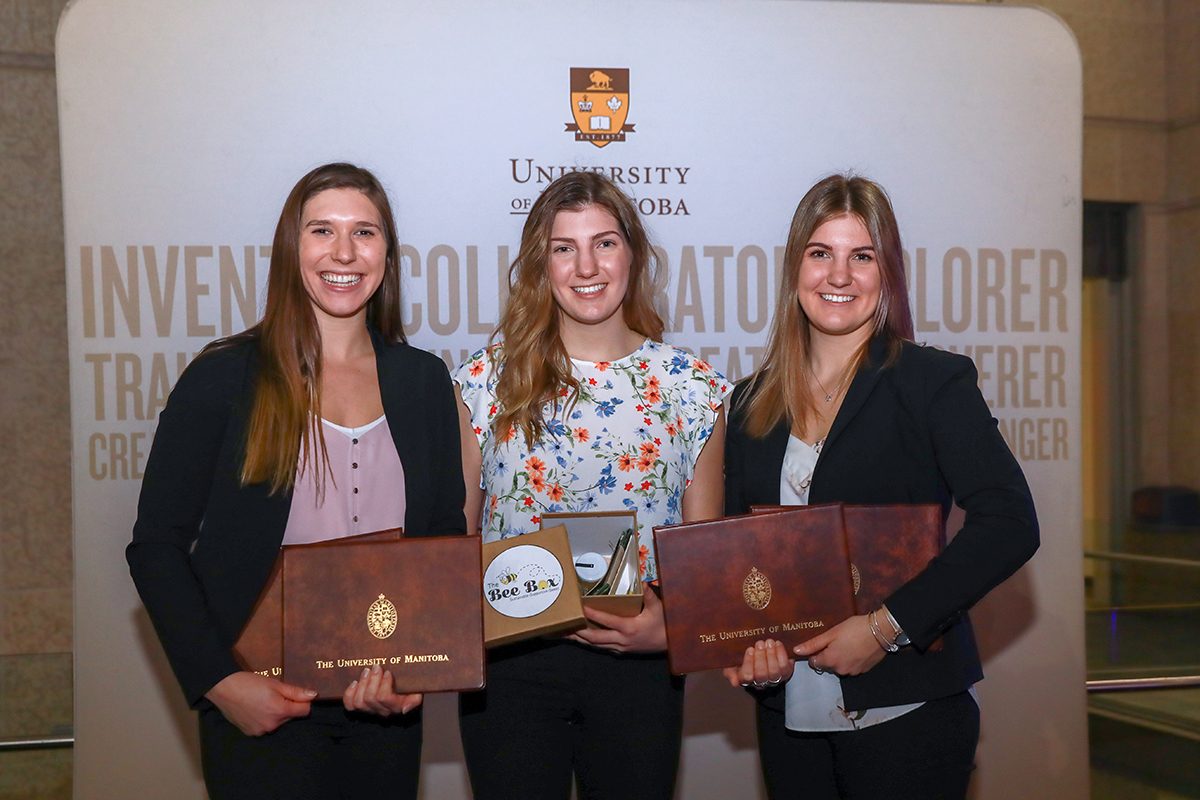 Sweet win for Bee Box
November 26, 2018 —
The 2018 edition of Game Changer: Manitoba's Idea Competition, wrapped up last week with an exciting round of presentations from the three finalist teams. Each had chosen to tackle a different one of the five problems identified in Phase 1 of the competition (Education, Environmental, Societal).
Team Bee Box captured the grand prize of $5,000 as well as the People's Choice award of $500, for their proposed solution to the Environmental problem: How can we offset the mass collapse of bee colonies in a natural and sustainable way?
Their solution is a monthly subscription box where consumers can sponsor a beehive and in return, receive various bee products from local provincial partners. A portion of each Bee Box's profits will be contributed to support a local bee apiary, "Beeproject Apiaries," to increase the number of bee hives in Manitoba. The Bee Box benefits the local economic community, the local bee community and the consumer.
Team members were U of M undergrad students Alexandria Townsend (Faculty of Education), Jacquelyn Townsend (Asper School of Business), along with Hannah McCutchon (Asper School of Business).
"The judges said it was a unanimous decision on this year's winner," said Jody Dexter, Technology Transfer Office at the U of M, one of the Game Changer organizers. Judges who volunteered their time to adjudicate the competition were Carine Bado (World Trade Centre), Jane McDonald (International Institute for Sustainable Development) and David Lipinski (Futurpreneur).
Judges provided feedback to each of the teams directly, after adjudicating, as the 1st, 2nd and 3rd place winners were announced. All team winners are provided the opportunity to take their proposed solutions forward as a business with support and mentoring from the Technology Transfer Office, Stu Clark Centre for Entrepreneurship, North Forge and Futurpreneur.
Team 3Streams captured $2,500 in 2nd place and Team Framed placed 3rd with $1,000 in cash.
3Streams team members were U of M students Nicholas Duan (Faculty of Science), Elizabeth Ng (Asper School of Business) and Janet Lee (Faculty of Education). They proposed a solution to: How can the school system be moulded to have the classroom fit the student and not vice versa? Their approach would provide a learning platform for students to do work placements in a series of three industries over the course of nine months, for a fee. During these placements, students would learn what they enjoy through real-life experiences in various fields and receive feedback on their skills in those fields. The program would further make recommendations after assessment, on the most suitable post-secondary school options, based on their learning styles.
The Framed team members were U of M students Travis Cook (Faculty of Science), Sarah MacDonald (Asper School of Business), and Edno Mesquita (Centro Universitario Anhanguera).
They embraced the challenges of solving: How can artists bridge the combination gap between art and society? Their solution was described by the team as "IMDB for art." A web-based [social media] platform that focuses on building a comprehensive ontology of art by providing tools for the crowd-sourced classification and criticism of art, in the context of a unique exhibition environment and accompanying marketplace.
The Game Changer competition is an initiative of the Office of the Vice-President (Research and International), and co-organized by the Technology Transfer Office and Stu Clark Centre for Entrepreneurship.
Research at the University of Manitoba is partially supported by funding from the Government of Canada Research Support Fund.