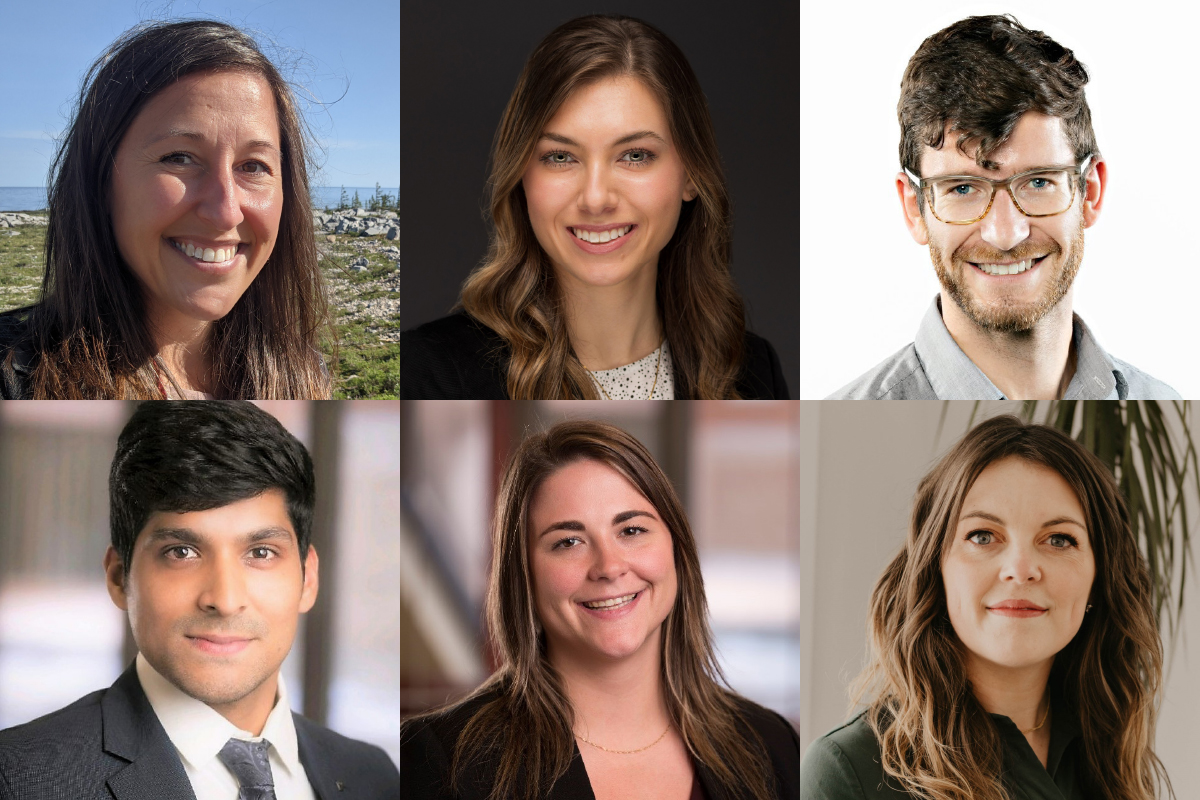 Sustainable solutions best in class
Asper MBA sustainability course assignment becomes international competition win
February 28, 2022 —
When Asper Associate Professor Dr. Nathan Greidanus discovered the TD Insurance Future of Sustainable Insurance Claims competition, he felt it was the perfect fit for the students in his MBA Strategic Leadership and Sustainability class. One month later, this feeling proved correct, as two teams from his class would finish the international competition on the top of the podium.
Greidanus is an entrepreneurship professor whose teaching and research are motivated to increase societal well-being through sustainable economic development. Through his MBA level course, students investigate strategic issues related to a manager's role in sustainable development while considering the interrelated demands of firm growth, economic and social development and concern for the natural environment. As part of the final course project, students were required to find a sustainability problem and propose a business solution.
"During that time, I saw the TD Insurance competition running and thought, why not make the final assignment more applied?" said Greidanus.
The TD Future of Sustainable Insurance Claims Competition challenged participants to find solutions to improve automobile or home claims practices by reducing waste or preventing future claims. Open to students studying environmental or sustainability development, engineering, industrial materials and design, accounting and finance and other related fields, the competition offered significant cash prizes to the top three teams and a participation prize to teams in the top 25.
Greidanus' MBA class entered eight teams in the event, competing against 121 other international teams. After a round of voting, three Asper teams moved on to the top 25 where they had an opportunity to connect with a mentor from TD Insurance to work on their final pitch.
After the second round of voting, two Asper MBA teams were selected to compete as part of the top three in the final event, where they each had 10 minutes to present their ideas to a group of industry experts and executives at TD Insurance. After outstanding presentations, the Asper MBA students finished first and second.
The winning team, "Thrive Better Together" represented by Jessica Burtnick, Gabriella Balog and Nick Gamble pitched an idea to resolve the "replace and waste" mindset associated with home insurance claims. Their solution involved an improvement to TD Insurance's practices to make them economical for the insurer and the insured, while reducing waste and benefiting people. The team identified an opportunity for TD Insurance to partner with its preferred vendors and Habitat for Humanity's ReStore to salvage usable materials from insurance claims through a custom app extension integrated with TDI's internal claims system.
"Gabriella, Nick and I – who have never met in person despite being in many of the same Asper MBA classes together – spent many hours together virtually, developing and perfecting our pitch," said Burtnick. "Our TD Insurance mentor, Hawkar Rafiq, was invaluable, providing useful insights and recommendations to further evolve our idea and improve our presentation leading up to the final event. He offered constant encouragement and made himself available to us despite some very tight turnaround times."
The second place team, Home Insurance Concierge represented by Asper MBA students Abhinandan Khansali, Jordi Johnson and Bobby Currie presented an idea to improve sustainability in home insurance through an app to help homeowners prevent claims.
Team member Bobby Currie, who also works as the Manager of Pharmaceutical Relations at Canada Life, noted that their app would support a customized maintenance calendar, provide suggestions about cost-effective improvements to the home, and include an interactive guide to help someone make a claim in real time.
"Working with our TD mentor helped to bring our idea to life," said Currie. "I love that she wants to develop the idea after the competition because it means our efforts might produce a real benefit for homeowners in Canada."
While Greidanus' course content prepared the students to succeed in the competition, he wanted to highlight the quality of Asper's MBA students as the students led their pitch ideas from start to finish.
"To see this go beyond the classroom and be recognized in the industry is very rewarding. The students came up with outstanding ideas and their hope now is that TD might bring this into their actual program, so they've actually contributed and made a positive change."