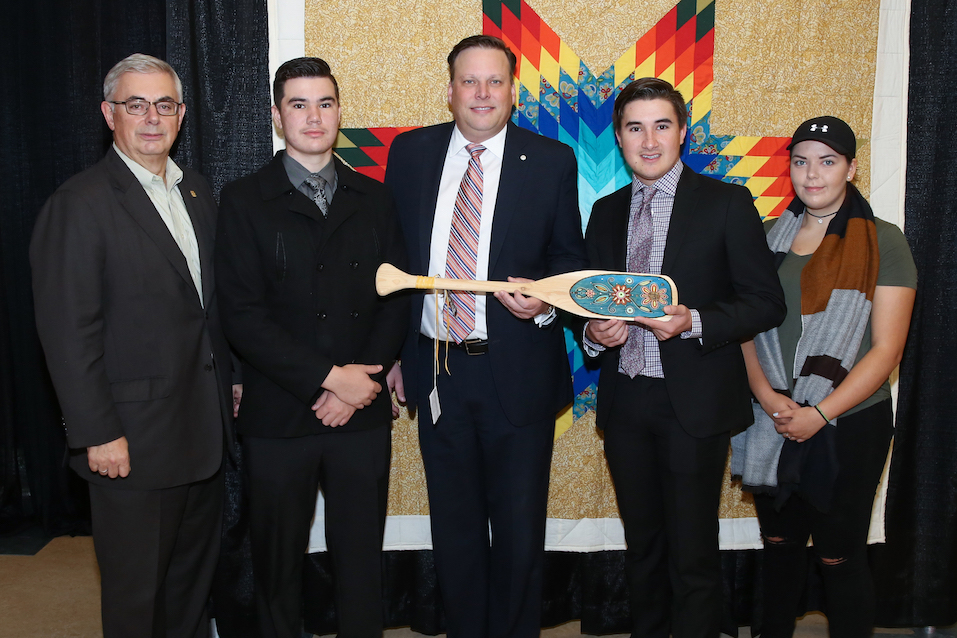 Supporting Indigenous success, BMO Financial Group announces $1M gift
October 4, 2017 —
Representatives from BMO Financial Group visited the University of Manitoba Oct. 4 to announce a $1 million investment to advance Indigenous education and empower the next generation of leaders. Over 10 years, the gift will establish the BMO Financial Group Indigenous Scholarship, which will support the outstanding students recognized as Indigenous Leaders of Tomorrow by the U of M.
The event opened with Elder Carl Stone singing a Treaty One song that honoured the relationship between the student recipients, BMO Financial Group and all those involved in making the gift possible. University of Manitoba President and Vice-Chancellor David Barnard took the podium and welcomed BMO Financial Group as "neechiwaken"—friends on life's journey.
"By empowering students, we're enriching our world," says Barnard. "The success of Indigenous students is vital to the health and well-being of our province, and our nation. Together we can create positive change."
John MacAulay [BA/92, MBA/97], Senior Vice President, Prairies & Central Canada Division, BMO Bank of Montreal, congratulated the students on all they had achieved so far. "We're thrilled to partner with the U of M for this incredible scholarship that will support Indigenous students who are truly on course to be leaders of tomorrow."
"No pressure, you three," he added with a smile to award recipients Heaven Bignell, Riley Chartrand and Jesse McGregor, who were in attendance at the event.
Chartrand, who received his award in March of 2017, shared how it helped him build a network of support at the U of M. "I come from a small community of 650 people," he says, "and when I got here on my first day my class had a third of that," but BMO Financial Group's support made him feel there were people who believed in him and his dreams long before he found himself in that classroom.
"I want to thank BMO for believing in us," he says. "This has really touched me and empowered me to try to make an impact on a larger stage."
Indigenous Achievement and Outstanding Student Experience are pillars of the university's Front and Centre fundraising campaign. The U of M is committed, with the help of partners like BMO Financial Group, to fostering the development of the next generation of Indigenous leaders through an inclusive and supportive learning environment that promotes Indigenous student success from admission to graduation and beyond.
For 200 years, BMO Financial Group has believed in community reinvestment and corporate and social responsibility in the communities it serves. In 2016, BMO contributed more than $57 million in community donations to charitable, not-for-profit and community based institutions and organizations that help build and sustain resilient, vital and healthy communities.