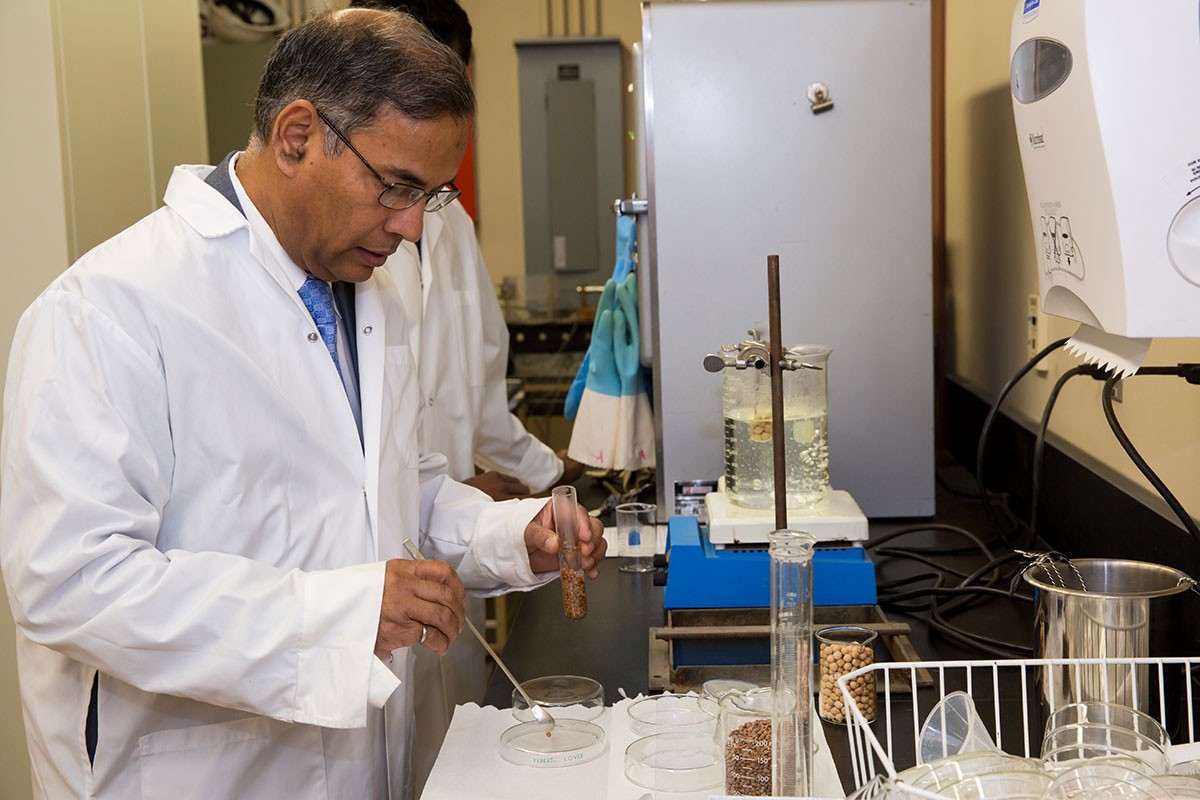 Sukup Award announcement
July 19, 2017 —
The U of M's Vice-President (Research and International) and Distinguished Professor Digvir S. Jayas, PEng, ASABE Fellow, is the 2017 recipient of the Sukup Global Food Security Award for his exceptional research and teaching career that has led to enhanced grain preservation throughout the world.
The Sukup Global Food Security Award is given annually to an individual, group, or organization with an outstanding record of activities related to the enhancement of food security. The purpose of the award is to recognize enhancement of food security by innovative engineering or the application of engineering in the production and distribution of food, including the storage and handling of grains, oilseeds, and other food products.
Food security is defined as existing "when all people at all times have access to sufficient, safe, and nutritious food to maintain a healthy and active life" (The World Food Summit, 1996).
"I know firsthand of his dedication to his field as a globally recognized researcher and educator, and to supporting innovation and competitiveness in Canadian research through the research enterprise more broadly. I am honoured to work with him," says Dr. David Barnard, president and vice-chancellor of the University of Manitoba.
Jayas' research and teaching career has focused on grain preservation spanning more than 30 years. Through international visits and collaborations with engineers and scientists in India and China, he established training centres where growers and grain processors are trained in the proper conditions for drying and storing grain, leading to an estimated reduction of 130-180 million bushels/year of grain loss due to spoilage.
His research has made and continues to make vital scientific and humanitarian contributions to increase and improve international food security stocks to reduce world hunger. His findings have been used to preserve the quality of stored grains around the world.
Jayas is a 34-year member of the American Society of Agricultural and Biological Engineers (ASABE), and also serves on the board of many organizations including the Natural Sciences and Engineering Research Council of Canada (executive council), ArcticNet, Glyconet, the Composite Innovation Centre, Engineers Canada (past president), TRIUMF (chair), among many others.
A prolific research scientist, he has authored or co-authored over 800 technical articles in scientific journals, conference proceedings and books dealing with issues of storing, drying, handling and quality monitoring of grains. He is a Registered Professional Engineer and a Registered Professional Agrologist.
The award is named after the Sukup family, who operate Sukup Manufacturing and produces grain bins, grain dryers, material handling equipment and pre-engineered metal buildings. It is the world's fastest growing bin company and largest family-owned, full-line grain drying and storage equipment manufacturer. Since its introduction of the first stirring machine in 1963, Sukup Manufacturing has been manufacturing products to make grain production more efficient for farmers everywhere.
Research at the University of Manitoba is partially supported by funding from the Government of Canada Research Support Fund.